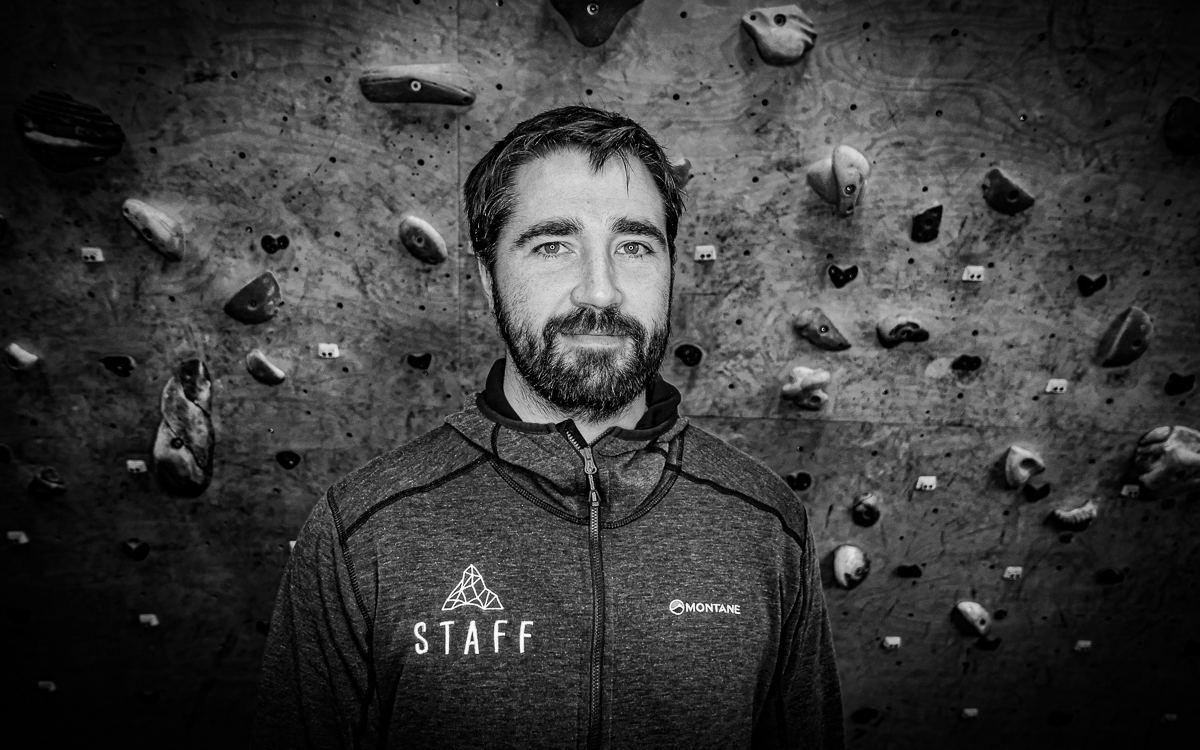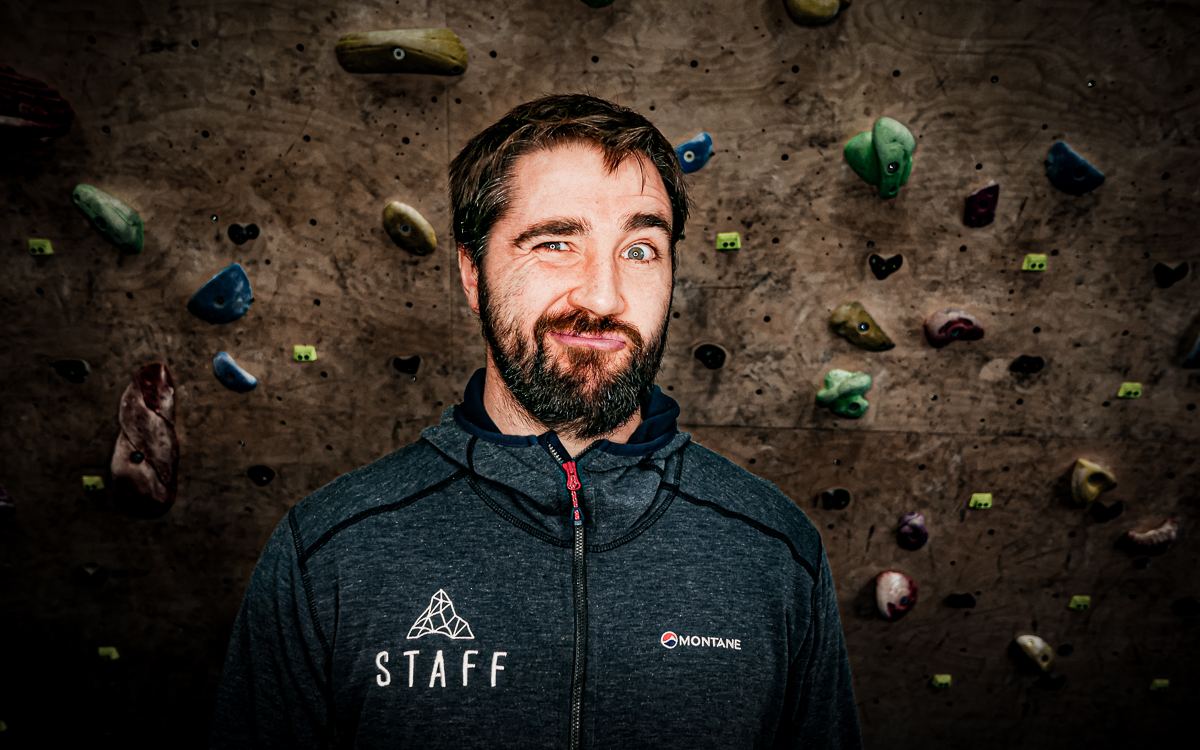 Meet Alex, freelance instructor
Alex started climbing when he was 11 years old, sport climbing initially but now he spends most of his time climbing trad. He's also an instructor here at The Boardroom!
"When I am climbing, nothing else is more important. It is all consuming.  I find it to be great exercise combined with great personal improvement."
He has a long list of goals and ticks to work through, and hopefully some big walls in Yosemite.
Apart from climbing he enjoys nothing more than sitting with a mocha and good biography; anything that inspires him to get out into the mountains.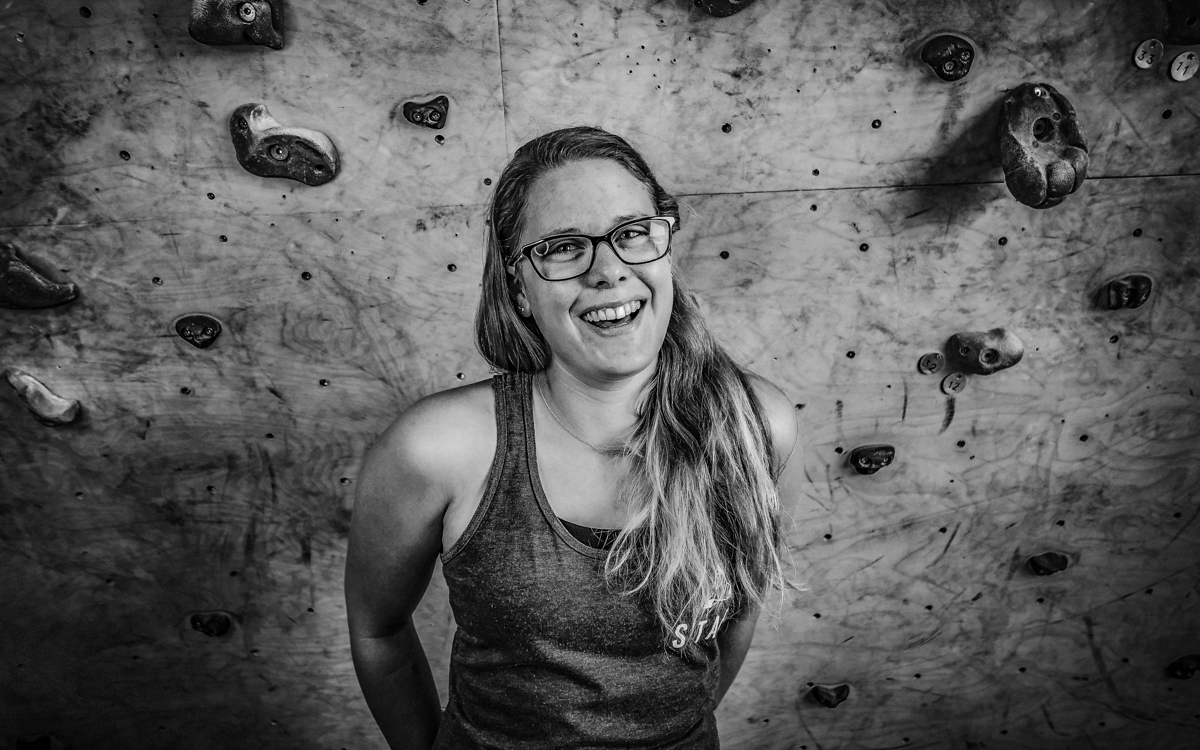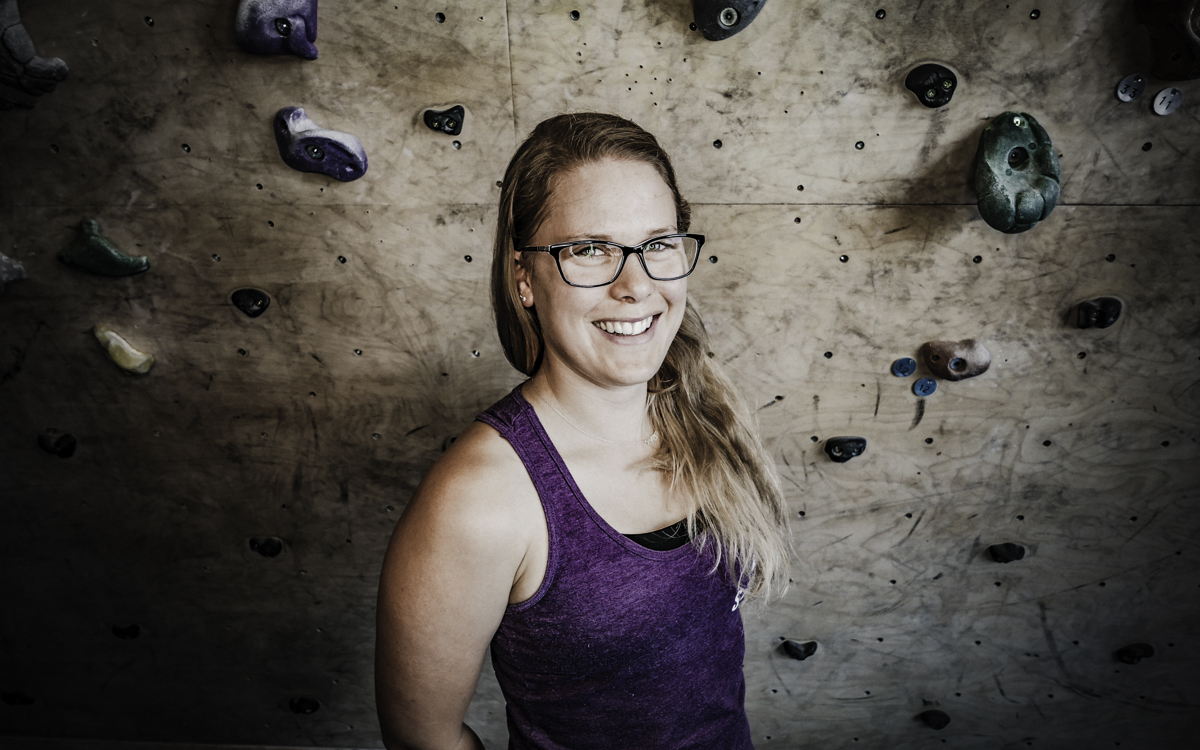 Meet Amy...
Amy is our little ray of sunshine here and when she isn't cheering everyone up with her infectious smile and hugs on tap she instructs and helps out on reception.
She love's climbing (particularly trad) and she's been doing it for about 12 years, instructing for 10!
She is also partial to a slice of cake with a lovely cup of tea.
"I never thought that climbing would be something so integral to my life. But I love it!
I have learnt over the years that the only time you fail, is when you don't try at all; and you really do kick yourself when you walk away from something wondering 'what if I had tried?'.
To know when to give up and come back another day is just as important as trying hard in the moment. It's all exciting, and there is always new things to test yourself against, whether this be at indoor walls or climbing outside – and I love the challenge that this presents.
The most important lesson I have learnt is that at the end of the day, climbing for climbings sake is the most important thing. It doesn't matter how hard you climb, just that you're climbing and enjoying it"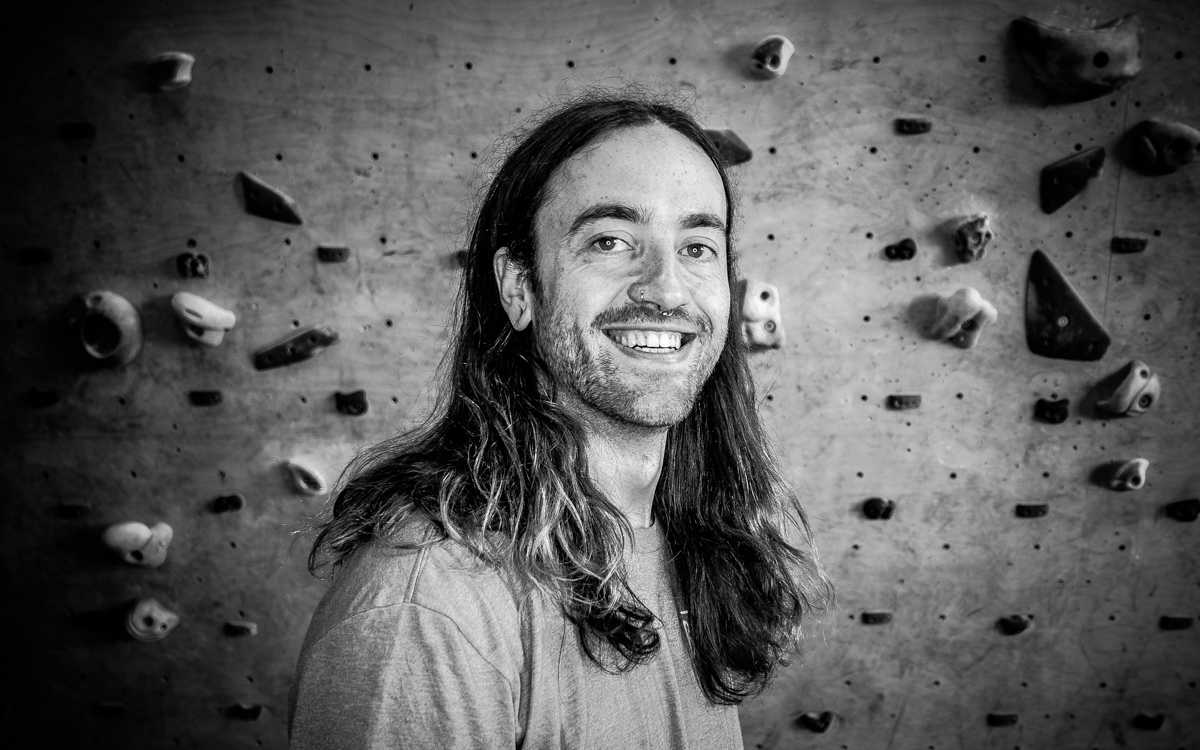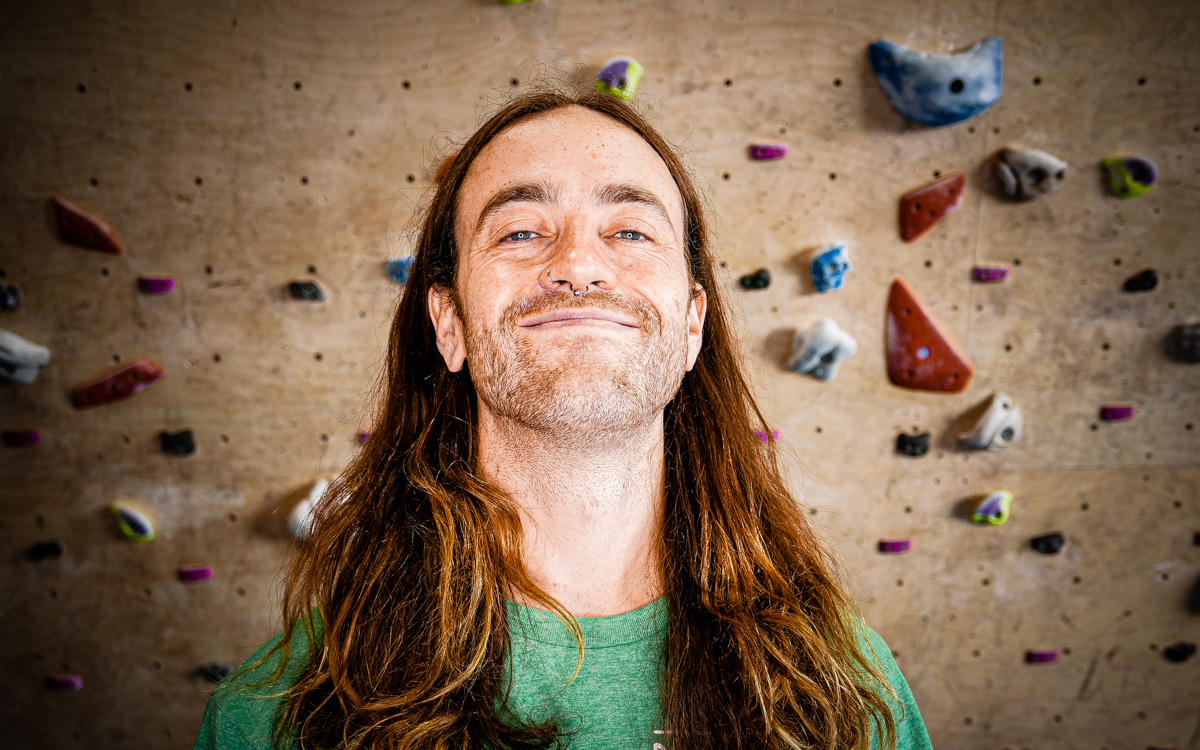 Meet Chris...
Chris likes to take things apart and then make them work again, from guitars to games consoles and computers and he is currently in the process of fixing up a house.
He was climbing here three times a week and when a kitchen position opened up he saw the opportunity to combine two things he loves; cooking and climbing, a winning situation.
"A friend introduced me to climbing and I was hooked immediately.
I'm still at a point where I am progressing, I love that I can do something today that yesterday was completely impossible.
I recently found out that my uncle climbed Old Man of Hoy when he was younger so I think it'd be pretty cool to do that, but I don't really know a lot about climbing outdoors yet.
My goal is to get stronger and climb with everyone I can, I need to start training soon if I want to keep improving".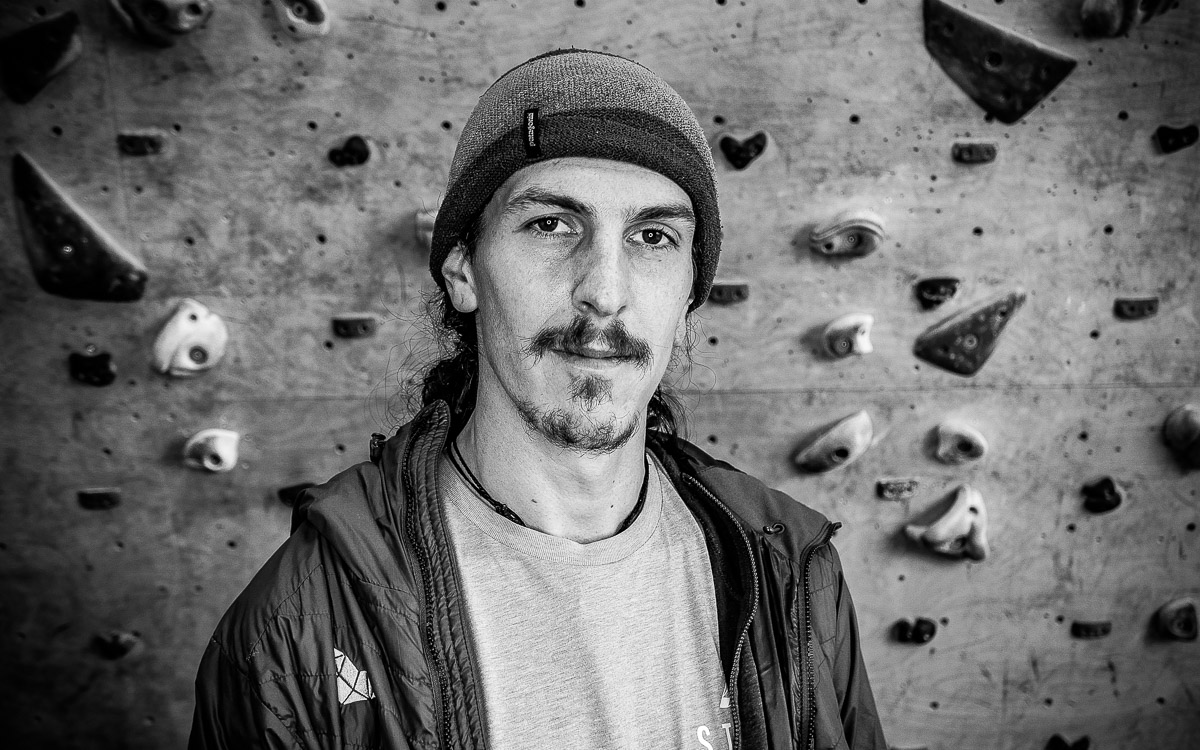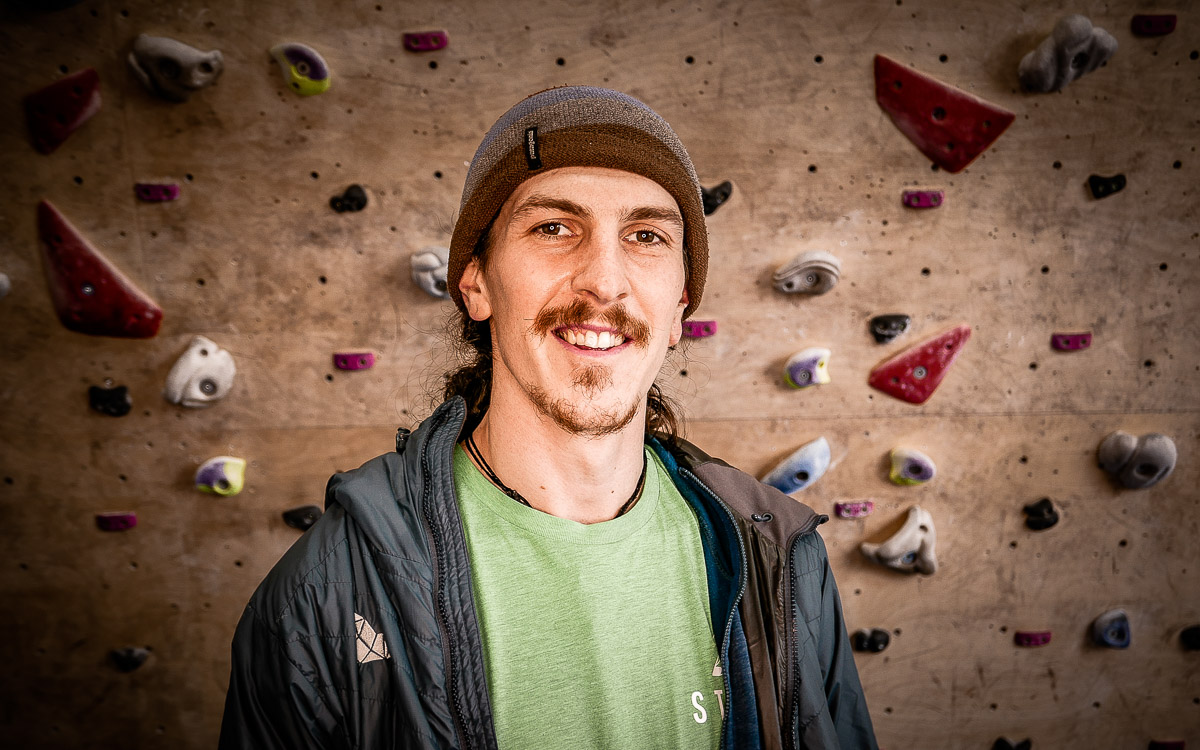 Meet Colvin...
Colvin is one of our instructors and, alongside lots of skiing and longboarding, he's been climbing for about 6 years, starting like most on the boulders but swiftly moving on to ropes.
"My time climbing in the Blue Mountains, Australia really hooked me. I climbed a massive 8 pitch sport route called Bunny Bucket Buttress, which was a big achievement.
I love big multipitch trad, and the routes at Llanberis Pass especially. The rock type, Rhyolite, is solid and full of epic features to climb, that plus the exposure make the routes just cool!"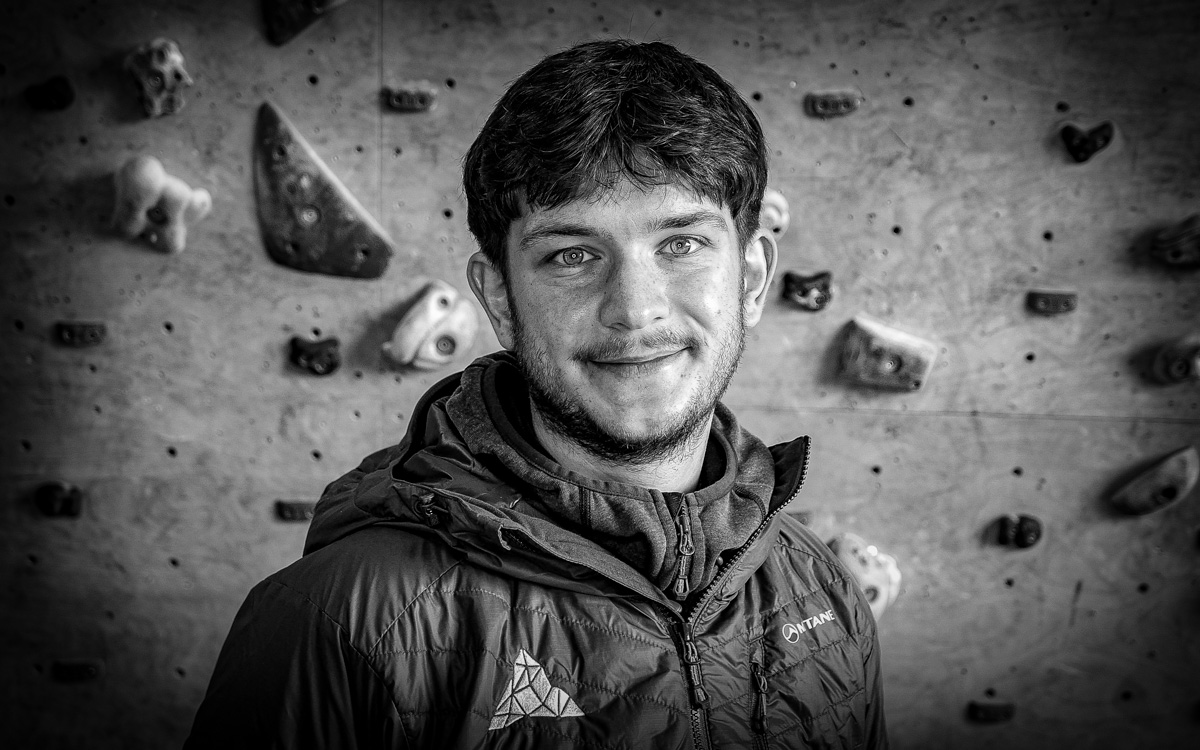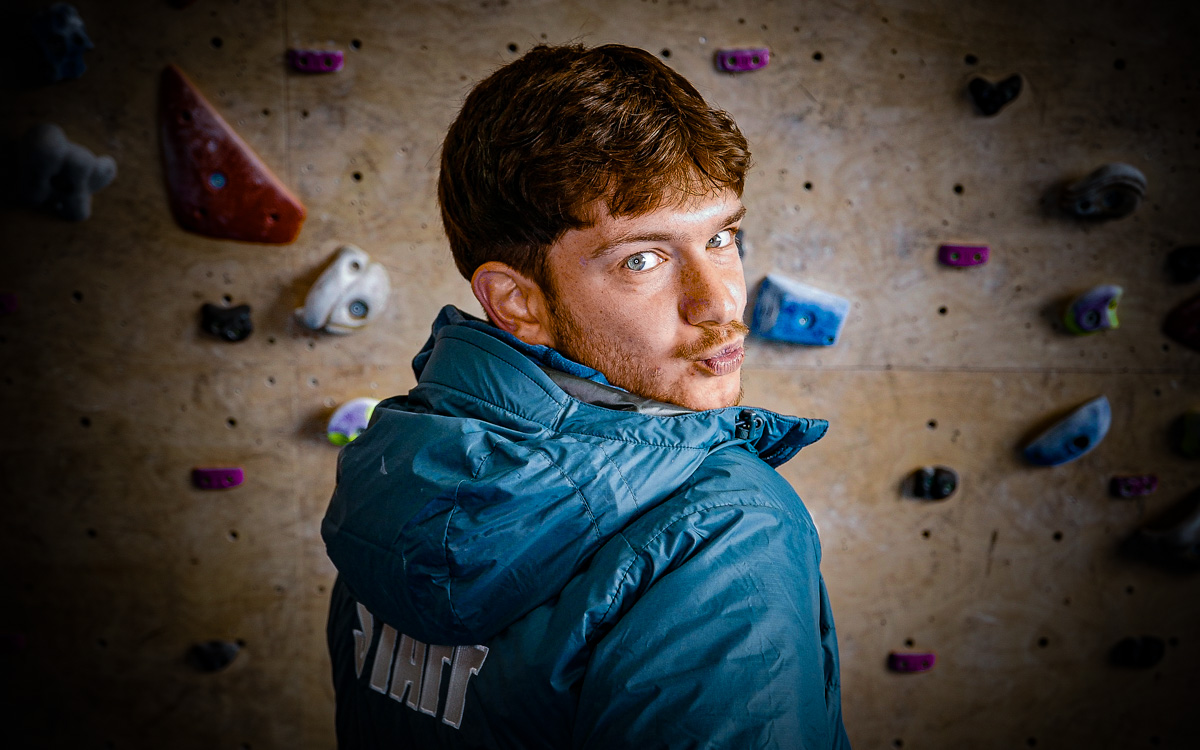 Meet Dan...
Dan recently completed his photography degree and is interested in circular economics and conservation.
You'll probably recognise Dan as he is a regular on the boulders and now he is up with the lark to work on reception.
He along with his girlfriend stumbled into The Boardroom after getting rained off a Snowdonia trip, he's now planning a road trip to Font and lots more outdoor climbing.
"Climbing is a way to engage in a bit of friendly competition with your mates, it's great fun!  All the exercisey health stuff that comes with it is just an added bonus!"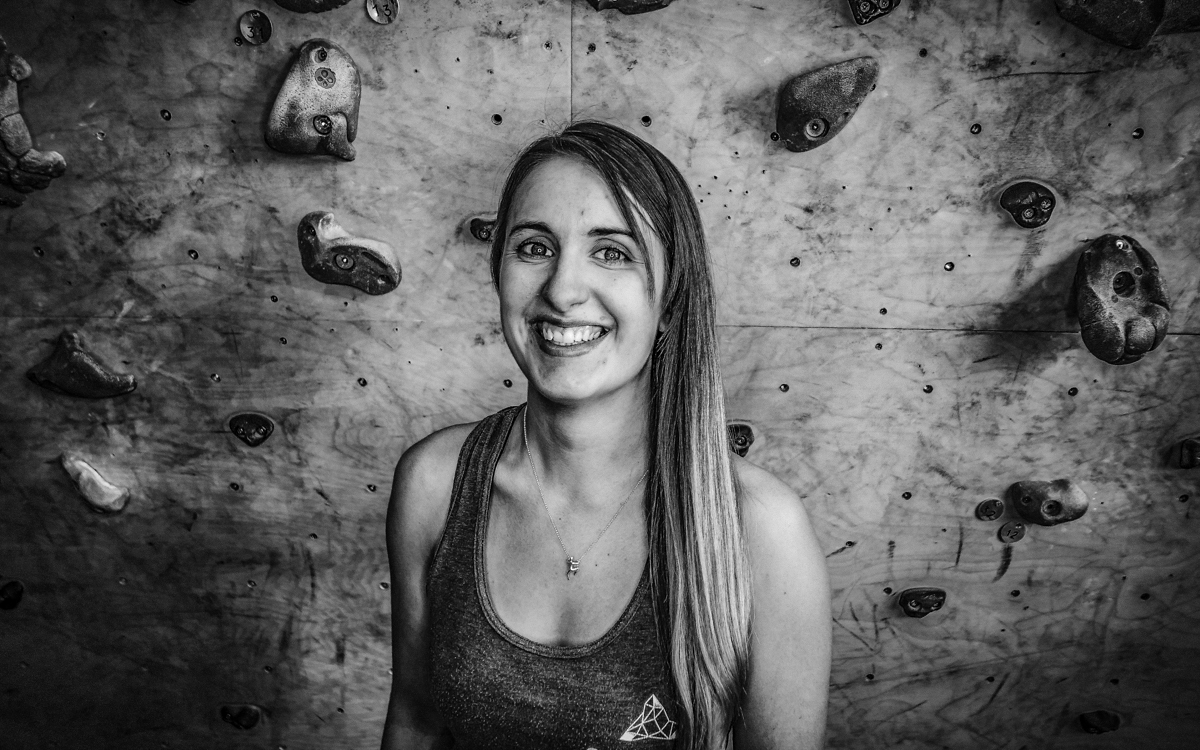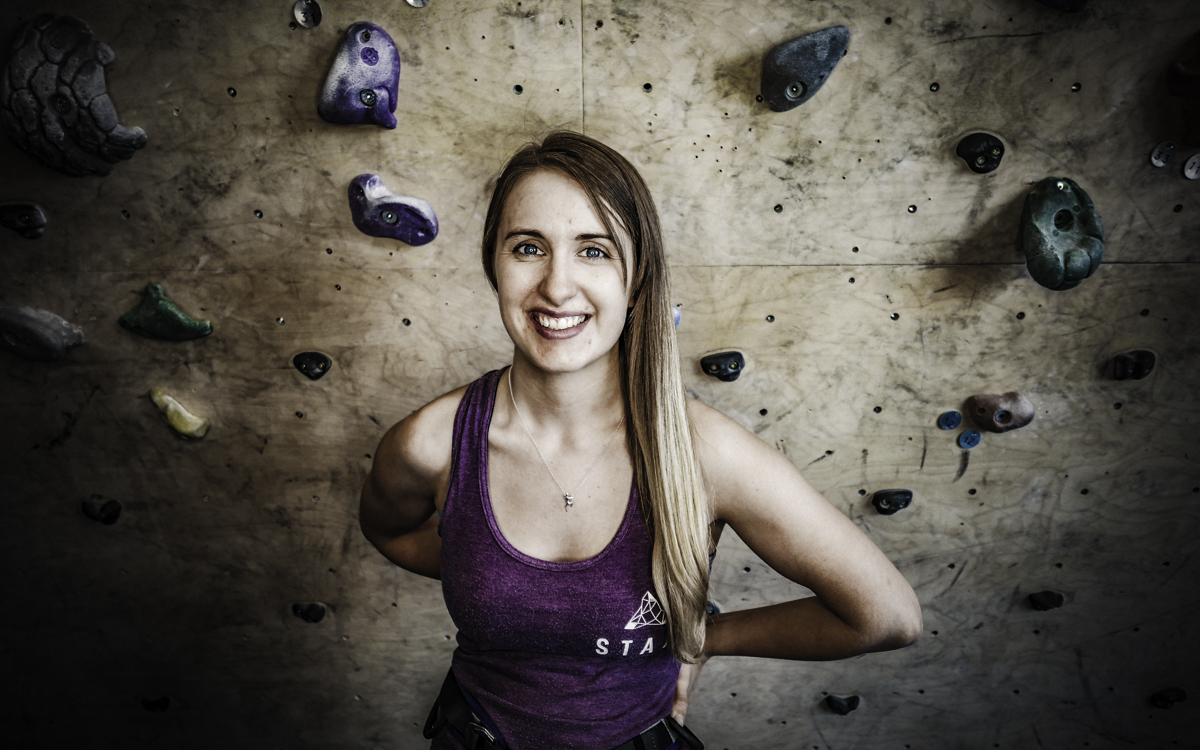 Meet Danielle...
Danielle is the one throwing those funky dance moves on the floor and the odd dyno here and there on the wall.
Kids absolutely love her on session and so do we!
When Danielle isn't working or climbing there isn't much time for anything else but eat and sleep, however, she still manages to find time to practice her aerial silk skills!
"Climbing completely took over my life, there was no looking back and I love it! Working in the climbing industry has a positive influence on my psyche level for climbing.
Being constantly surrounded by climbers trying hard, putting in the time and effort and most importantly enjoying themselves reminds me everyday why I love this sport.
Instructing and coaching allow me to help climbers progress through the sport that we all love and I'm constantly being challenged, reflecting and learning from it.
I'm lucky enough to have found Danny through climbing, the sport allows us to explore beautiful places, motivate and learn from each other, make memories together, and live like cosy dirtbags in a van at the side of a crag, living the climbers dream!"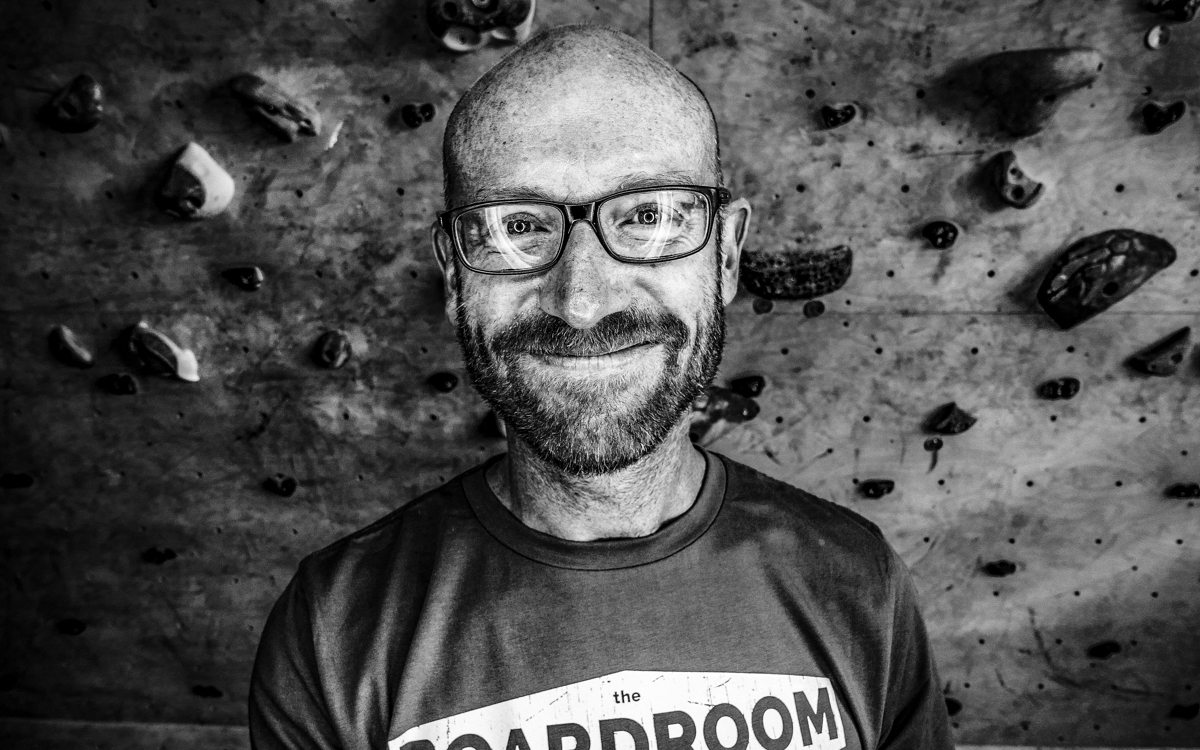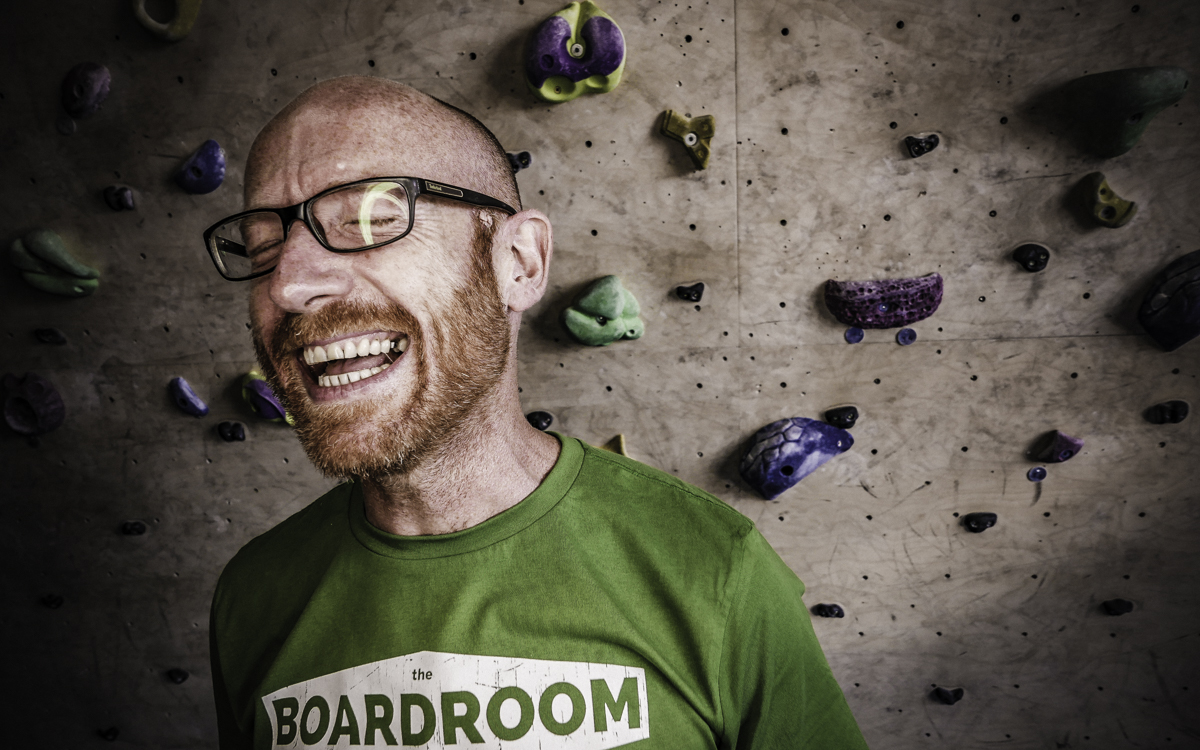 Meet Dave, owner/director
Meet Dave, co-owner of The Boardroom.
His pre Boardroom work experience was somewhat extensive and varied, from territorial army, to photographer, to life model, to teacher to outdoors instructor,  he's always been active whether that be via swimming, cycling or climbing and he has always remained intensely creative.
He and Lee make the place work because they compliment each other so perfectly.  While Lee keeps the place ticking over behind the scenes,  The Boardroom looks and feels the way it does because of Dave and a passion to create something beautiful, unique and visually striking.
"There's something truly magical about climbing. Those moments on a climb were time stands still and the earth stops spinning.
Pushing our bodies and souls, strength combined with a still, calm mind. The vertical dance, a moving meditation. Intricate shifts in the hips seeking balance in a three dimensional world. Pushing friction to its limit, grasping at those fleeting moments of effortless flow…
"We are game-playing, fun-having creatures, we are the otters of the universe."
Richard Bach
…And in pushing ourselves to our limit, chasing those moments and succeeding on harder climbs, it takes more from us; more tries, more attempts, more effort and more time. Precious time.
As a result we slowly become aware that climbing is teaching us to enjoy the journey, whether we succeed or not. That climbing is more than just a way of life, it is life.
Creating The Boardroom was and is a way of sharing that journey. Enabling more people to experience what climbing has to offer and how it can enrich our lives.
Seeing so many people climbing together, working together, enjoying this place… that's what it's all about for me now. A happy place, a place for us to experience and share our journeys together. "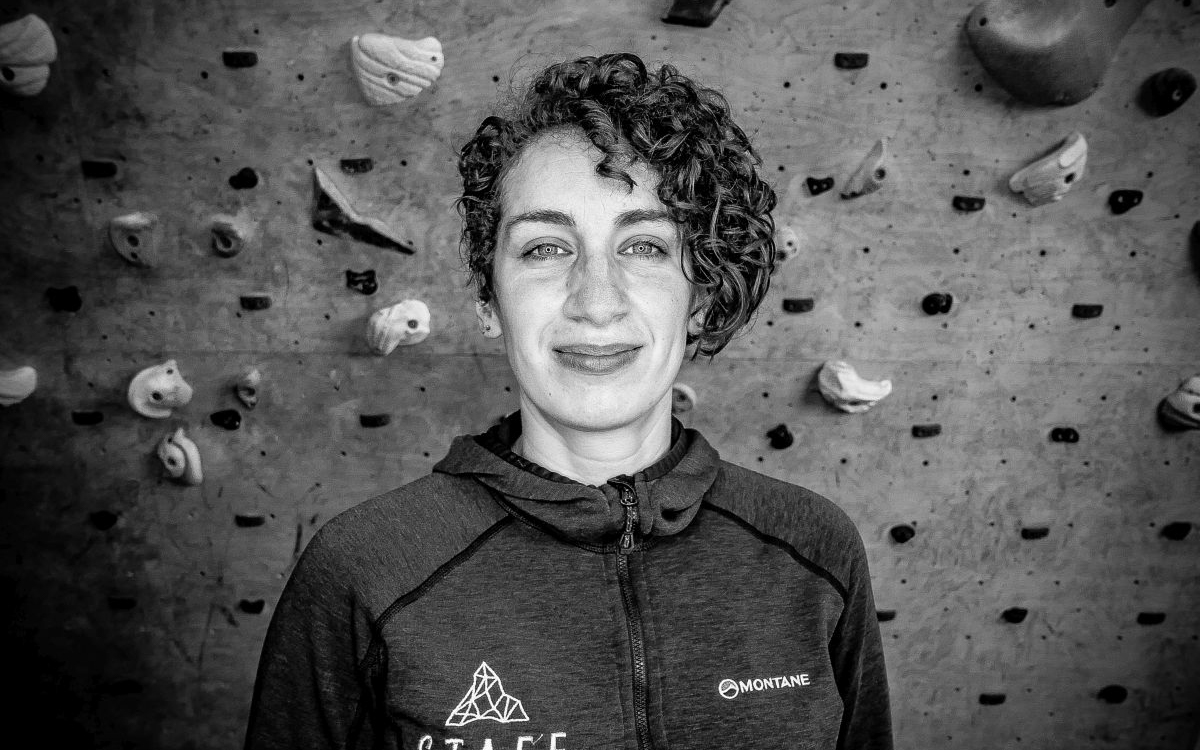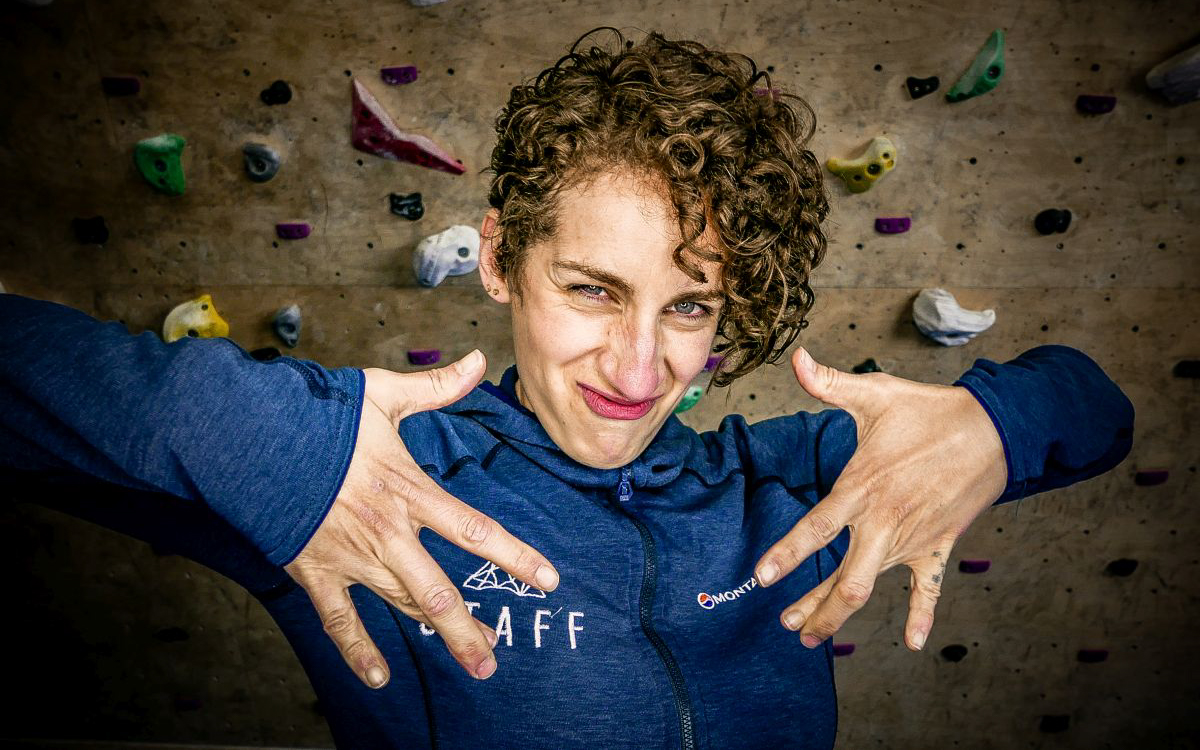 Meet Ella, reception
You'll most likely meet Ella if you're one of the early birds. She's been climbing here since the early days and when she isn't climbing she is working as a piano tuner/fixer, she also enjoys a spot of trail running.
"I danced a lot when I was younger and climbing felt like dancing again. I soon met lots of new people and that helped to keep me coming back and trying harder!
My most favourite climbing experience was at Waterval Boven in South Africa. High mileage, accessible, great rock and amazing climbing. Just had to ignore the occasional baboon and terrifying lightning storms.
My best climbs usually come from the least expected, and Raquel 6c+ in Albarracin was one of those. I didn't expect to get it and my head wasn't in the game that day, but it's a super techy slightly highball beauty and my best grade to date.
I love the community I have met through climbing, I have watched The Boardroom grow from pretty much the start and it has been a big part of my life. If such a thing as soulmates exist, I've met them here."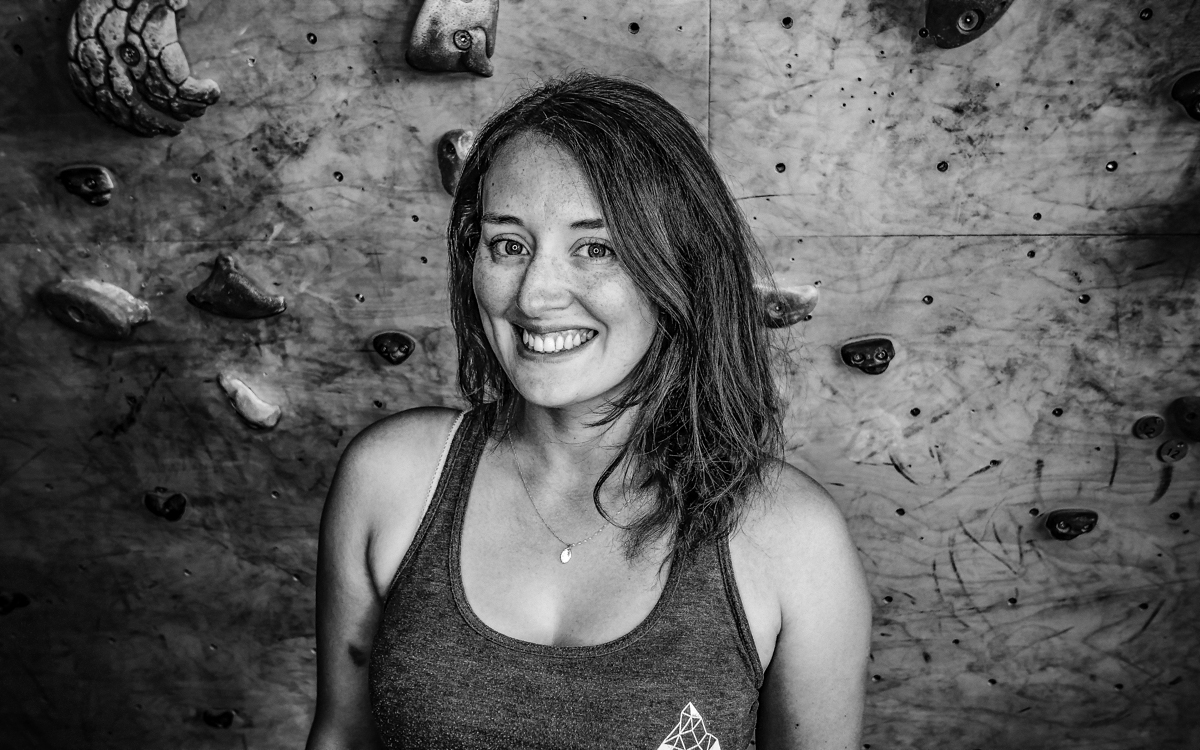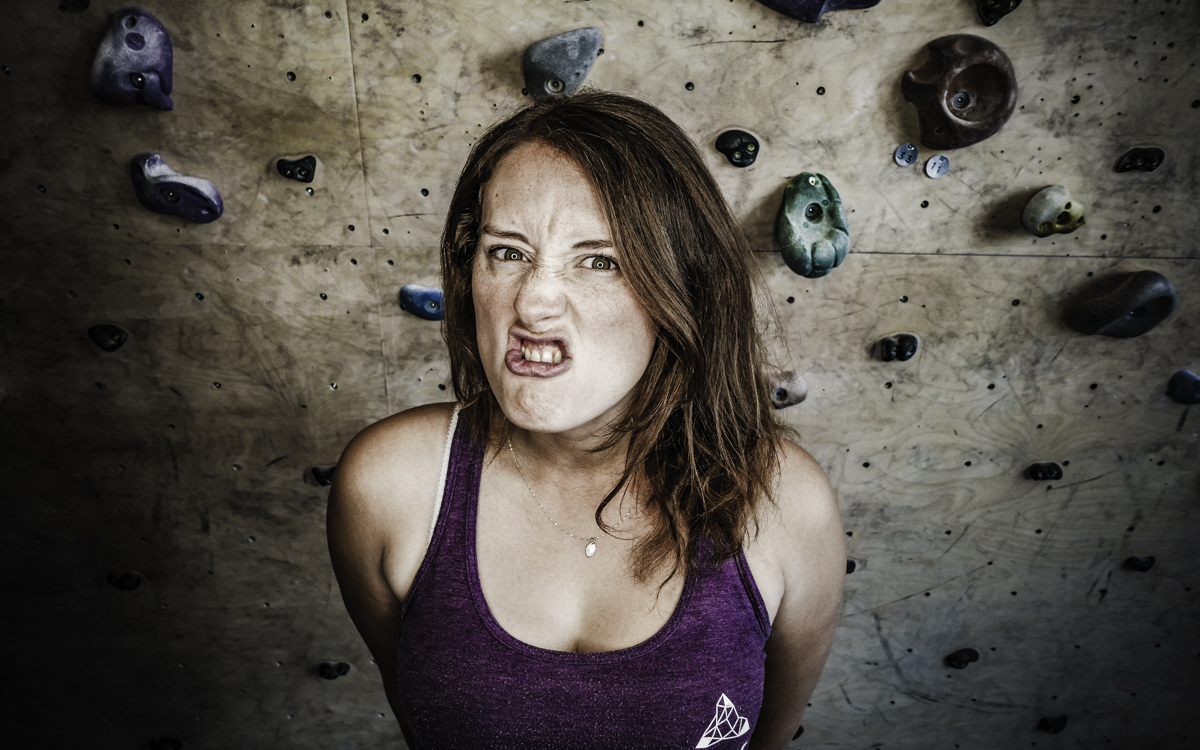 Meet Emily, reception/shop/bookings manager
If you climb at the wall you will recognise Emily, managing both reception and the shop, as well as managing and maintaining the "Engine"!
Emily's favourite thing about climbing is that "it takes you to places that you might never see if you didn't climb. Really beautiful obscure little places in the middle of nowhere sometimes. I can't pick my favourite place that we've climbed cause there's just so many!! Kalymnos and Yangshuo are definitely up on the list, but Wales is still my favourite country of all time!"
Emily has been on a climbing mission since lockdown, and recently sent one of the North Wales classics, "Axel Attack".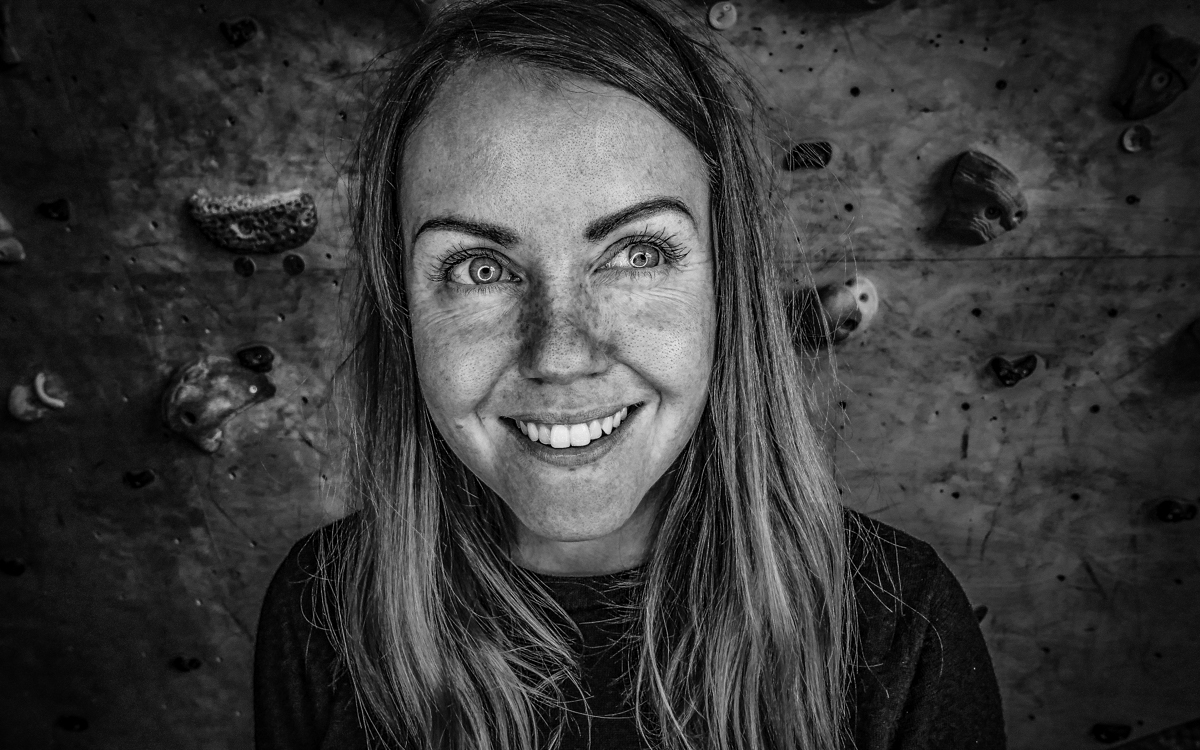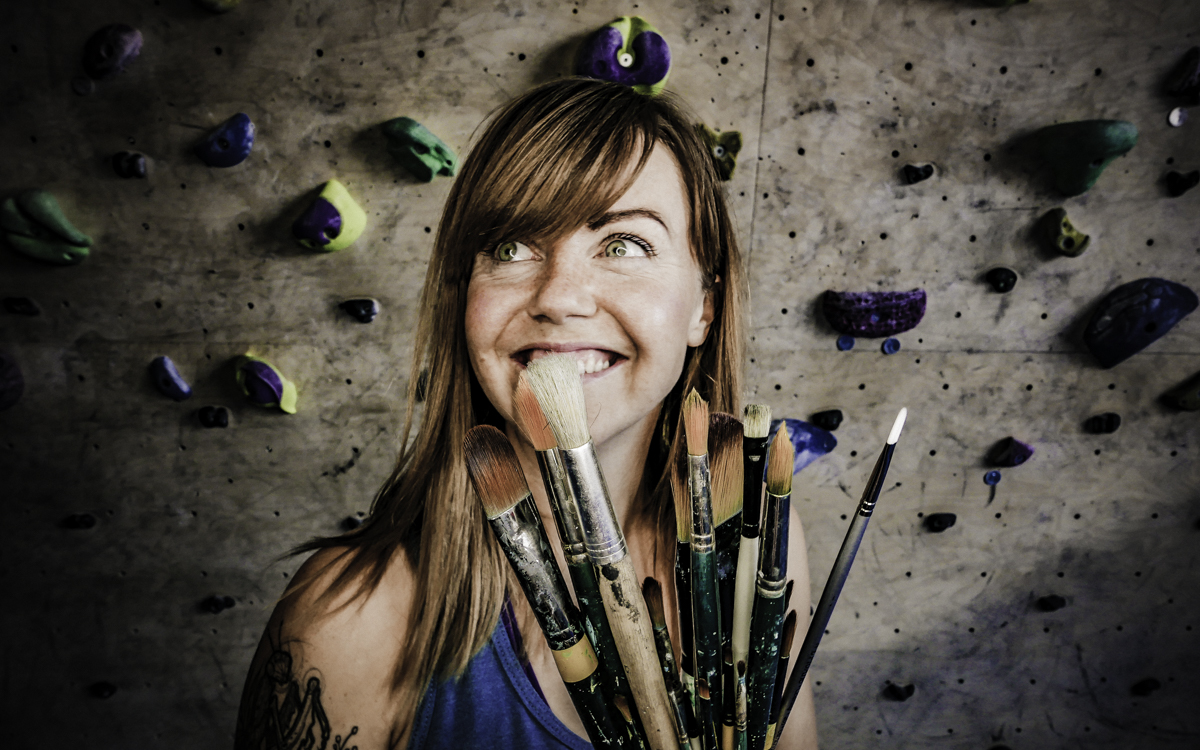 Meet Erica...
Erica is one half of The Boardroom's Colouring-in Department. Erica draws and paints on things, she also runs around with a camera annoying the setters!
She helps with social media and marketing and posters, and sometimes on reception too.
She is a bit scared of heights but still enjoys climbing, especially the nice easy non scary roped routes.
"I started climbing when I started my job, it's something I never before thought I would ever
do as I was/am still very scared of heights! But I have been climbing now for just over 2 years and I do love it, for me it's most definitely quite often type 2 fun, when I am on the wall I am usually absolutely bricking it!
I've loved pushing my mental boundaries and seeing improvements, but I do get frustrated that the head game is taking longer for me to get over then my physical ability, it's all just development though and I must remember to enjoy the journey.
I love working at The Boardroom, mostly for the people, everyone is just so wonderful and friendly and the place itself so uplifting to be in, I love just having a coffee and watching all the climbers try their problems, working them out, and watching the individual climbing styles.
It's been a real joy to be welcomed in to the fold and I can't wait to see how the place and its community grow in the future. It's massively inspiring! I basically love it!"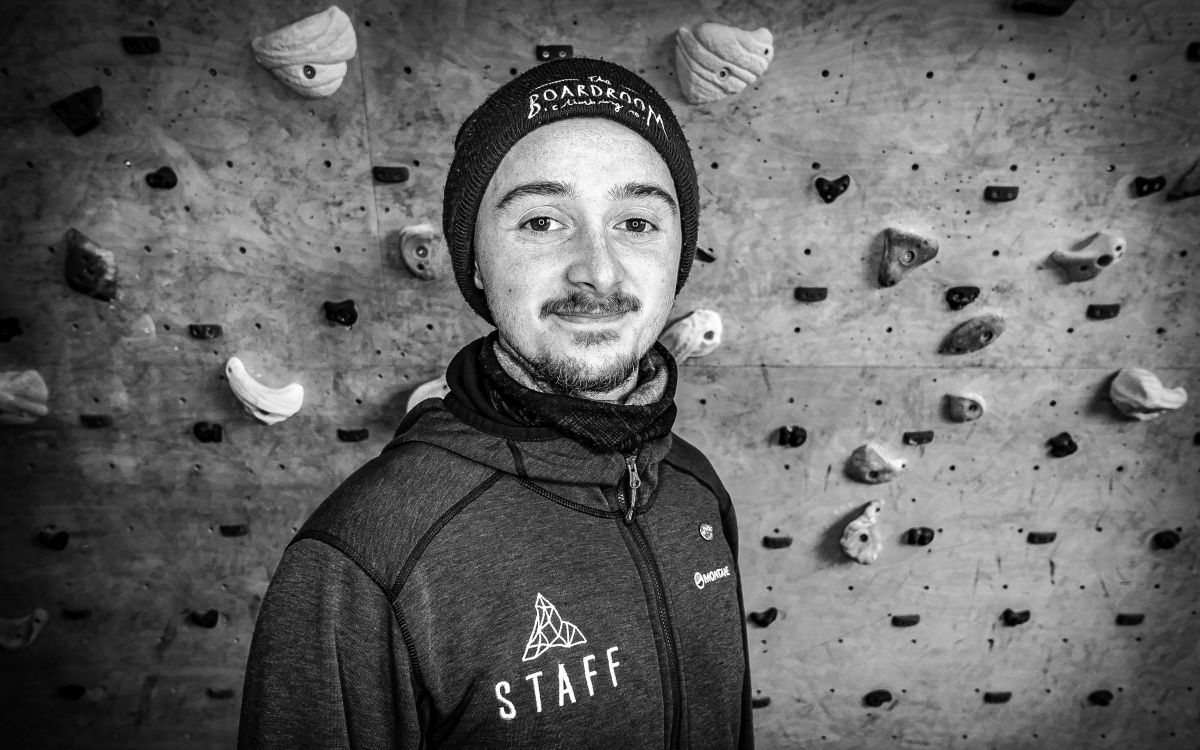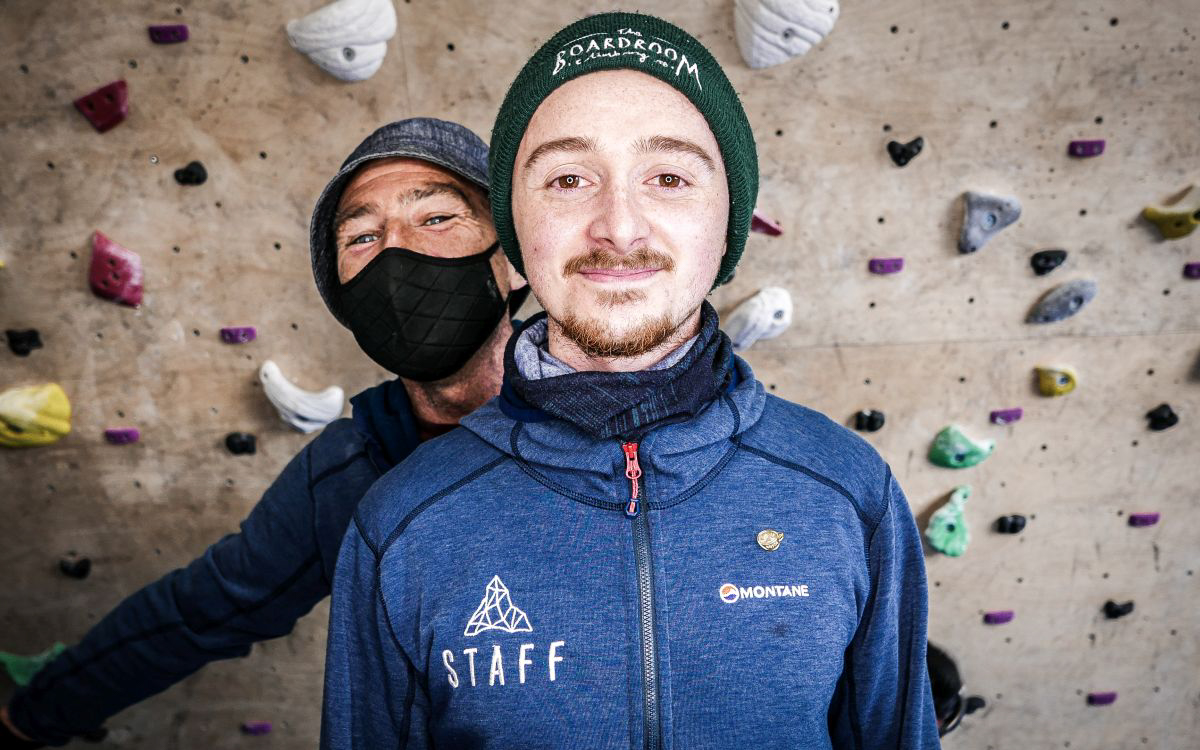 Meet Evan: stripper, hold polisher and the wizard's (Ghandy's) apprentice!
Evan is a jack of all trades, master of coffee! We have him route stripping, hold washing and when he works on reception he makes amazing coffees.
Ev stumbled upon climbing after some bad weather in the Lakes rained him into Kendal wall and he has been addicted to climbing ever since.
"I was in need of a hobby to replace skateboarding because I was tired of breaking bones. After my first trip to The Boardroom I became addicted! The challenges, achievements, community and friends!
I love climbs with tiny crimps and techy footwork, the delicate balance between pulling hard whilst being slow and measured.
My biggest achievement in climbing so far has been Searching 7a at Llandulas, but I worked hard to get my first 7b indoors and I plan on taking it further.
The Boardroom has had an enormous impact on my life. The community is wonderful and there is an atmosphere like nowhere else. It feels like a second home!"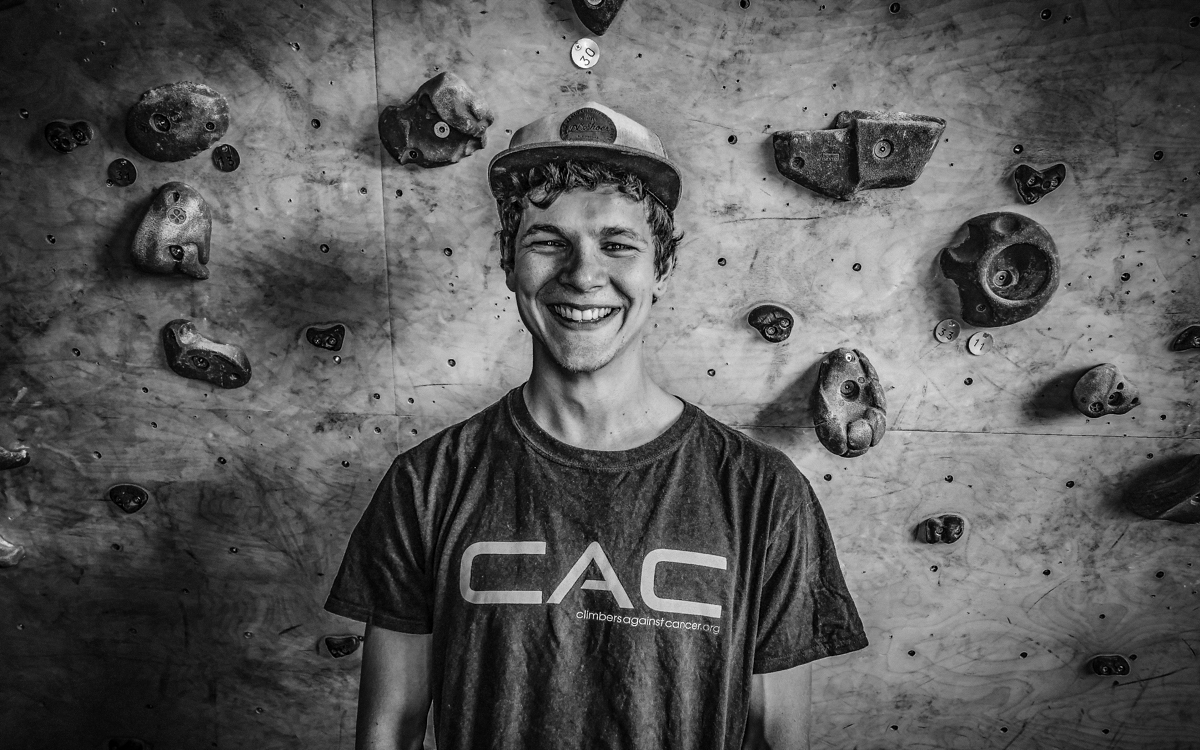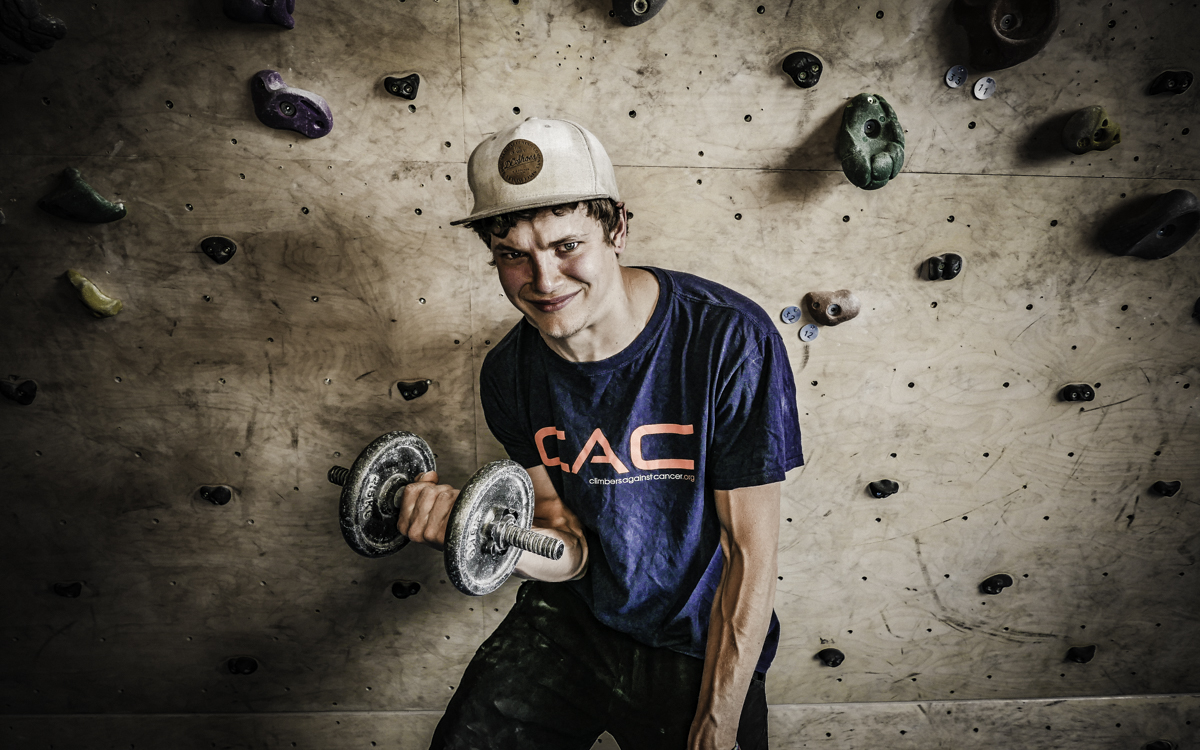 Meet Freddie...
Freddie is our head coach/instructor/Lattice assessor, "specialist in exotic rest positions and making climbs look difficult"!
His favourite/epic climb to date: Castleton Tower.
He recently sent My Piano E8 6c and Mussel Beach 8a at LPT.
Freddie instructs here too but mostly he coaches, runs our Academy, Lattice assessments and our beginners free coaching.  He can make your climbing much improved.
Top conversation pieces include climbing, climbers, climbing movement, broccoli, food in general and flow.
"I've always needed challenge to feel inspired, so naturally, I was drawn to activities like climbing which take you out of your comfort zone. I've always felt that to willingly face difficulty transforms you from who you are into someone stronger mentally and physically, it shows you what you are truly capable of. The evolution of self that comes with climbing has kept me hooked for over a decade and I cannot imagine my life without it."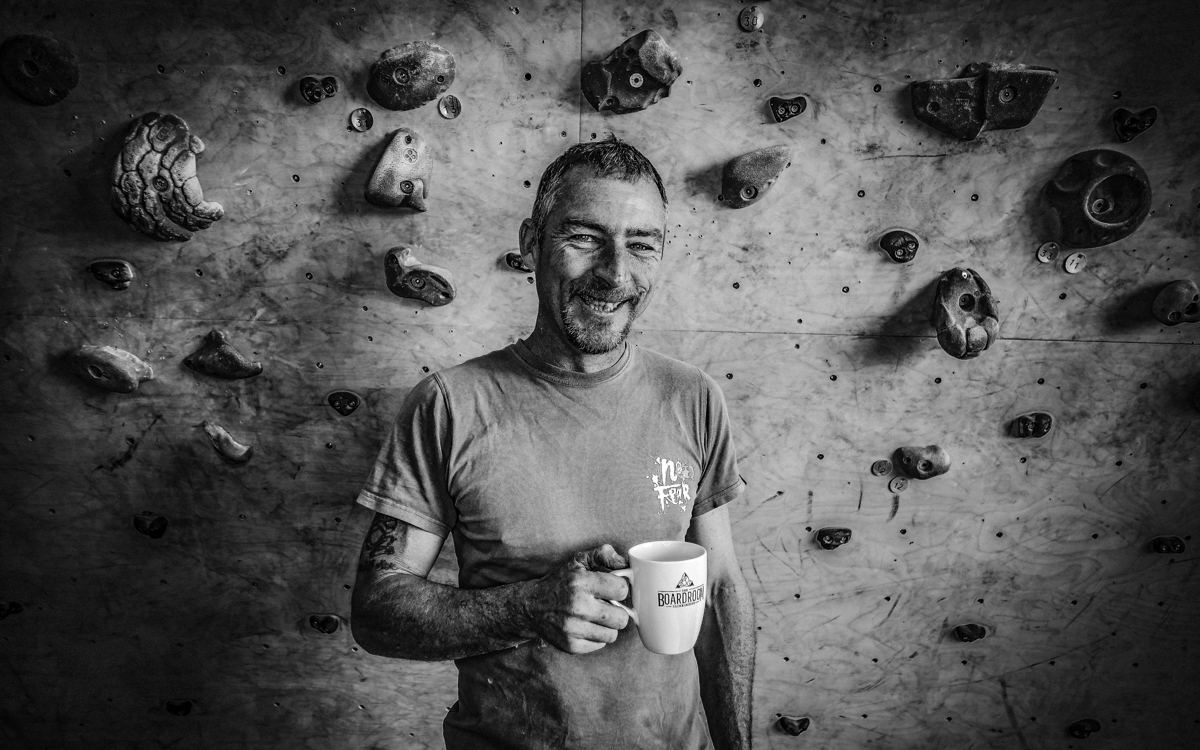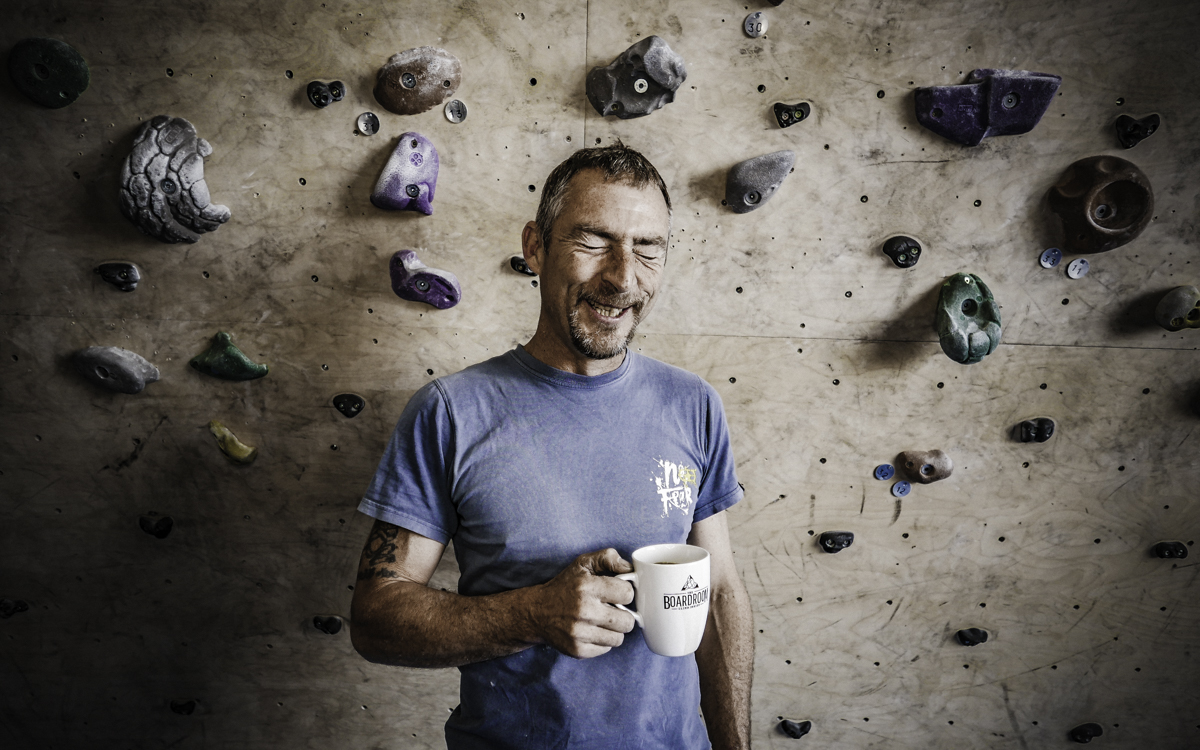 Meet Ghandy...
Ghandy is our resident safety inspector, gear checker, instructor and conversationalist. Handy, very handy!
He is a lighthouse of positive energy and a jack of all trades, having worked at one time or another in about every type of job going, teaching Cubs, Scouts, Duke of Edinburgh gold and lots of multi activity instructing.
He has climbed for about 38 years, all over Britain and Europe "living the dream".
About working at The Boardroom; "I instruct to be able to pass on skills and encouragement so that others may have as much pleasure from climbing as I still get, kids are just honest and funny and generally without any expectation other than fun!"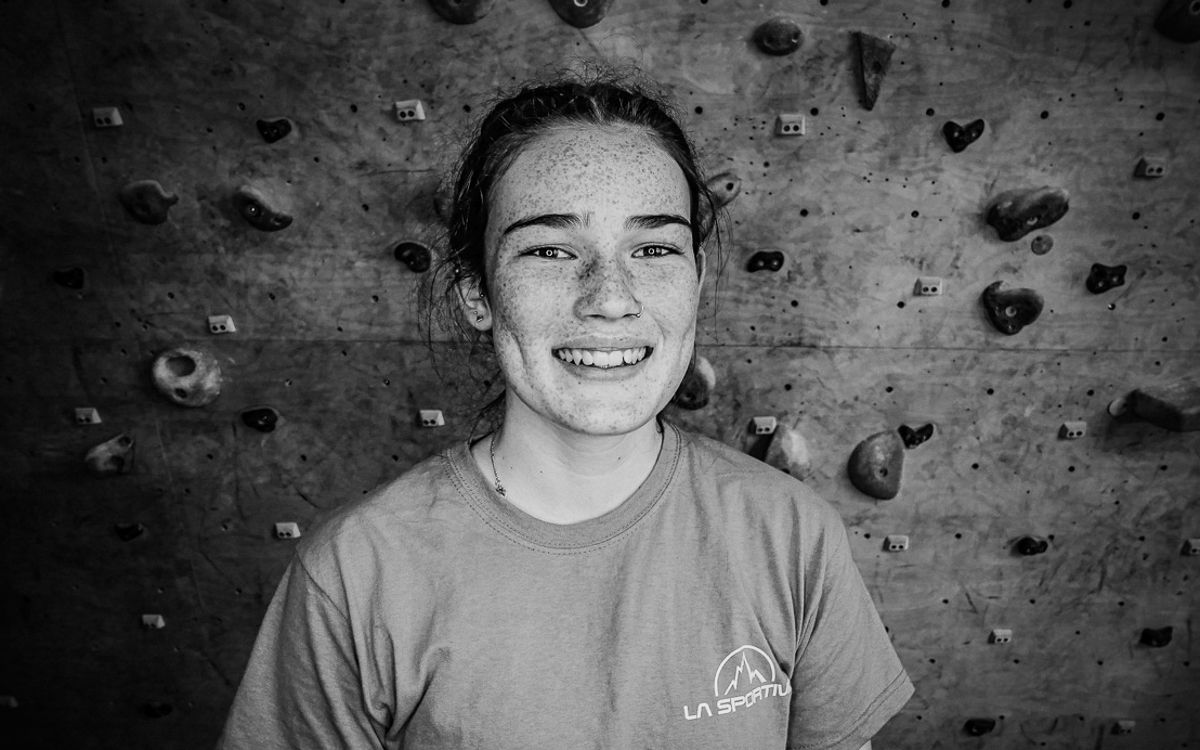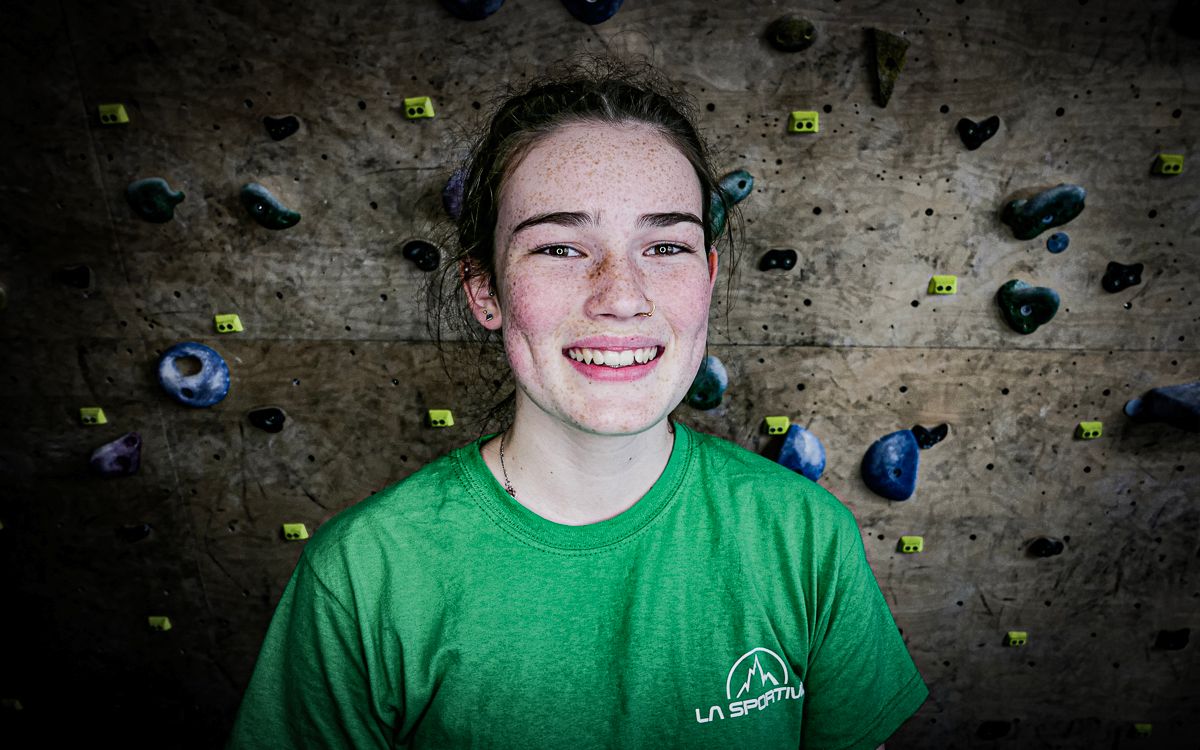 Meet Grace...
Grace has been climbing at the wall for a long time often with her dad John and with The Academy. Now we are pleased to welcome her behind the desk too. Grace works on reception and is training to be one of our instructors.
"I fell in love with climbing immediately. It has become part of my everyday life and I use any excuse to spend time at The Boardroom. As well as the climbing itself I also look forward to socialising with other climbers and eating all the cakes!  It's something I always look forward to and I couldn't imagine life without climbing. The climbing community as a whole is a very friendly and welcoming one."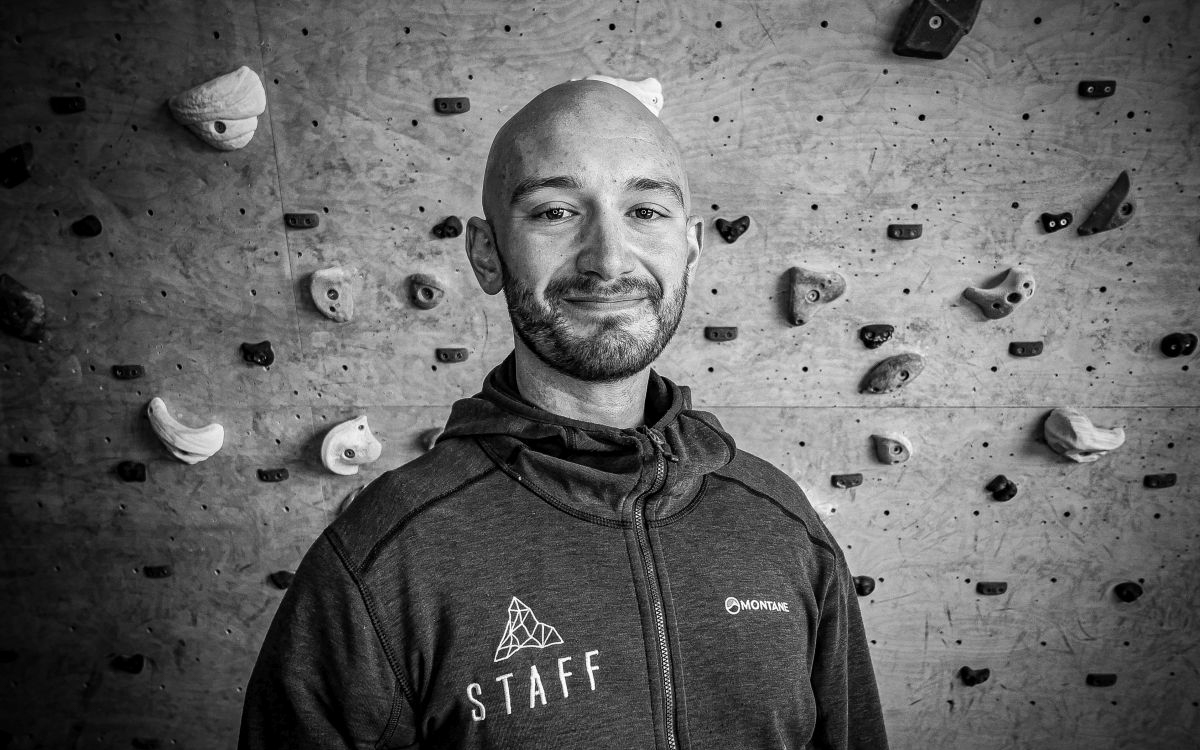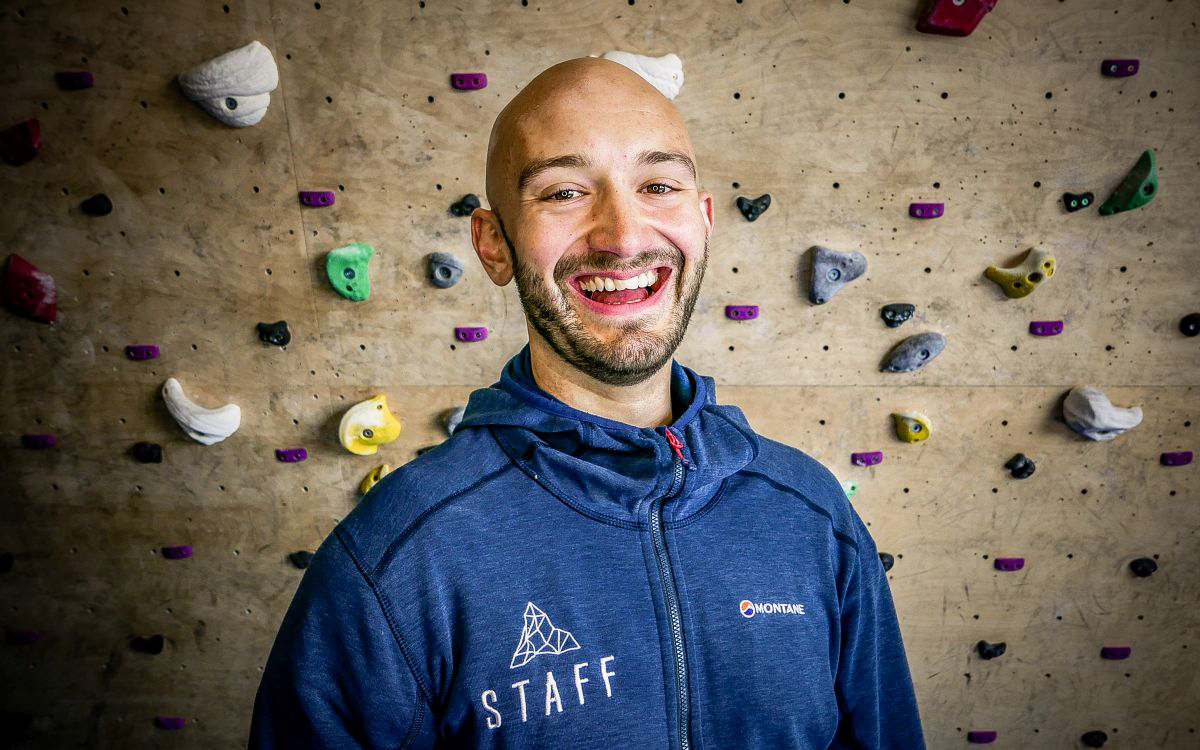 Meet Jack...
You'll meet Jack on reception, welcoming you in and keeping you supplied with coffees and tiffin, as well as ensuring there's always hands on deck and the magic happens.
He is an avid whitewater kayaker and long distance trail runner and rekindled his love for climbing during his time at Bangor Uni.
"Climbing is super addictive and with good company there is nothing better.  For me there is no expectations, just cool, beautiful movements up some rock.
I love sport climbing and bouldering.  The process of looking    at the climb, figuring out the moves, falling off, making tiny adjustments and repeating until you get it is so satisfying.  Sport is like a long intricate dance with the rock and bouldering is a short burst of pure power, they're both unforgiving but that's what makes it worth it in the end! P.S. trad is scary."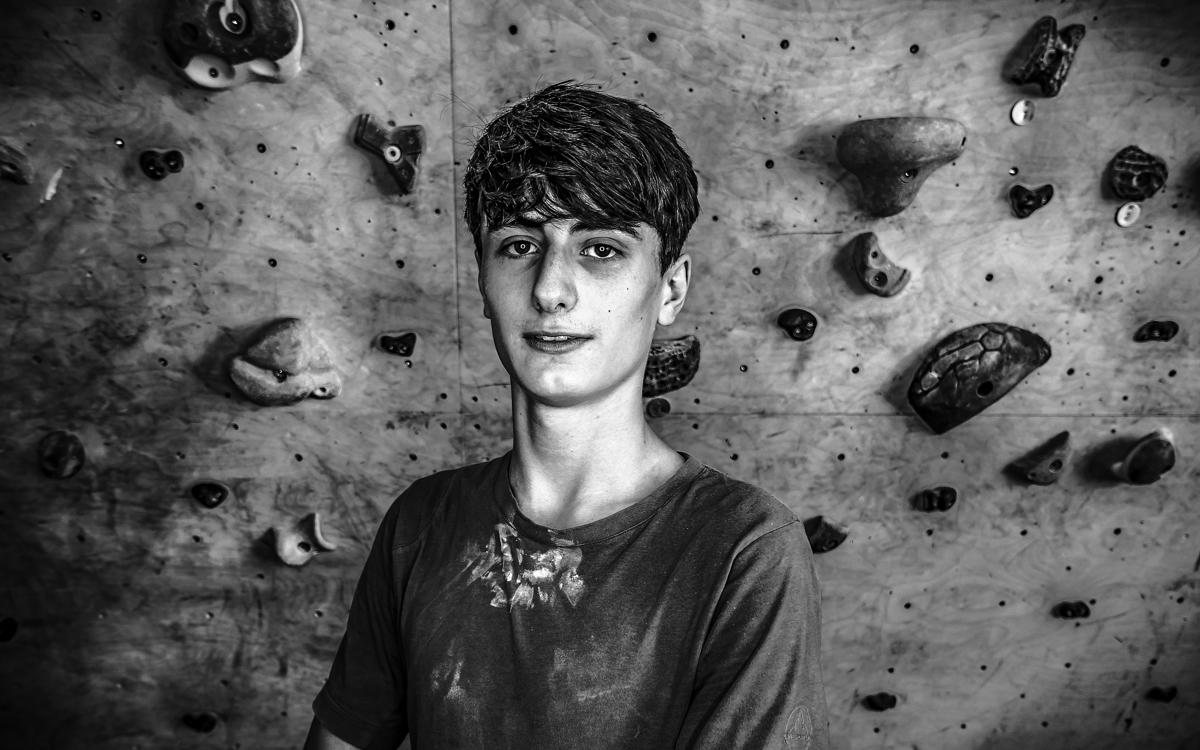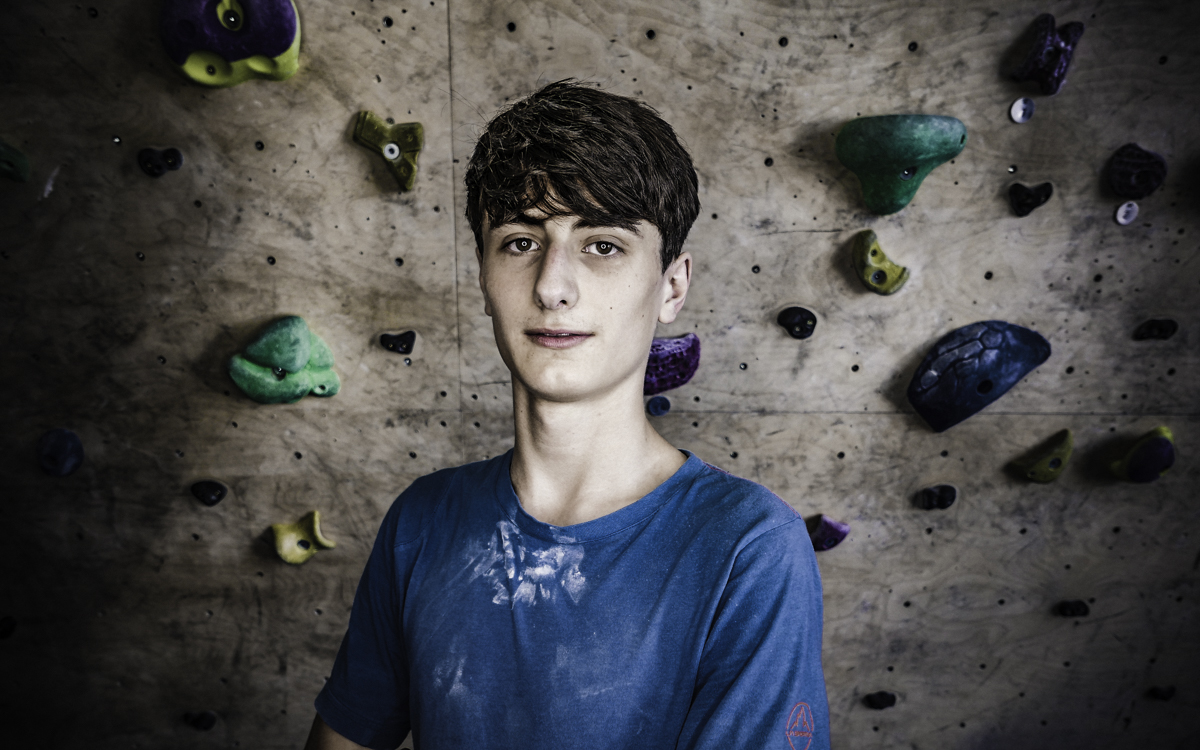 Meet Joe...Setter
Joe has been climbing here since we opened our doors almost 5 years ago and is now an intrinsic part of the route setter team.
He often climbs with his father and brother Hari and both Joe and Hari are members of our Boardroom Academy.  It's been fantastic watching them both develop as climbers.
"To me The Boardroom is a place to go when I'm stressed, tired, bored or just whenever I feel like it. It's my happy place. It's a place where I'm always motivated to try hard and do my best. I've been going to The Boardroom for nearly 5 years and I can easily say that it's the friendliest climbing wall I've ever visited."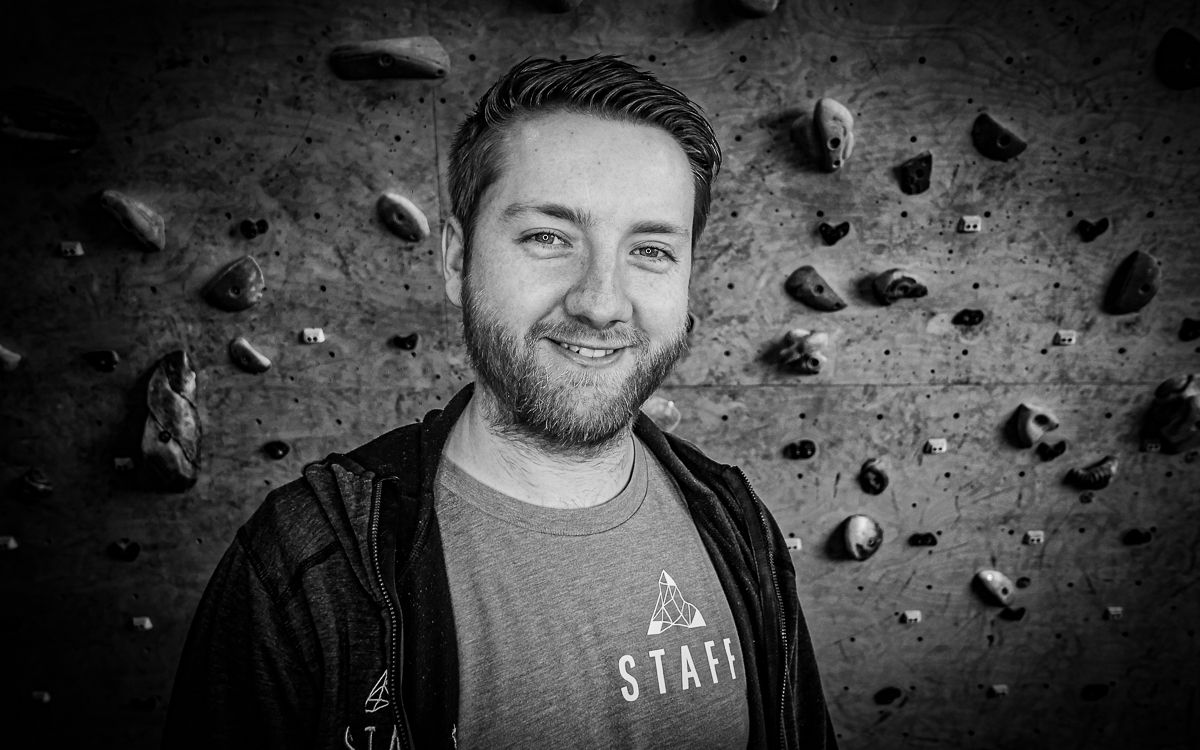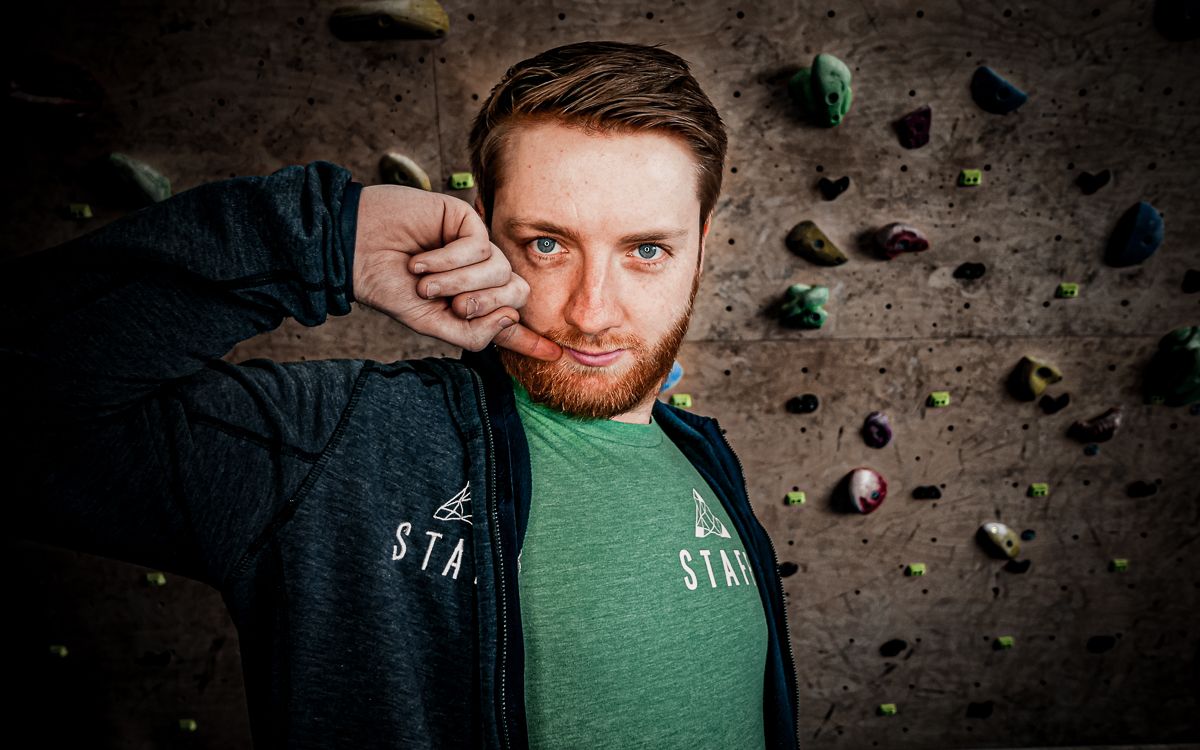 Meet Josh...
Josh used to do a lot of climbing with summer camps growing up but just recently got back into it.
"I love the mental aspect of climbing. It's great for fitness but you're also problem solving in trying to figure out the movements to get up the wall.  It's massively enjoyable."
Josh's main goal is to learn to lead, as he has always bouldered and is excited about the new challenges that the added height will bring.
He loves climbing at the wall as being around other climbers is helping him become a better one.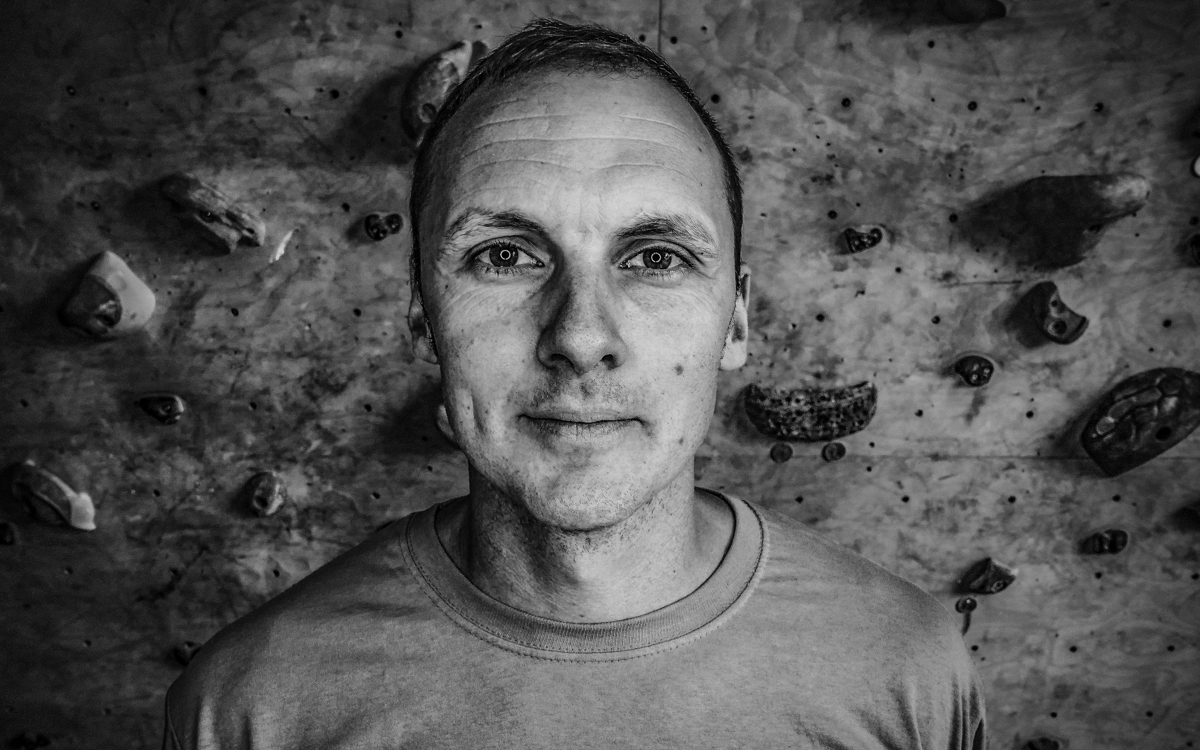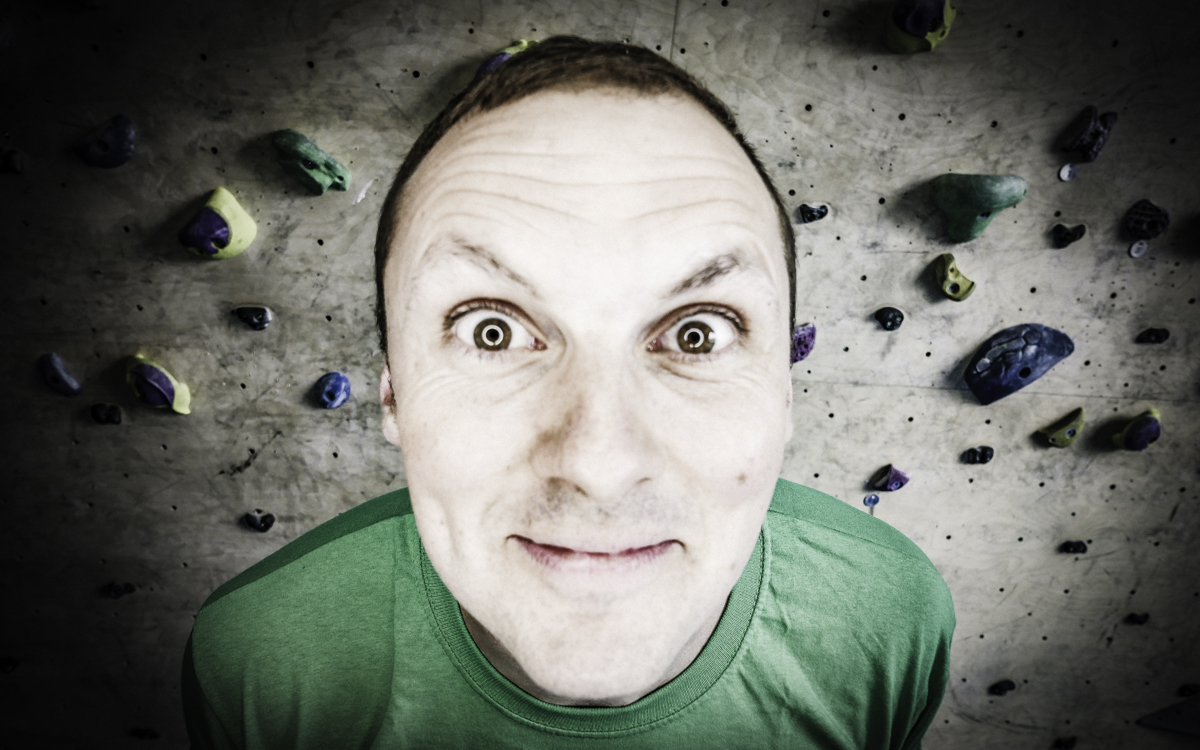 Meet Lee, owner/director
Lee started The Boardroom with Dave and together they have built quite a wonderful place to work, climb and hangout.
His favourite music is still happy hardcore.
He wasn't always a climber believe it or not, in fact he was much more comfortable throwing himself down monstrous rapids in a man sized fibreglass banana.
"I once said to Dave, "are we gonna build this climbing wall we've been talking about for years?" He said yes, one thing led to another and now The Boardroom is a thing, the best thing! (maybe I am a little bit bias).
We have tried to create a place people wanted to be, as well as include the best climbing we could imagine. We are climbers, we like climbing, so we built The Boardroom.
It isn't really just one persons dream or one persons idea, its grown organically through the interactions and input of all the wonderful staff, wonderful customers and even Bob the Milkman. Collectively the community makes it what it is today.
Before The Boardroom, I was a paddler, not the best but not bad, reaching international level with a few races in Europe.
I've been a climbing instructor since 2004 and now, well, I mainly fly a desk and do boring Director type stuff.
If I'm not doing the paperwork or business development or being a dad, then I'm bouldering whenever I can, with as many people as I can, and avoiding being a grown up as much as I possibly can."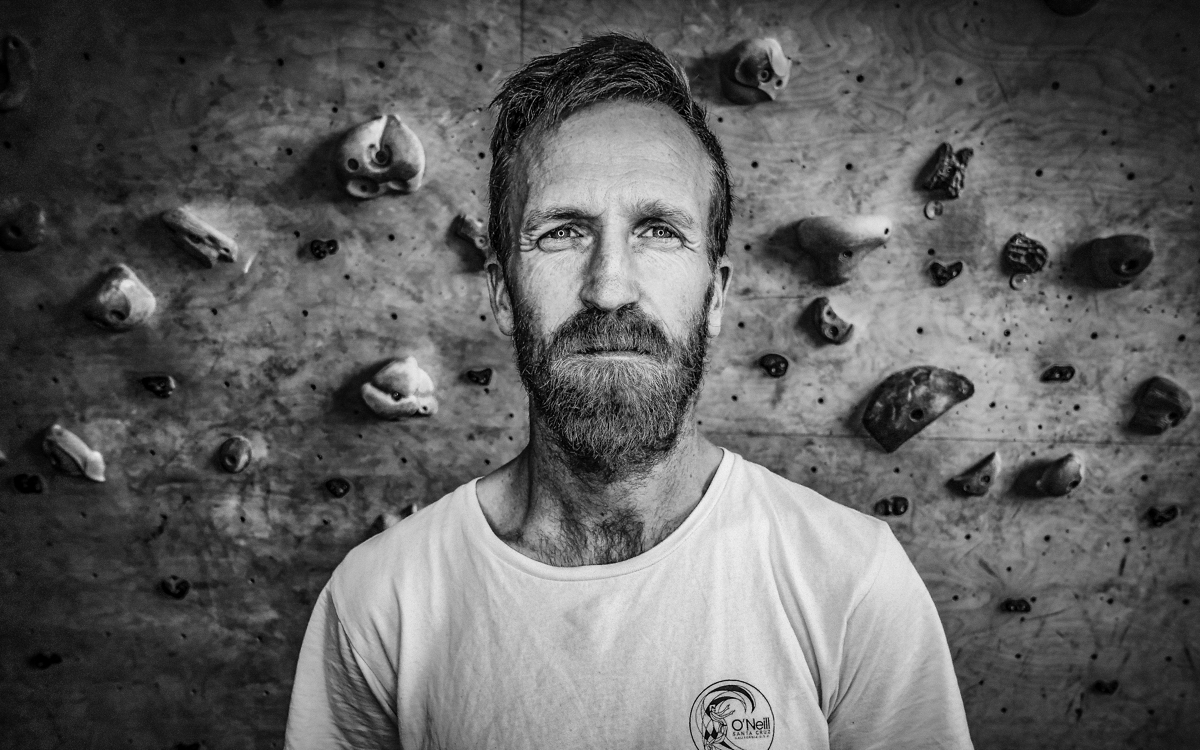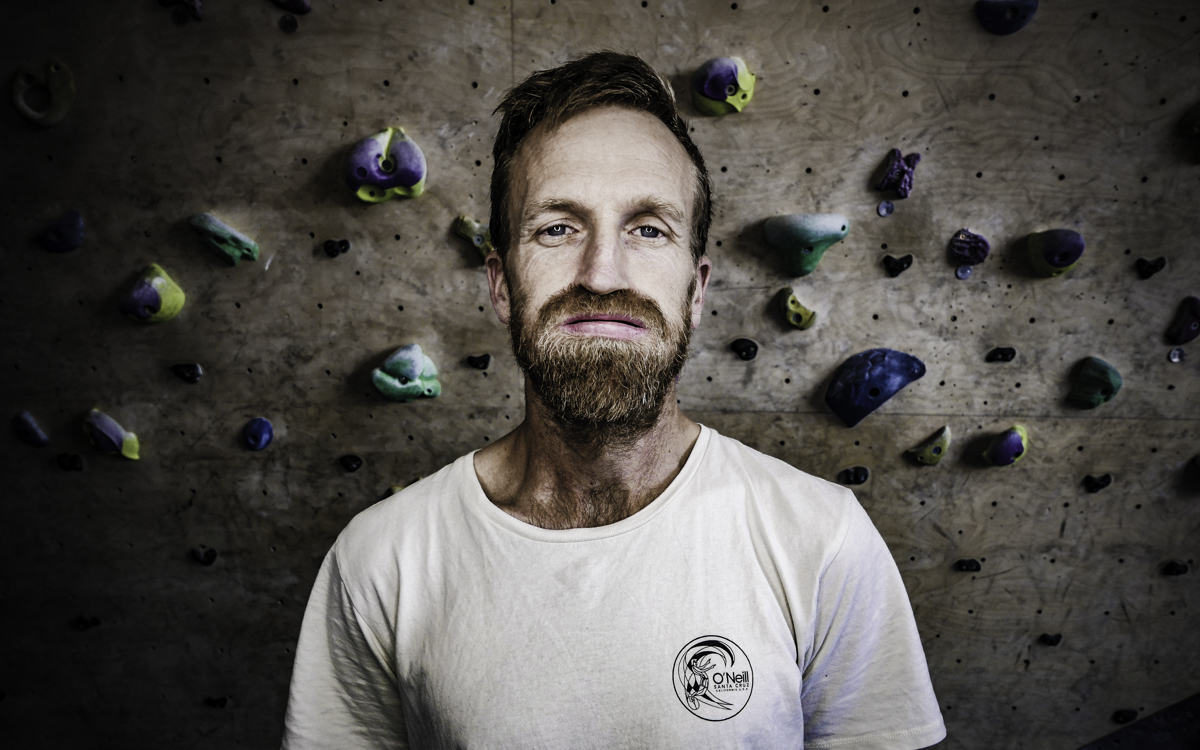 Meet Liam, 2nd head route setter!
Liam Halsey 'The Dark Horse of Climbing' has been climbing since he was 15 years old.
He used to cycle 12 miles to get to Amer­ sham climbing wall where on occasion he would meet one of his biggest influences to date, Kev Noon, who took Liam out side and coached him on the rock.
Since then Liam has been a strong and respected contender on the British comp scene across all disciplines.
He first came to The Boardroom to de­liver a climbing master class in 2014 and set our Psicobloc, since then he set for us here and there before we collared him on a more permanent basis.
We love having Liam set here with Nick and the team, and not only because some­ times he's accompanied by his and Es­ther's Burmese cat Martha, but because he has a unique and valued setting style.
"Numbers are a speck of dust in the grand scheme of things. Climb to climb!"
 On his to do list are underdeveloped areas of Patagonia, Greenland, Kjerag etc…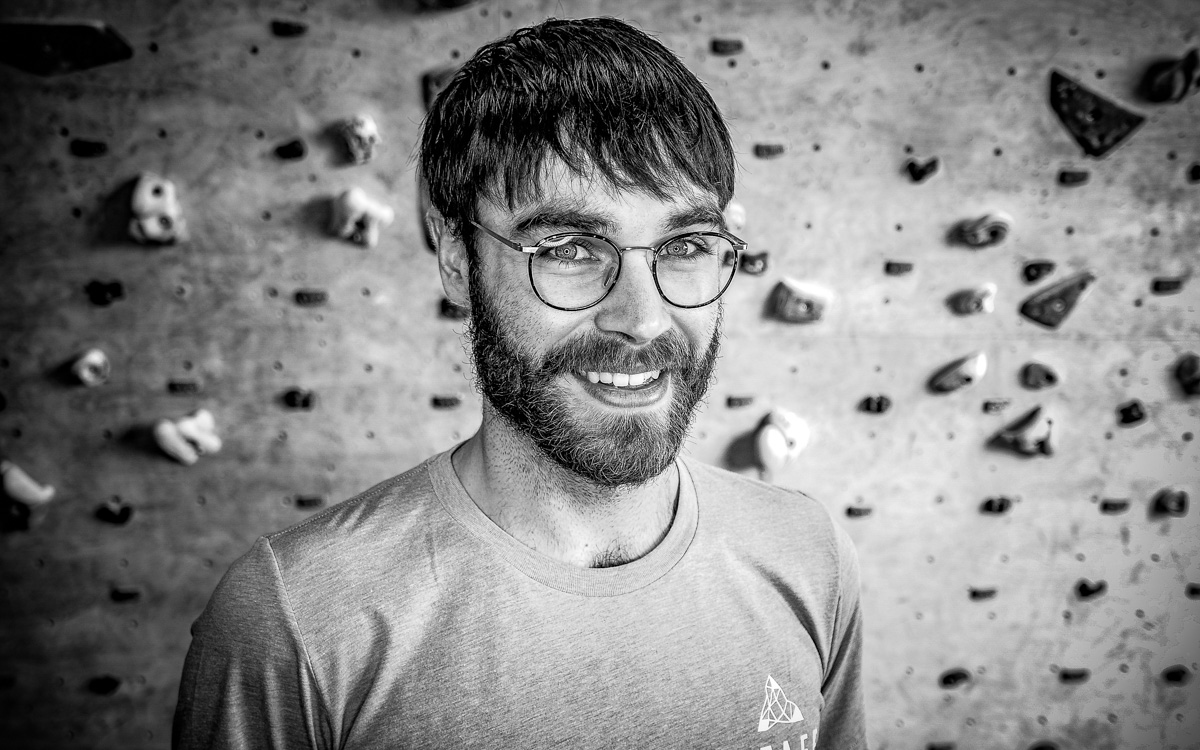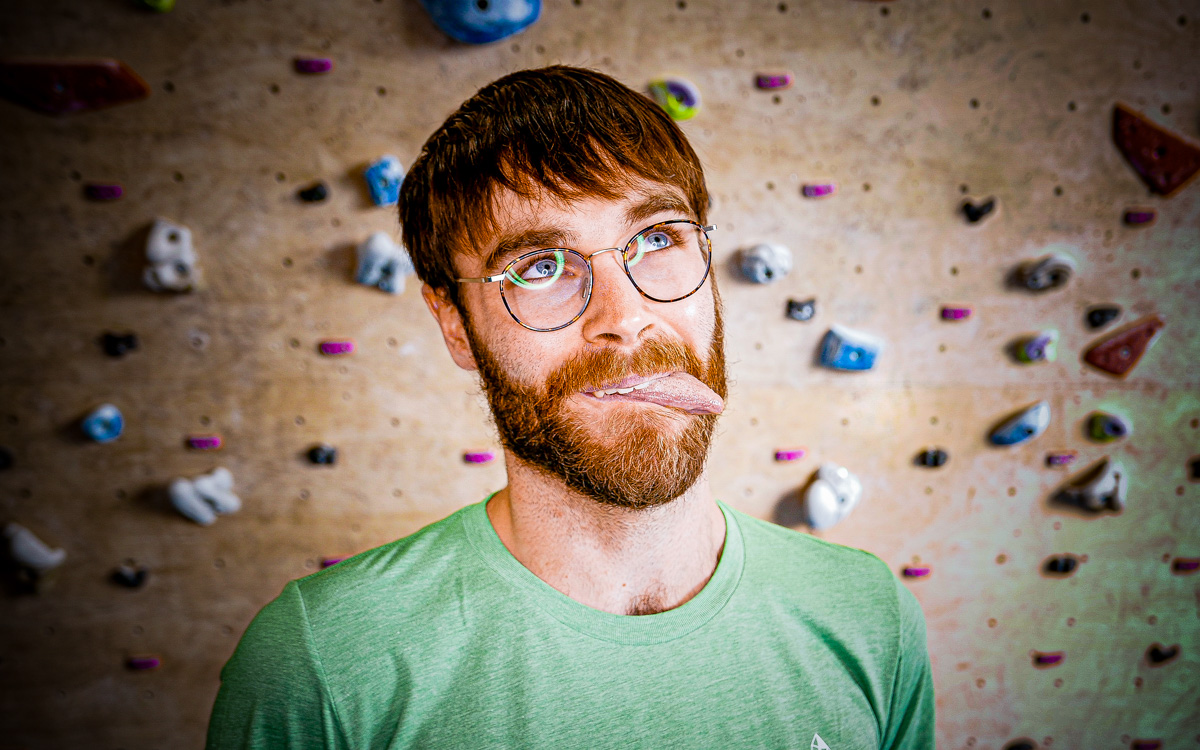 Meet Luke...
Luke works on reception and started climbing about 5 years ago with friends.
He uses climbing as a way to relax and decompress, get a great workout and also give his brain something to focus on. "Climbing helps to keep me focused on other aspects of life and relieves all kinds of stress"
He has some outdoor sport climbing goals but is currently working towards V6-V8.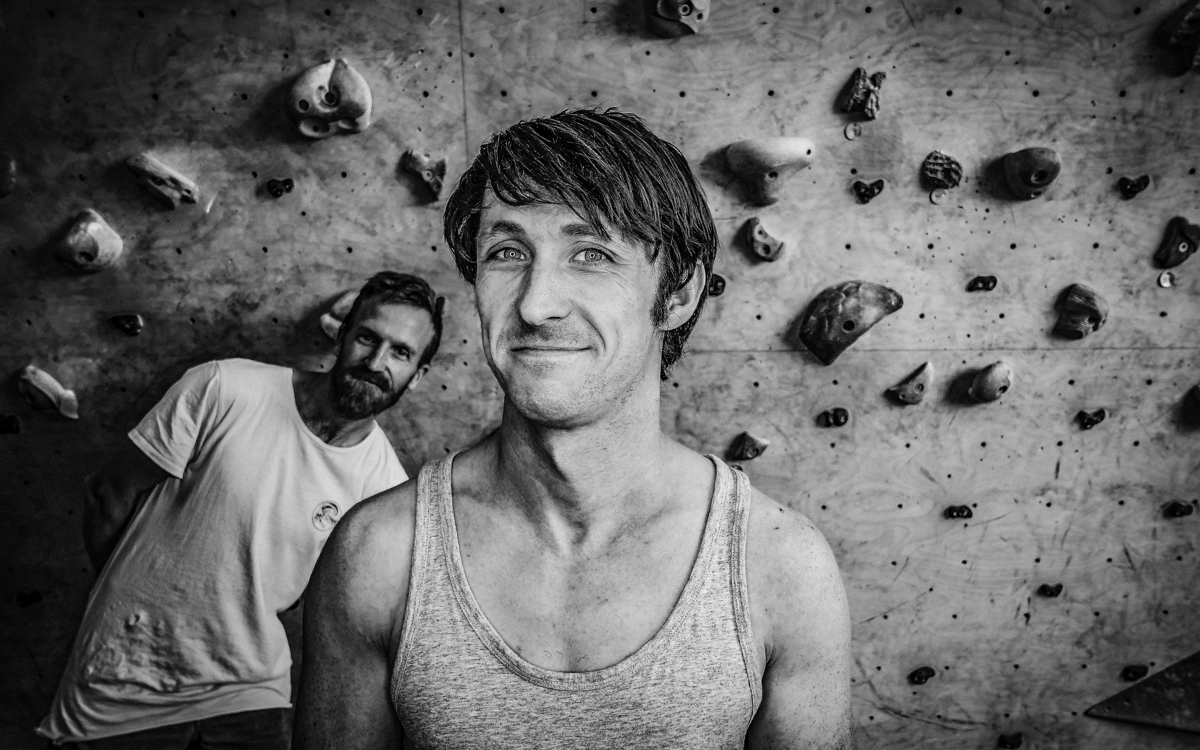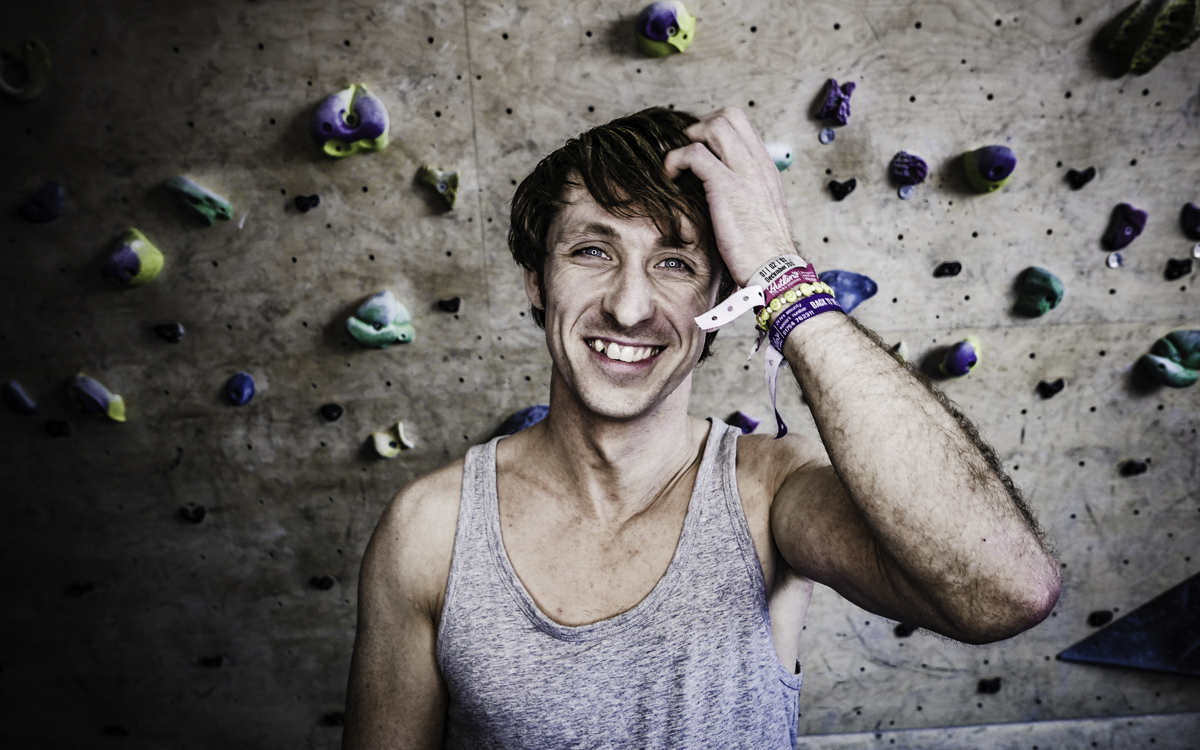 Meet Nick, head route setter...
Nick is two fifths of our Head route setting team alongside Liam Halsey and Joe, he also does a spot of coaching on request "No I don't".  He has been here since day one and we're extremely privileged to have him on the team.  He has bouldered V11 (recently Diesel Power at Cromlech) and climbed 8b+.
He started climbing at school, mainly trad in the quarries of Lancashire and on Peak District grit.  He worked at Boulder UK when he was 16, on reception, washed holds and watched master setter Ian Vickers intently.
He spent a lot of time at Longridge and started to really focus on his training and technique.
He began competing when he went to uni, visiting walls all over the UK and Europe, he was also on the Senior British Lead climbing team.
'I used to visit Thailand every winter and I've been to most places around Europe but I really love Yorkshire Limestone, there's nothing like it.  I've got my eye on a few things at the moment, on my list amongst others are some projects at Kilnsey, Bat Route 8c at Malham and Liquid Amber 8C+ at LPT."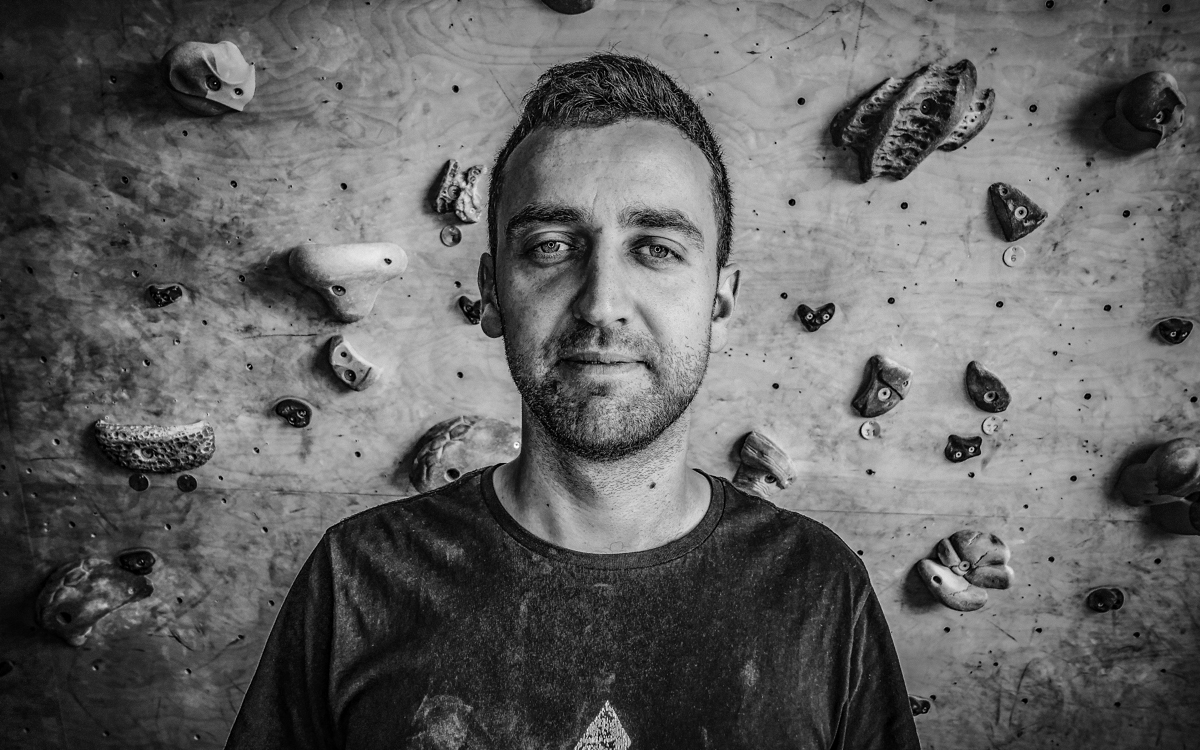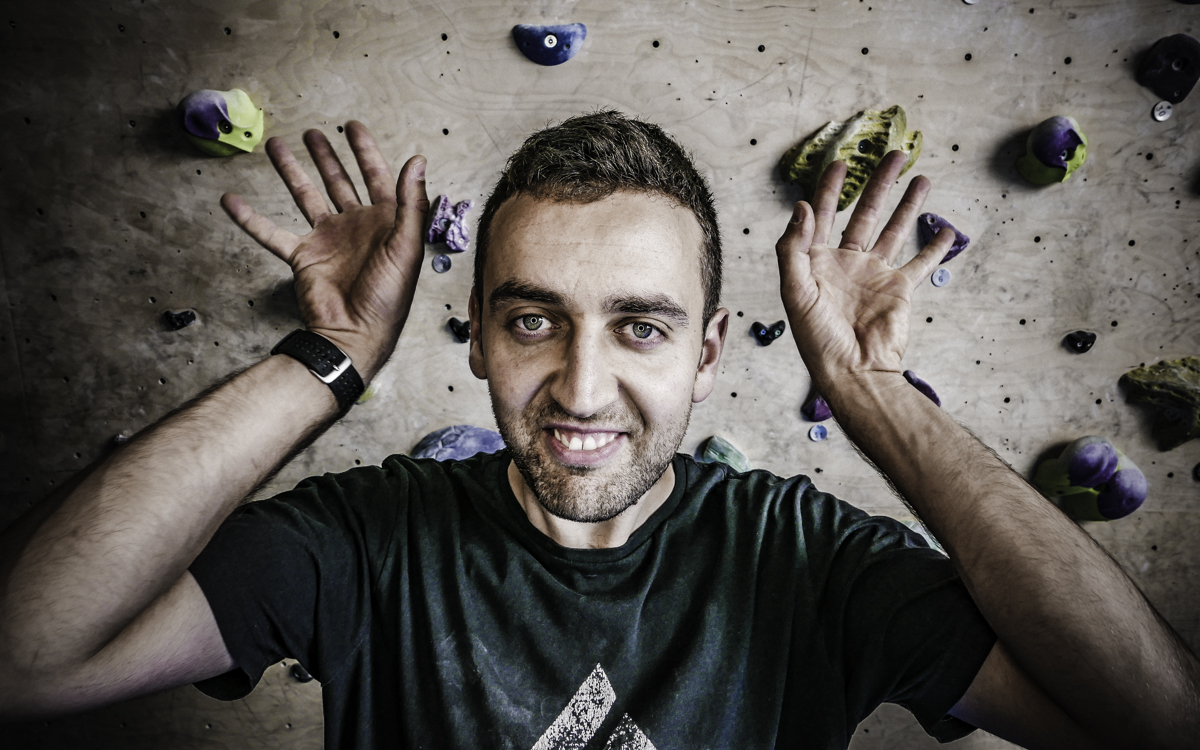 Meet Rhys, main manager...
Rhys does a bit of everything here, especially if it involves making, building, designing or fixing. Let's just say he runs the place!
The Drawing Room exists because Rhys was nice enough to build it for us, and the shop, the climbing twister, the slackline pit, most of the kitchen for little sis Erin, the list goes on and on.
Dave and Rhys met when they both worked at Llandegla. Rhys worked in the bike workshop building and customising.
He left for a bit to live and work in Canada and when the dream of The Boardroom started to become a reality Dave knew that he wanted Rhys to be part of it.
He makes us all very happy.
Outside of work he likes owls, and trees, he churns mud about in Enduro and goes on many a weekend adventure exploring mountains and welsh wilderness.  He lives with lovely Jen, new baby daughter Edie and the two cats Gary and Margaret.
Meet Robyn...
Robyn is one half of our amazing kitchen team, she loves to draw and practice yoga alongside cooking.  She started climbing after her rugby team disbanded in 2019 and thought she would try some indoor bouldering, she's been climbing ever since.
"Climbing challenges my mental game as much as the physical effort which I love.  I am keen to start sport climbing outside and eventually learn to trad climb as I would love to try some multi pitch routes.
I'm also looking forward to returning to Font and linking it up with a visit to Magic Wood and Albarracin".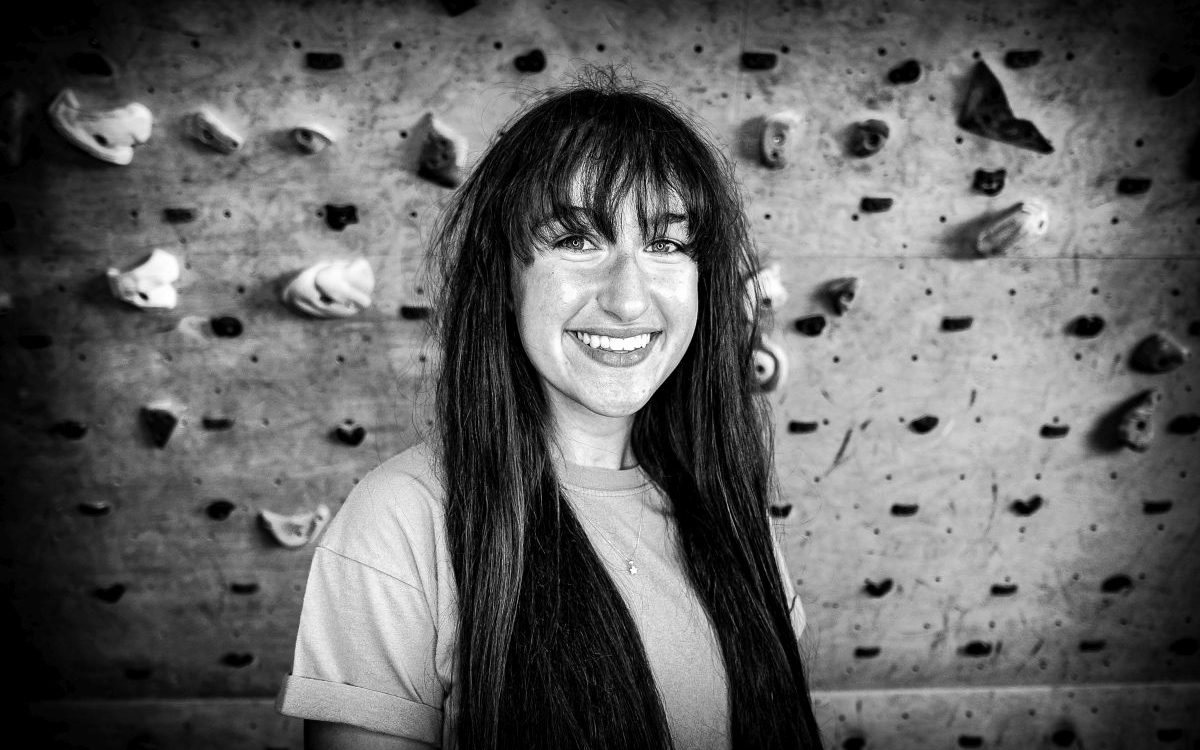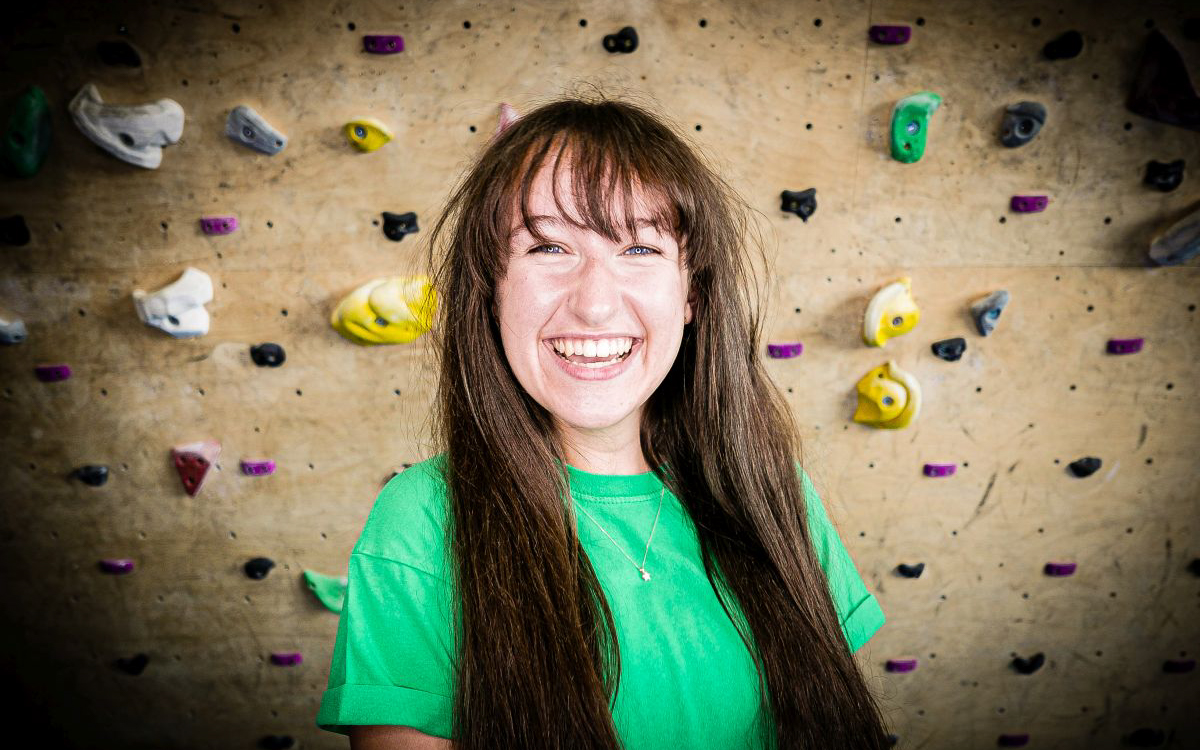 Meet Seren...
Seren started volunteering here in 2020 and now works on reception.  She has been climbing for nearly 6 years and completed her NICAS course here, she's now smashing 6b on lead and V4-V6 on boulders.
Outside of climbing she plays saxophone, skateboards and is studying maths, further maths, physics and chemistry, hoping to pursue environmental engineering.
"The thinking/planning side of climbing sparked my interest initially.  I often have to find my own beta for routes because of my height so it keeps it interesting when you can't steal other peoples beta.
I love slabs, crimps and am starting to enjoy overhangs more now Im not as scared of them. I think I prefer the techy stuff, that favours balance and flexibility over powerful stuff as I'm still in the process of building up strength.
No matter what mood I'm in when I arrive at the wall, I always leave with a smile on my face.  I spend so much time at The Boardroom that it's become a second home and the people like a second family."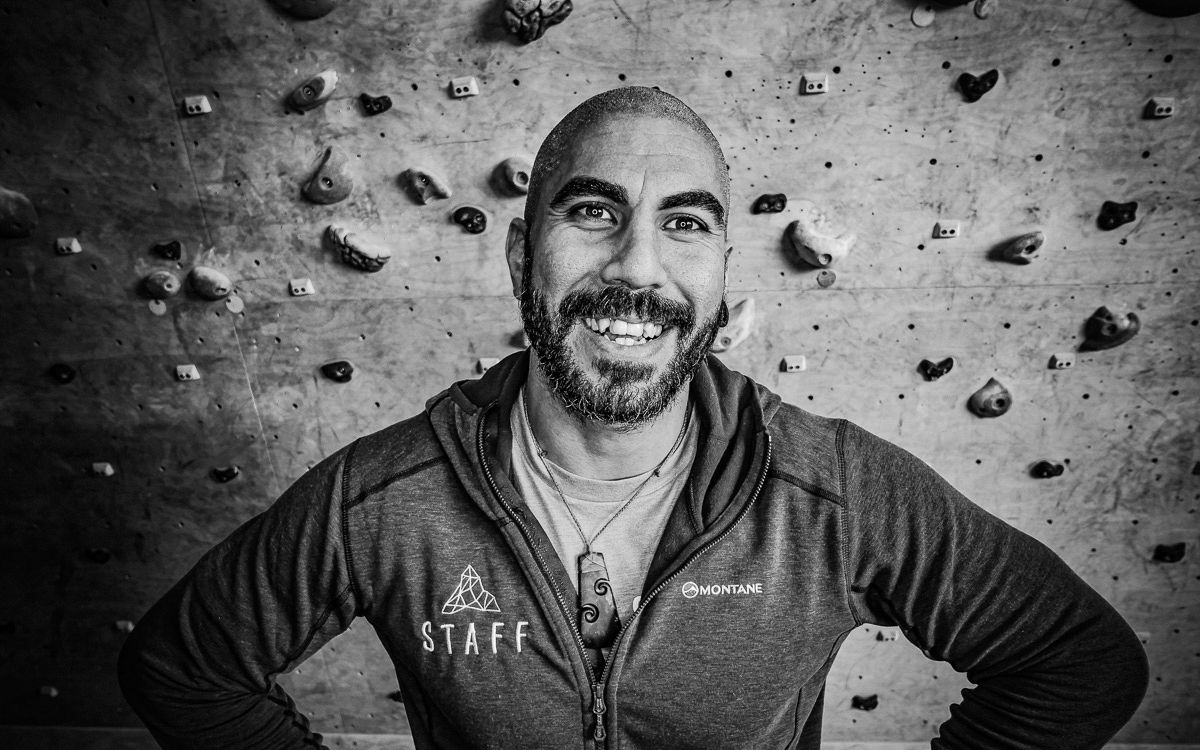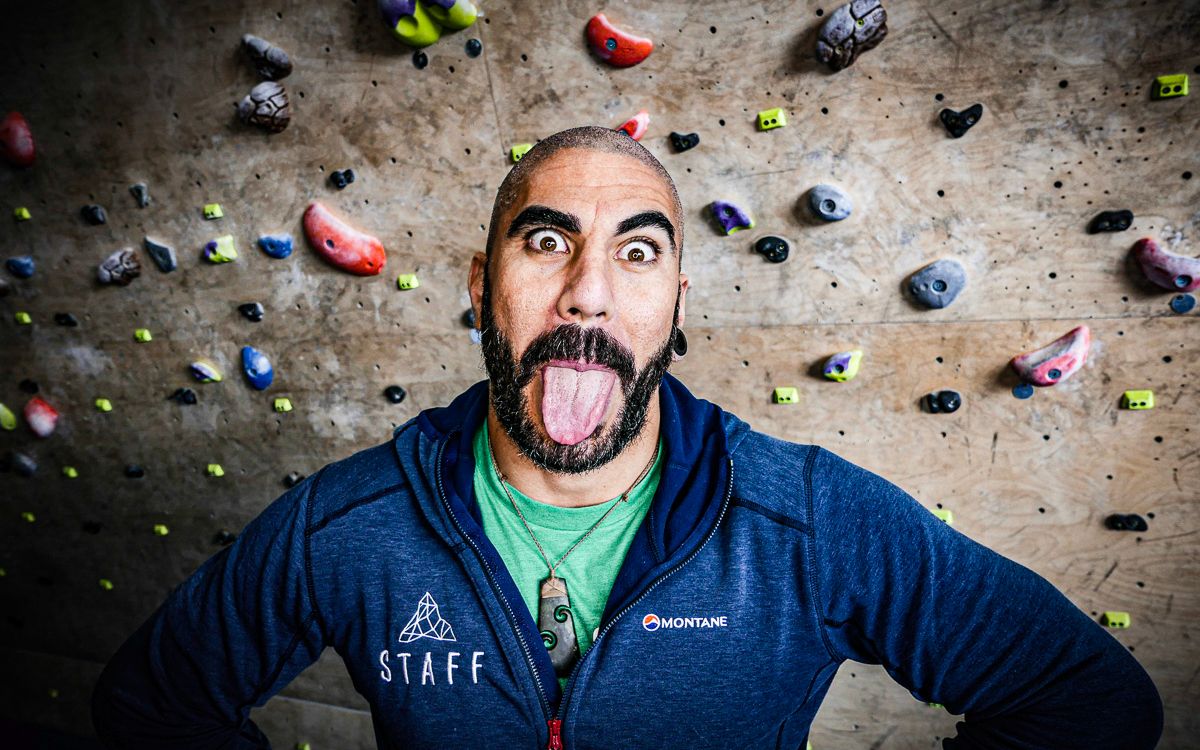 Meet Tim...
Meet Tim, smiling on reception, covering wayward instructors, and making things appear like magic behind the scenes!
Tim got into climbing in 2017 after watching the movie Valley Uprising, he went straight to Cliffhanger Climbing Gym in Melbourne and was hooked.
His first outdoor climb was a 5 pitch trad route, The Bard, Arapiles.
While he was working at the climbing wall in Melbourne he spotted The Boardroom on Epic TVs climbing daily and added it to his climbing bucket list. Soon after that, in almost a twist of Epic fortune he moved here with his partner and it just so happened that we were hiring!
Magic!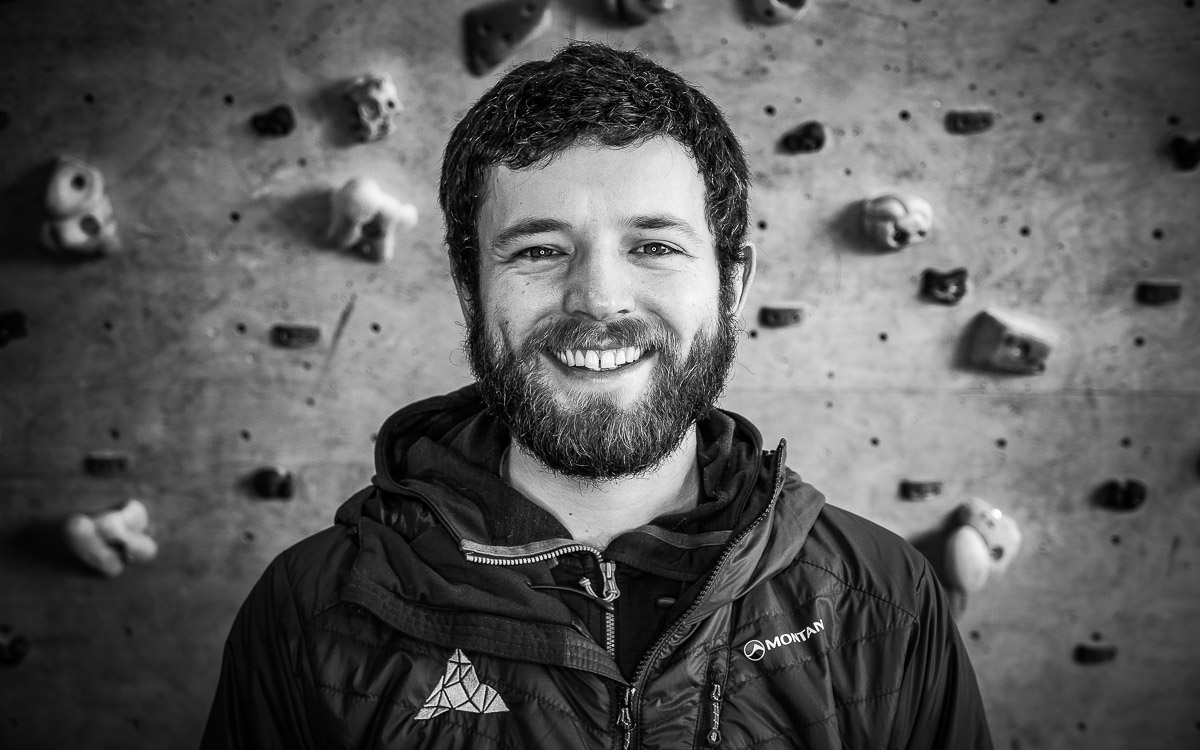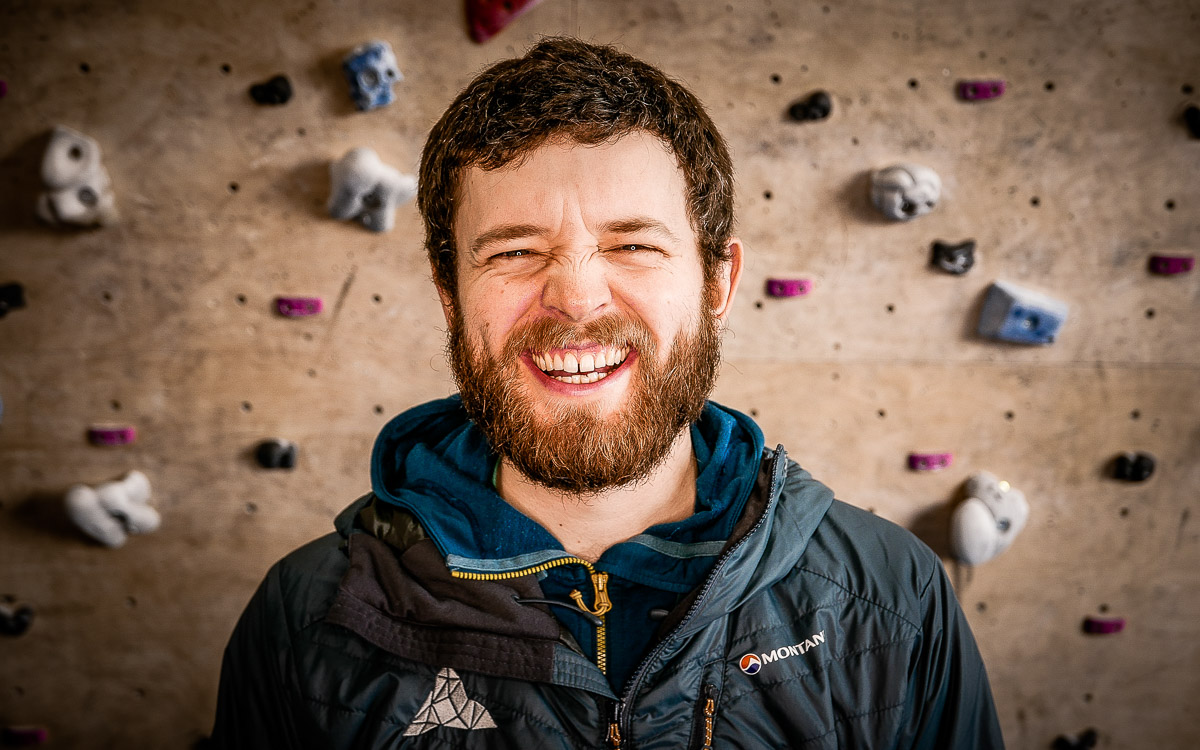 Meet Tom...
Tom works here as an instructor and when he isn't working enjoys running and paddle boarding to relax amongst other things.
When he was younger he would drive 4 hours to Portland for a day of climbing, and his love of the outdoors never faded.
"I enjoy all types of climbing from trad to bouldering, but I really love Welsh slate, it's unique and there is nothing else really like it. I also love Scottish winter climbing because type 2 fun is the best"!