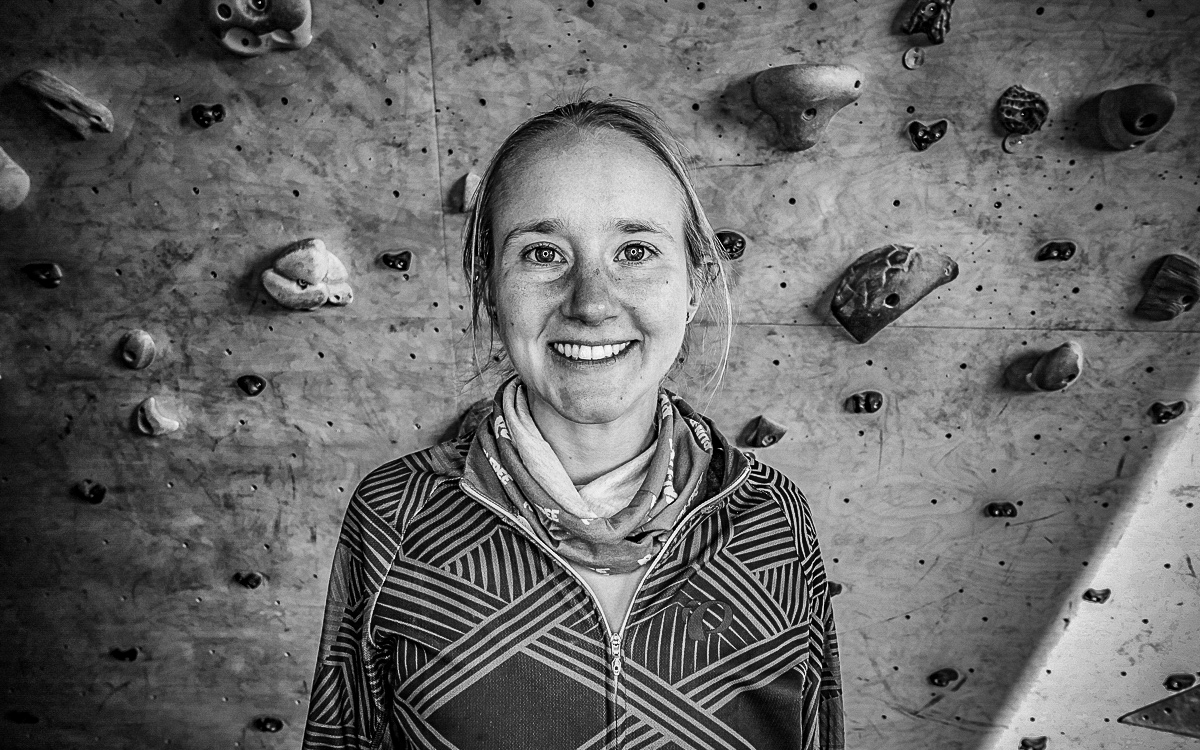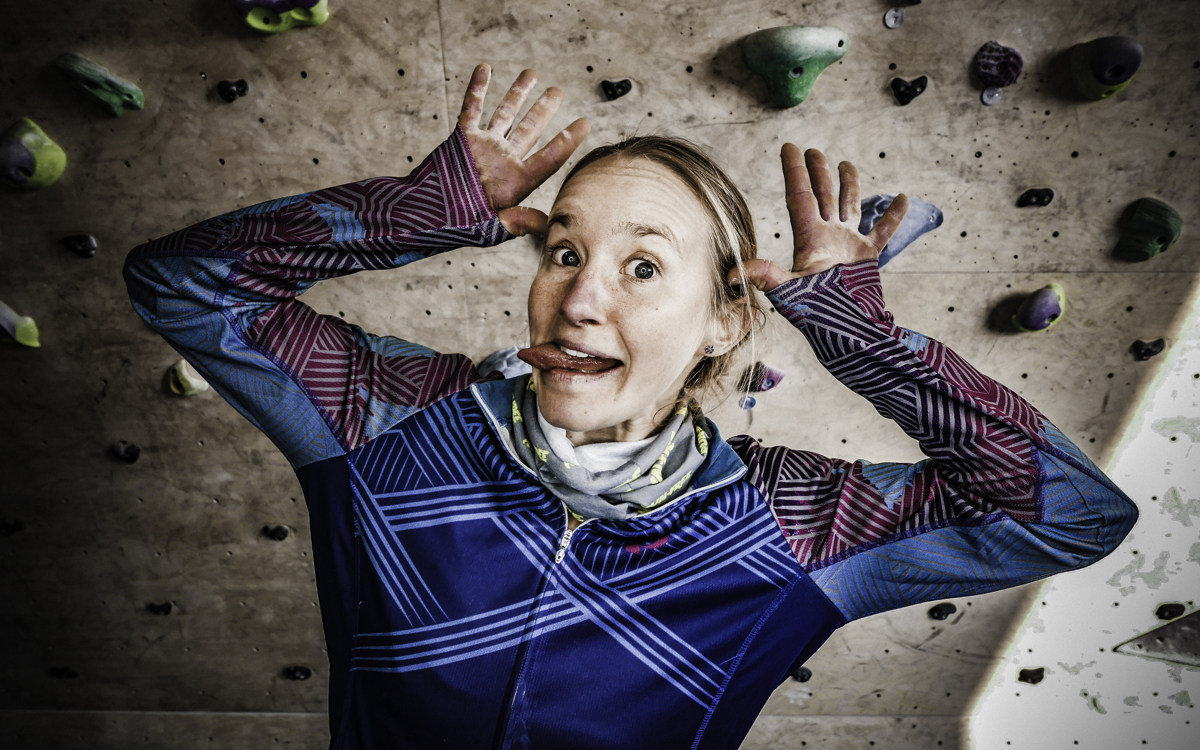 Meet Alice, freelance instrctor
Alice is our wonderful creative, colourful, spell checking, shark attack champion! She freelances in between freelancing (she's a very good tutor).
She loves the outdoors and is always doing something adventurous like trail running, mountain biking, swimming and climbing.
"I've been climbing for as long as I can remember. When I was a kid, I was constantly dangling from trees, lampposts and (to the horror of the other children's parents) all sorts of buildings.
My eagerness to climb things found a more productive outlet in uni, where I enjoyed playing – err I mean studying really hard – in the puuure epicosity that is North Wales.
I enjoyed being wrapped up in the outdoor world so much that I began teaching climbing.
I climb because it can be so difficult across so many dimensions. And difficult things are worth doing.
My favourite climbing quote is – during a lengthy, involved discussion about the gold standard for climber/belayer interaction – 'Shut up now and hold my rope'."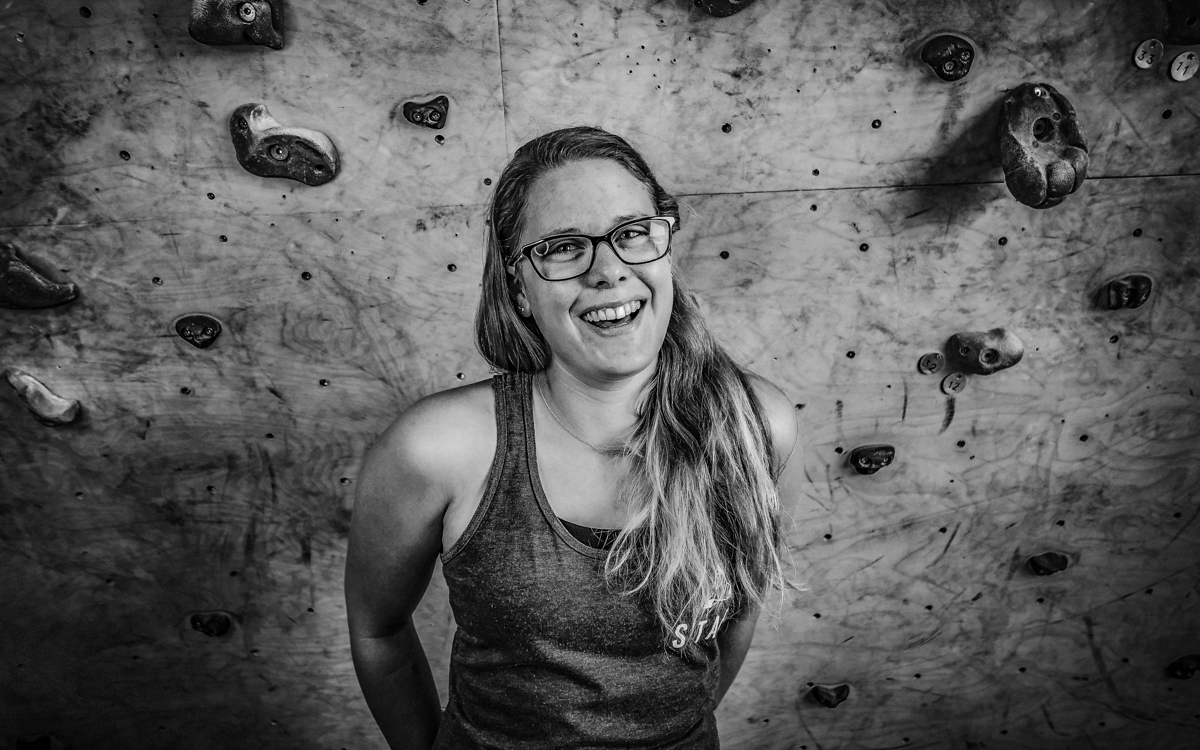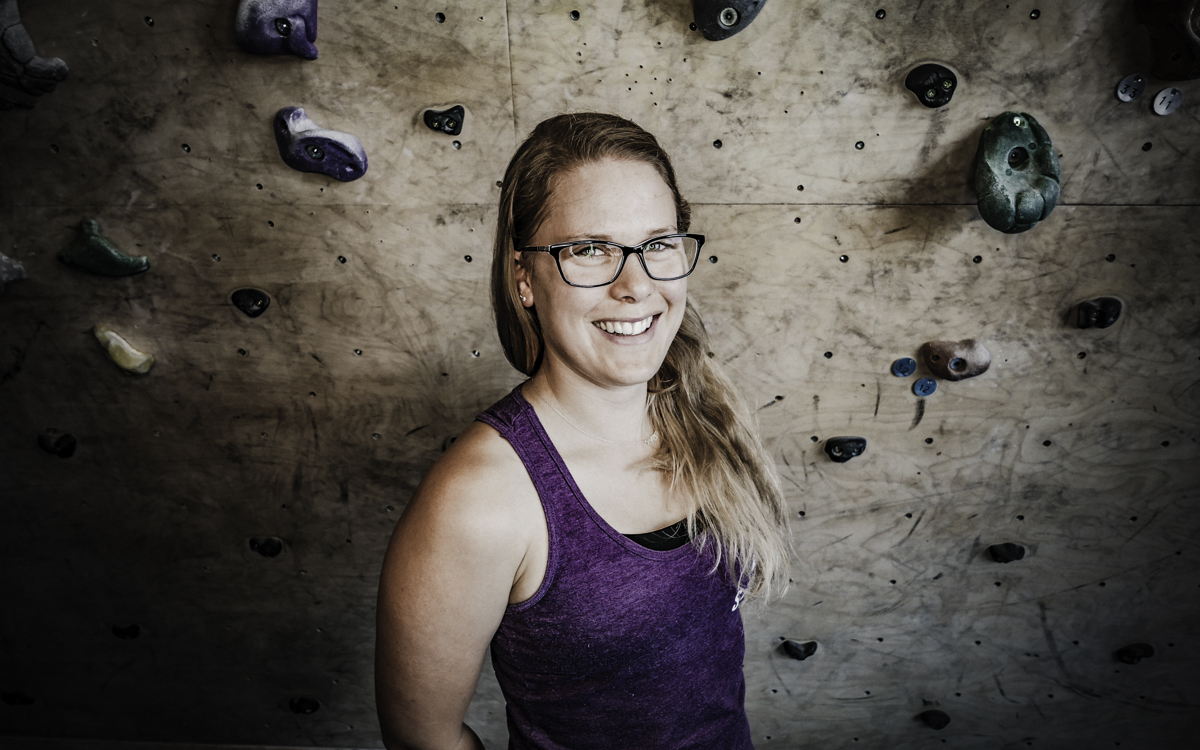 Meet Amy...
Amy is our little ray of sunshine here and when she isn't cheering everyone up with her infectious smile and hugs on tap she instructs and helps out on reception.
She love's climbing (particularly trad) and she's been doing it for about 12 years, instructing for 10!
She is also partial to a slice of cake with a lovely cup of tea.
"I never thought that climbing would be something so integral to my life. But I love it!
I have learnt over the years that the only time you fail, is when you don't try at all; and you really do kick yourself when you walk away from something wondering 'what if I had tried?'.
To know when to give up and come back another day is just as important as trying hard in the moment. It's all exciting, and there is always new things to test yourself against, whether this be at indoor walls or climbing outside – and I love the challenge that this presents.
The most important lesson I have learnt is that at the end of the day, climbing for climbings sake is the most important thing. It doesn't matter how hard you climb, just that you're climbing and enjoying it"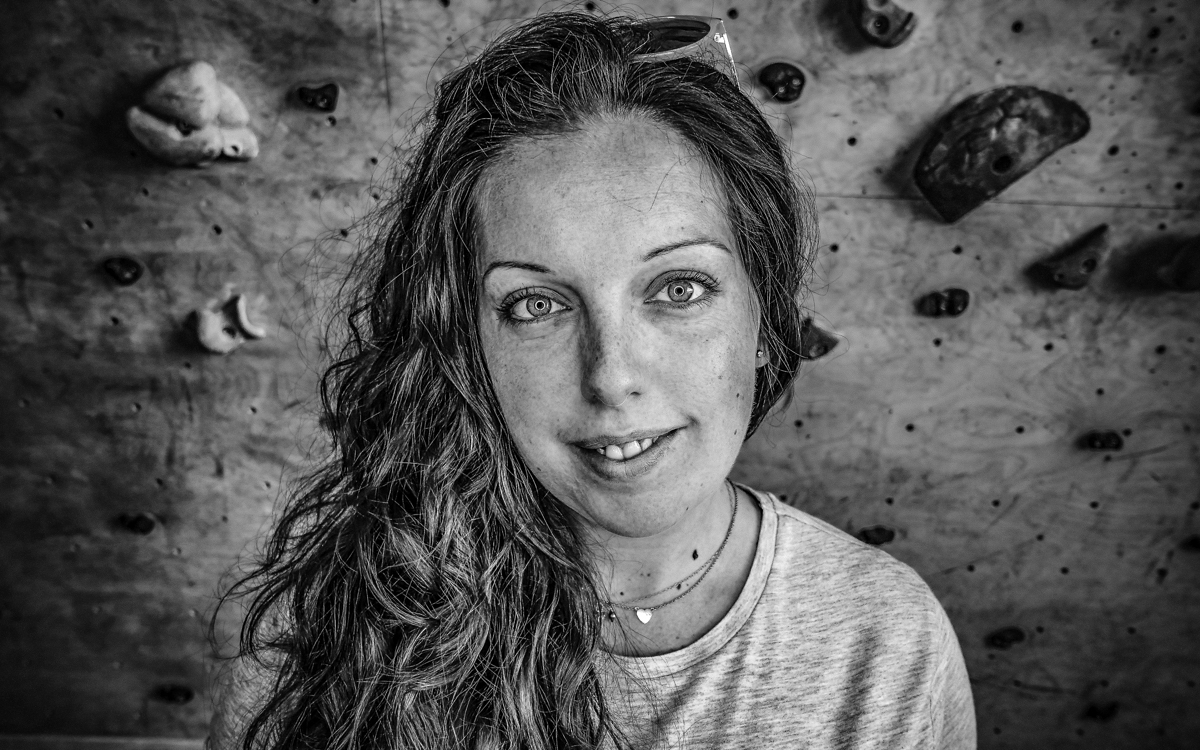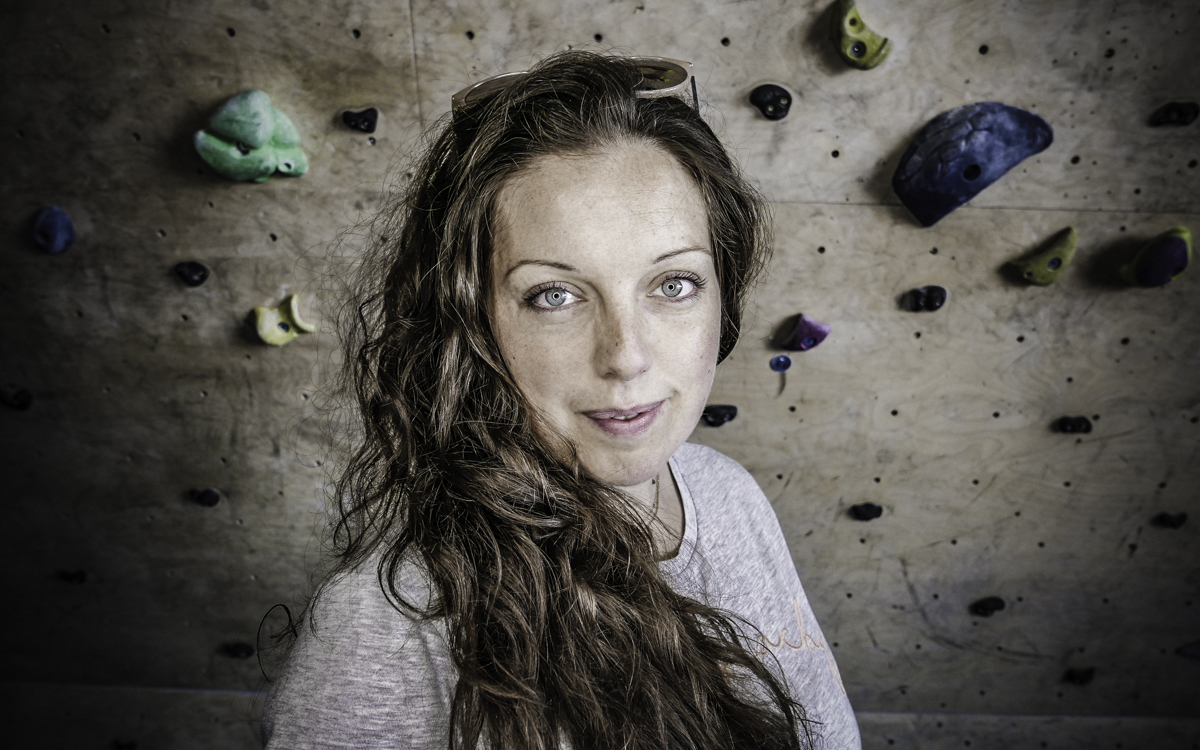 Meet Becks...
Becks, known to many as Queen B, or Mama Becks at The Boardroom, route sets, instructs and throws together cake and pizzas in the kitchen from time to time.
Amongst her family, puppy Maisie, gin, prosecco and a heap tonne of adventure she loves climbing on rock, rock bathed in sunshine, lots of exposure…..with great friends.
"I've worked in the climbing industry for 13 years, and first climbed with my dad when I was around 10. His passion for climbing is continuing through me. It is a way of life.
Mum to Issy, and Angel Baby Oscar ♡ now I climb when I can, not when I want. But I wouldn't have it any other way!
My favourite places to climb are Portland and Fontainebleau.
I can't imagine a life without rough hands. Life throws us some pretty big punches, we have to show inner strength. Climbing brings that out in me."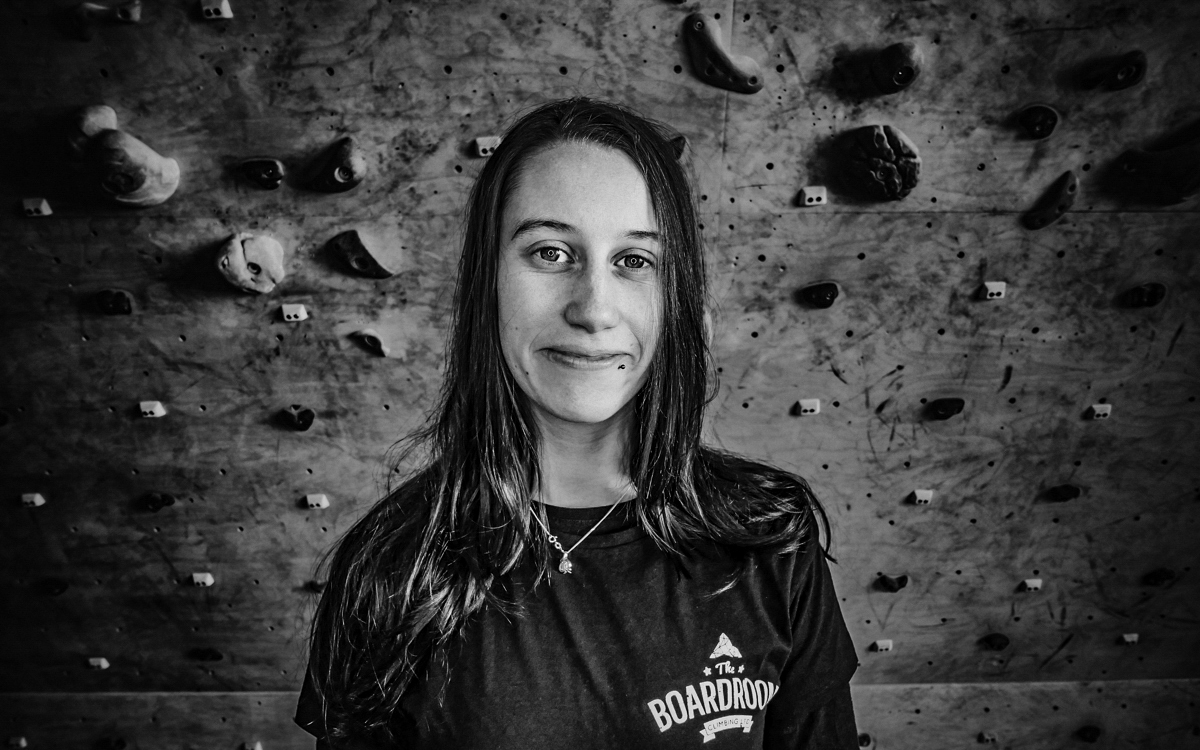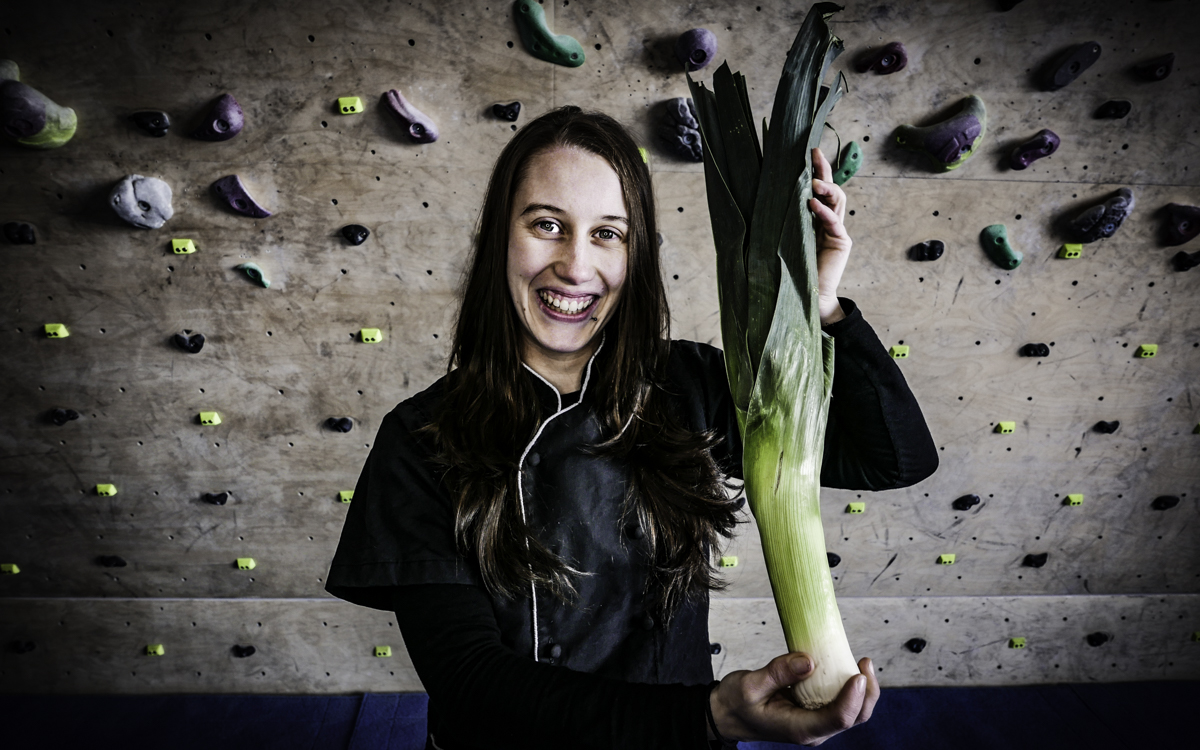 Meet Charlotte...
…the other half of our kitchen team and one of the reasons our cake quota has recently quadrupled.  She is a pastry chef by trade and has been cooking professionally for about 7 years.
Originally from France, Charlotte decided to travel to New Zealand and Australia where she lived and worked for over a year.  There she bumped into our very own Jonny who subsequently kidnapped her and brought her to The Boardroom! Winner!!
She enjoys running, horse riding and recently climbing and she also loves video games, especially Guild Wars and current favourite League of Legends.
Her speciality cake is a chocolate almond sponge, with white chocolate mousse and raspberries, topped with a chocolate ganache – yet to be named but it sounds amazing!!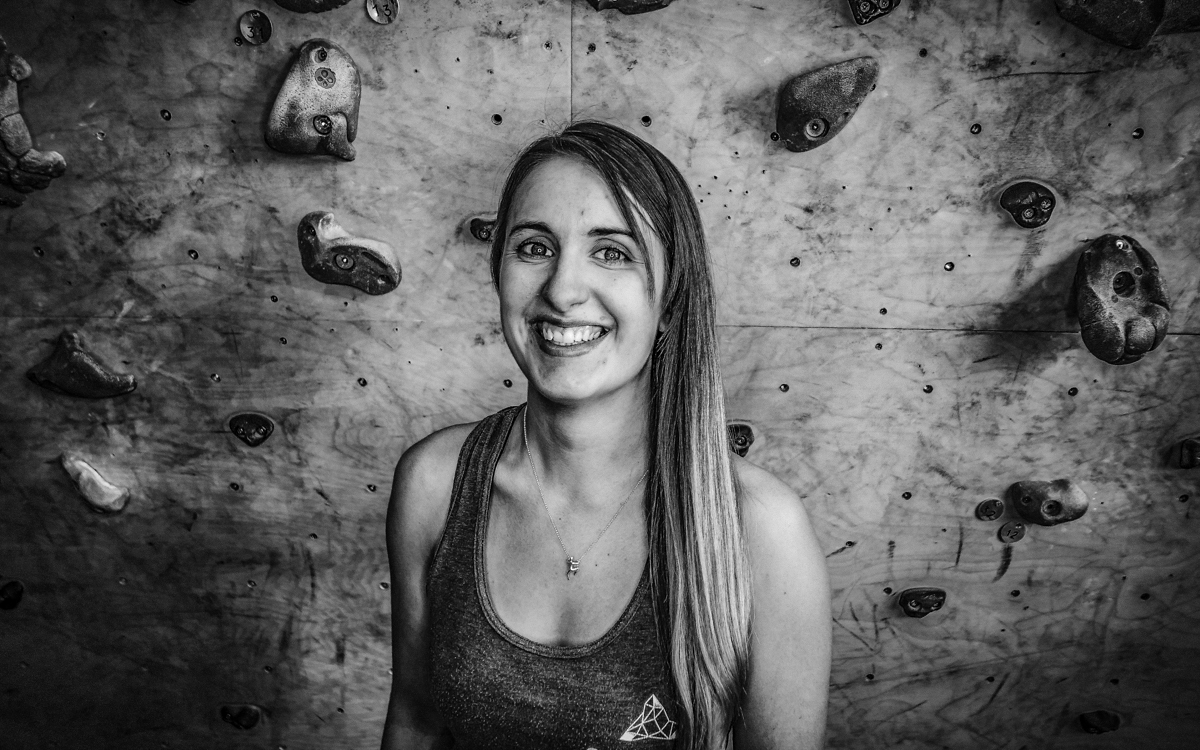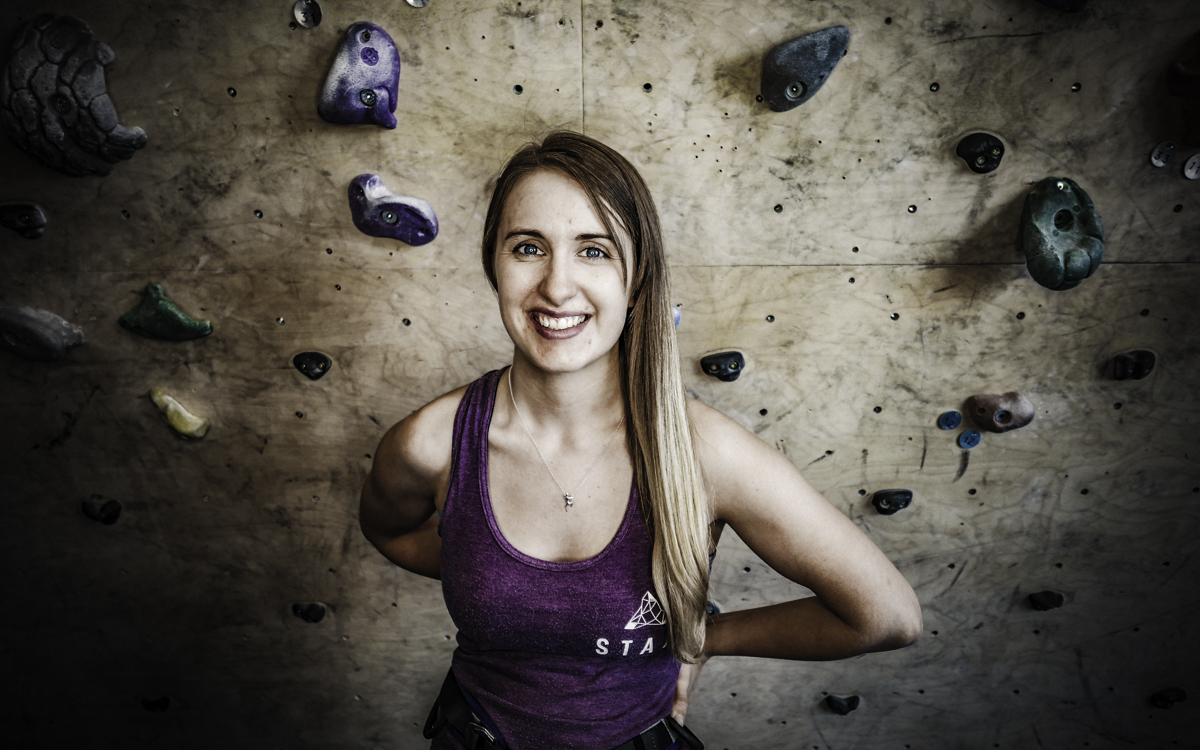 Meet Danielle...
Danielle is the one throwing those funky dance moves on the floor and the odd dyno here and there on the wall.
Kids absolutely love her on session and so do we!
When Danielle isn't working or climbing there isn't much time for anything else but eat and sleep, however, she still manages to find time to practice her aerial silk skills!
"Climbing completely took over my life, there was no looking back and I love it! Working in the climbing industry has a positive influence on my psyche level for climbing.
Being constantly surrounded by climbers trying hard, putting in the time and effort and most importantly enjoying themselves reminds me everyday why I love this sport.
Instructing and coaching allow me to help climbers progress through the sport that we all love and I'm constantly being challenged, reflecting and learning from it.
I'm lucky enough to have found Danny through climbing, the sport allows us to explore beautiful places, motivate and learn from each other, make memories together, and live like cosy dirtbags in a van at the side of a crag, living the climbers dream!"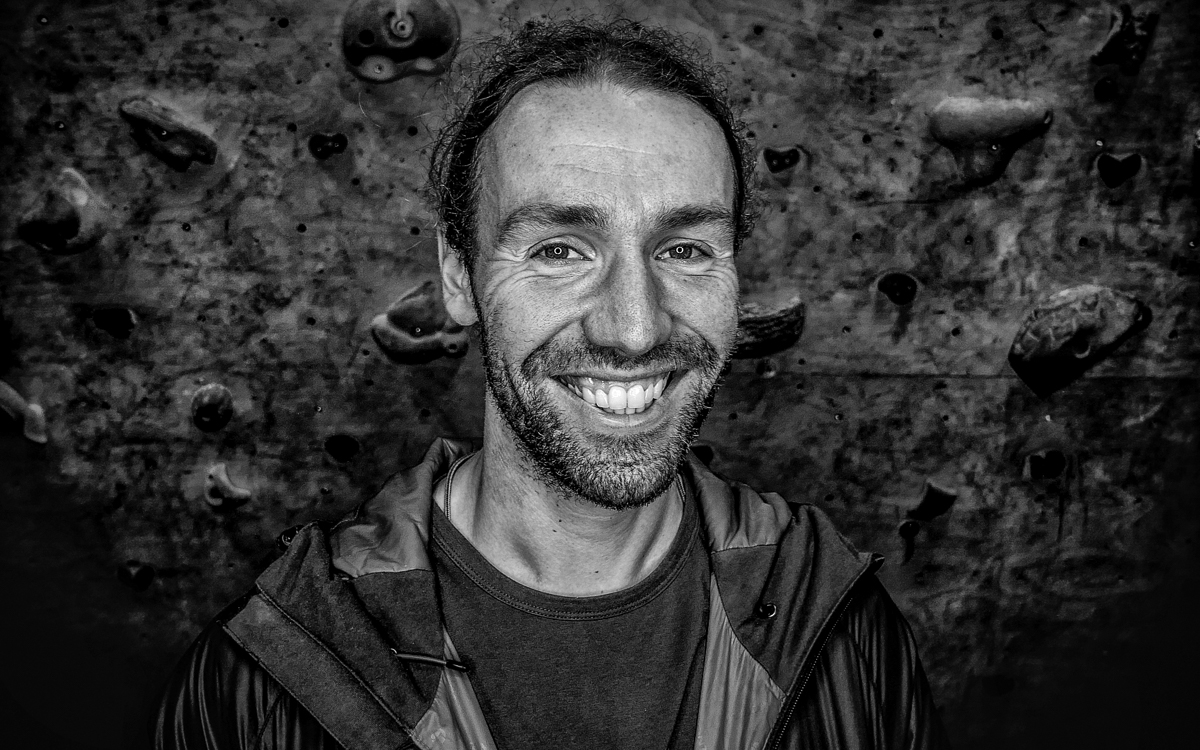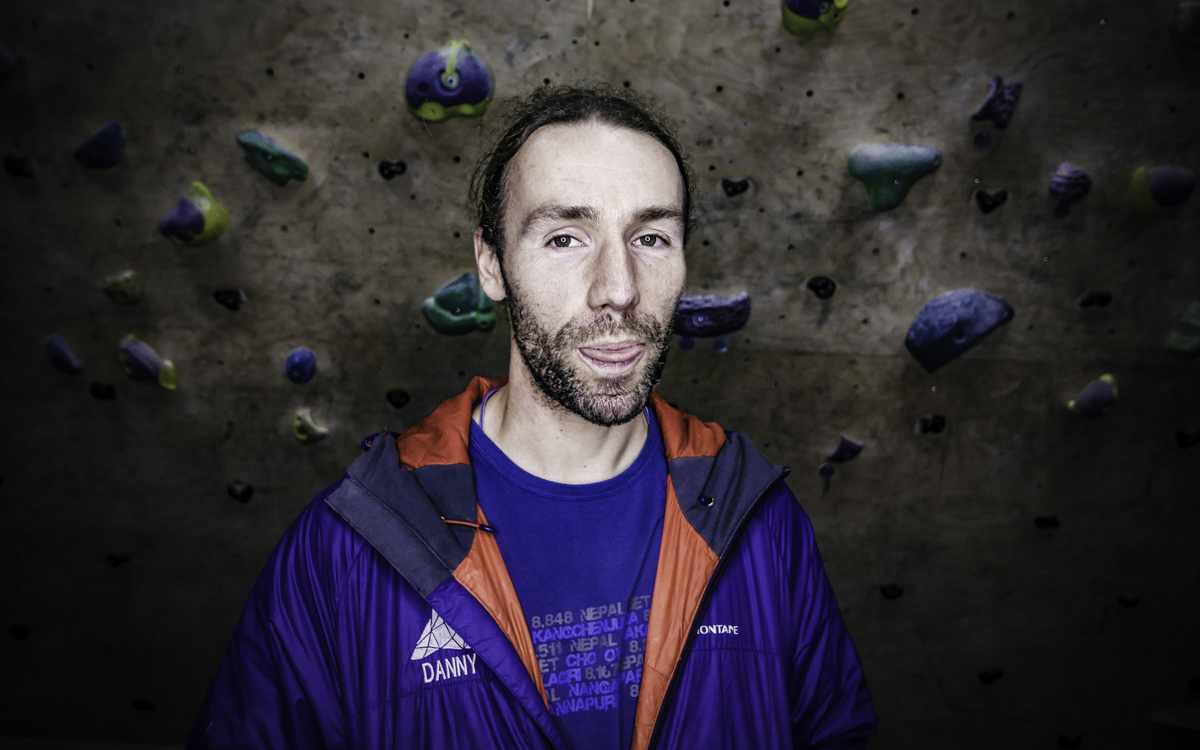 Meet Danny...
Danny is one of our highly valued freelance instructors. Aside from running the usual sessions he often helps out wherever he can, whether its on reception, stripping holds, helping with kit checks and inspections, delivering CWI and CWDI courses to would be instructors and helping indoor climbers safely take their experience outdoors!
"I first tried climbing on a school trip and instantly loved it. I found out about the old Chester wall in Saltney and would ride my bike regularly to climb.
At college I learnt how to trad climb, this is where I became obsessed especially with multi pitch climbing in either sport or trad.
I climb about 5 days a week and every year I head off for a month long climbing trip to Europe with my wife Danielle.
I love climbing for loads of reasons, the adventures, the socialising aspect, the geeky technical side with gear, ropes, knots, forces and psychology, the physical side, technical movements, and that psyched feeling you get even after the hardest and most challenging days.
I am super lucky to have turned my love of climbing into a career. I have the privilege of teaching all aspects of indoor and outdoor climbing from intro to rock climbing courses through to advanced trad multi pitch with improvised rope work and self rescues.
I also am the provider of Mountain Training instructor courses at The Boardroom."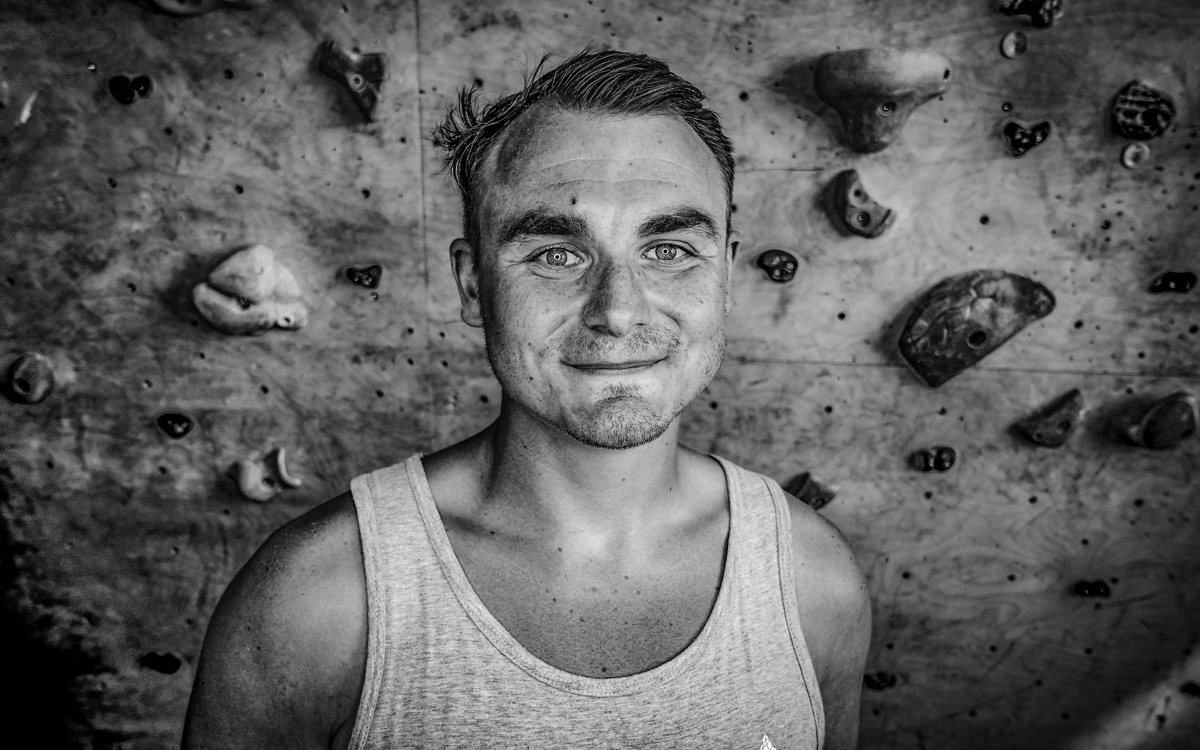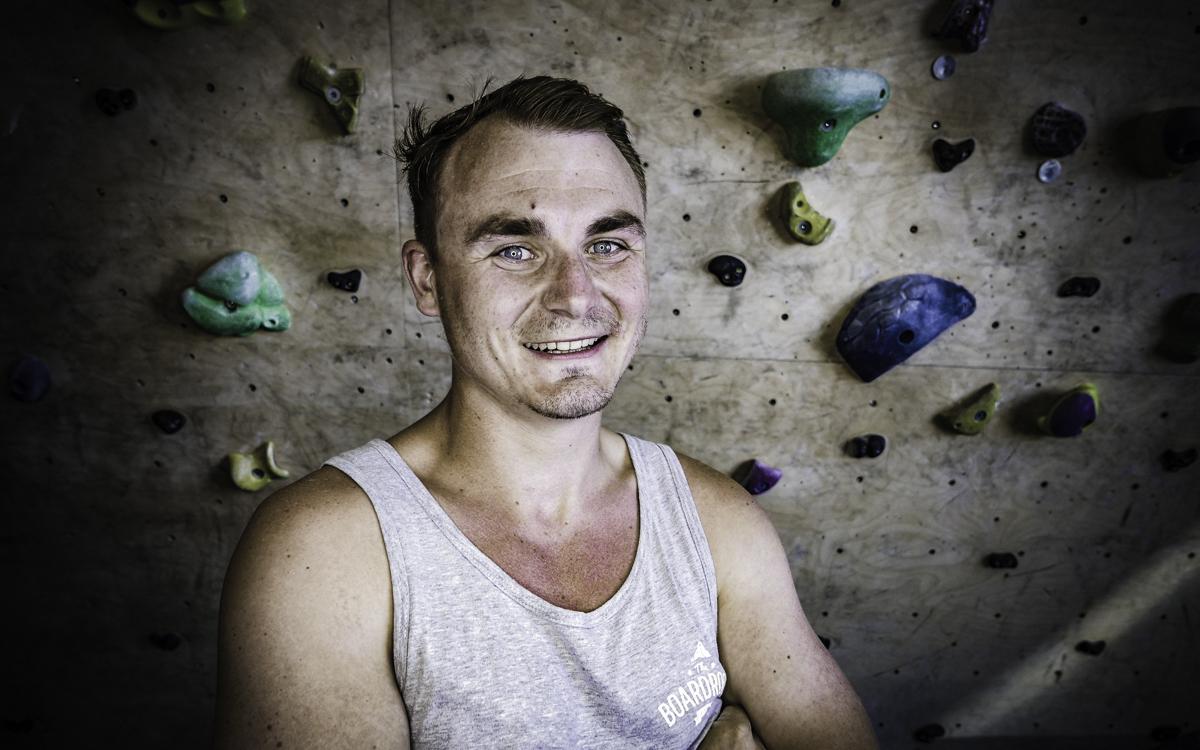 Meet David...
David Mannion/Manners/Man Onion is another of our brilliant instructors at The Boardroom. He started climbing in college nearly 9 years ago, but it really came into his life when he worked down in Cornwall at an outdoor activity centre.
"We had top quality crags less than an hours drive and the main focus was trad. Climbing took a bit of a back seat to surfing, but after starting work at The Boardroom I have re-found my love for it.
There is a great community feel to climbing, and as long as you are trying your hardest people get behind you and push you to be better. I love how in the moment climbing makes me feel, I feel totally in control of my mind.
My favourite climb has got to be either Little Brown Jug VS 5A or The Secret Traverse near Bude (if you know, then you know) At the moment I have a few projects one being Firestarter 7a at Devils Gorge and Pantys Down 7b."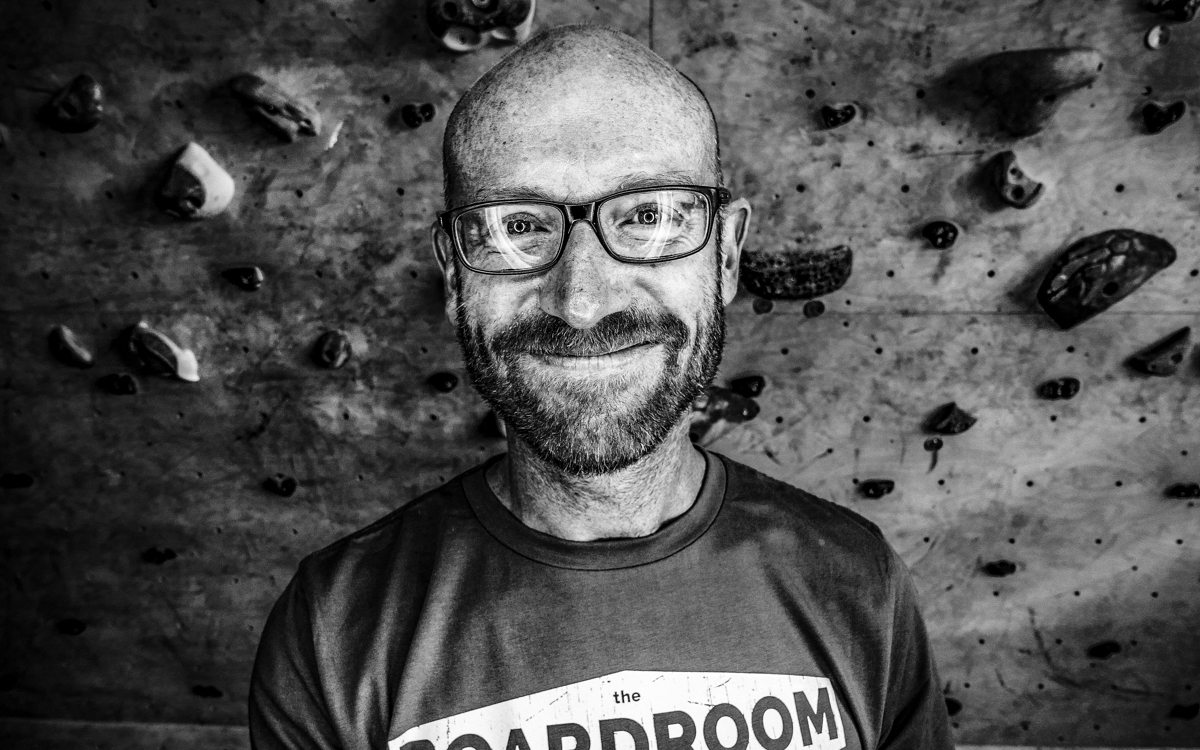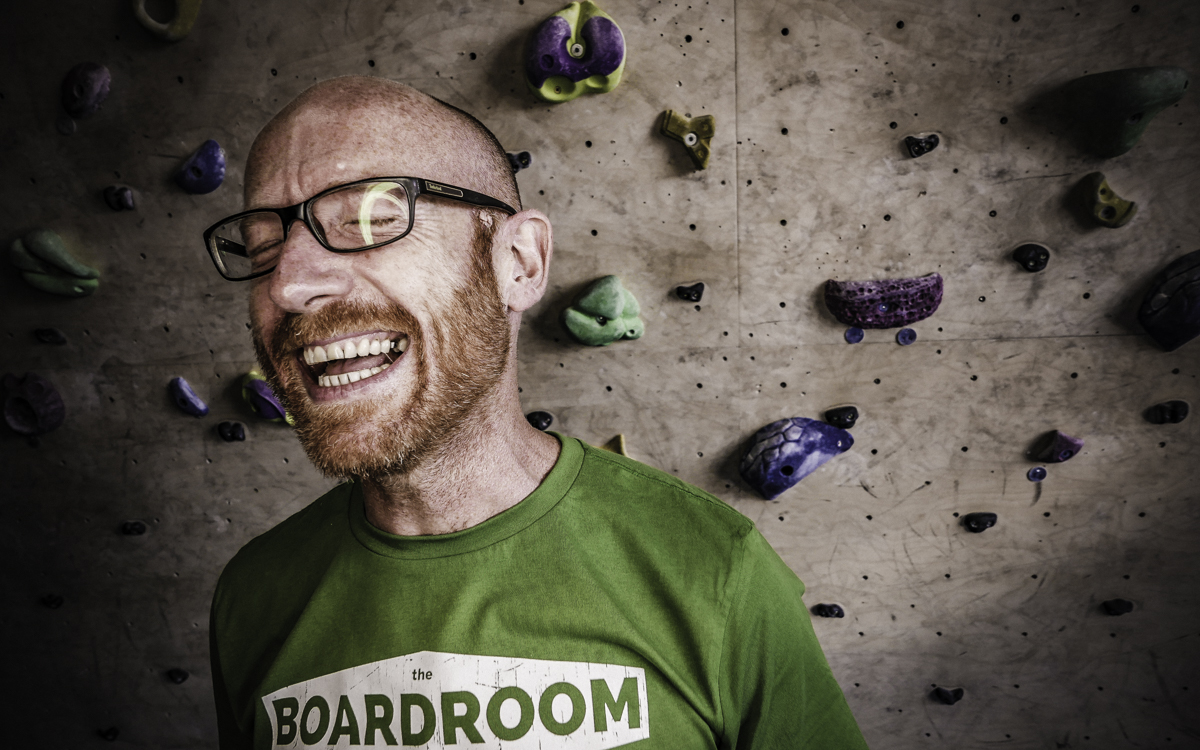 Meet Dave, owner/director
Meet Dave, co-owner of The Boardroom.
His pre Boardroom work experience was somewhat extensive and varied, from territorial army, to photographer, to life model, to teacher to outdoors instructor,  he's always been active whether that be via swimming, cycling or climbing and he has always remained intensely creative.
He and Lee make the place work because they compliment each other so perfectly.  While Lee keeps the place ticking over behind the scenes,  The Boardroom looks and feels the way it does because of Dave and a passion to create something beautiful, unique and visually striking.
"There's something truly magical about climbing. Those moments on a climb were time stands still and the earth stops spinning.
Pushing our bodies and souls, strength combined with a still, calm mind. The vertical dance, a moving meditation. Intricate shifts in the hips seeking balance in a three dimensional world. Pushing friction to its limit, grasping at those fleeting moments of effortless flow…
"We are game-playing, fun-having creatures, we are the otters of the universe."
Richard Bach
…And in pushing ourselves to our limit, chasing those moments and succeeding on harder climbs, it takes more from us; more tries, more attempts, more effort and more time. Precious time.
As a result we slowly become aware that climbing is teaching us to enjoy the journey, whether we succeed or not. That climbing is more than just a way of life, it is life.
Creating The Boardroom was and is a way of sharing that journey. Enabling more people to experience what climbing has to offer and how it can enrich our lives.
Seeing so many people climbing together, working together, enjoying this place… that's what it's all about for me now. A happy place, a place for us to experience and share our journeys together. "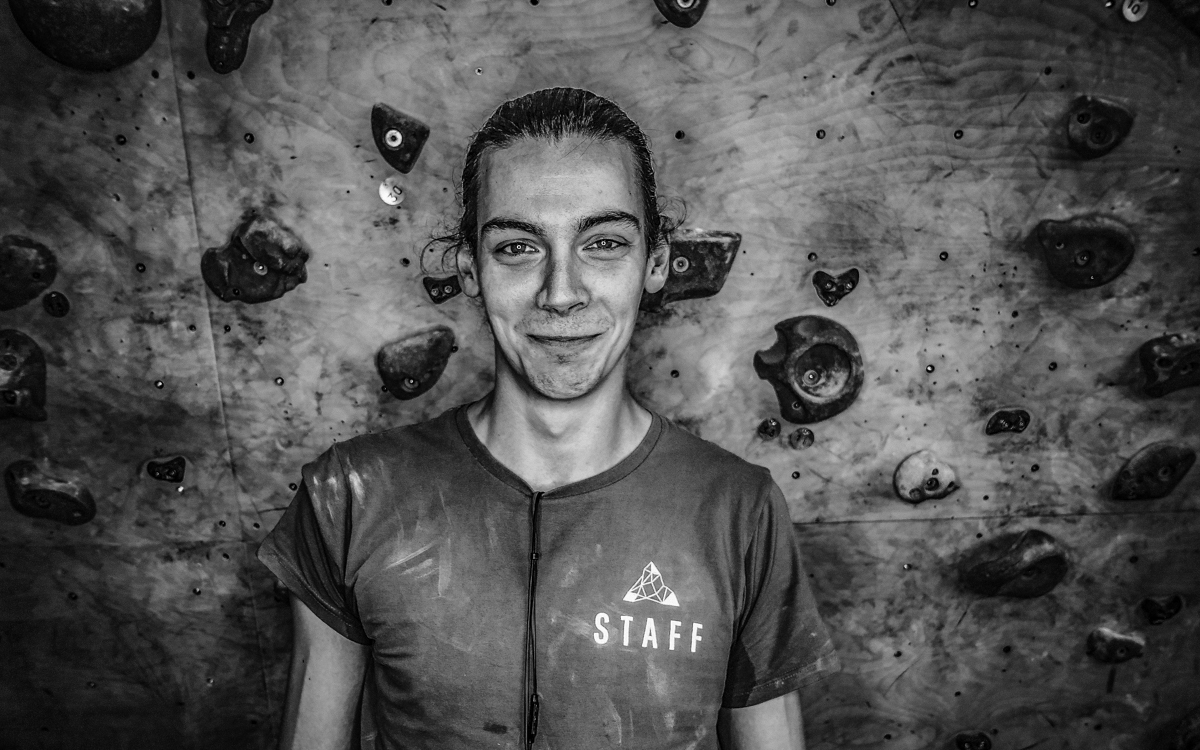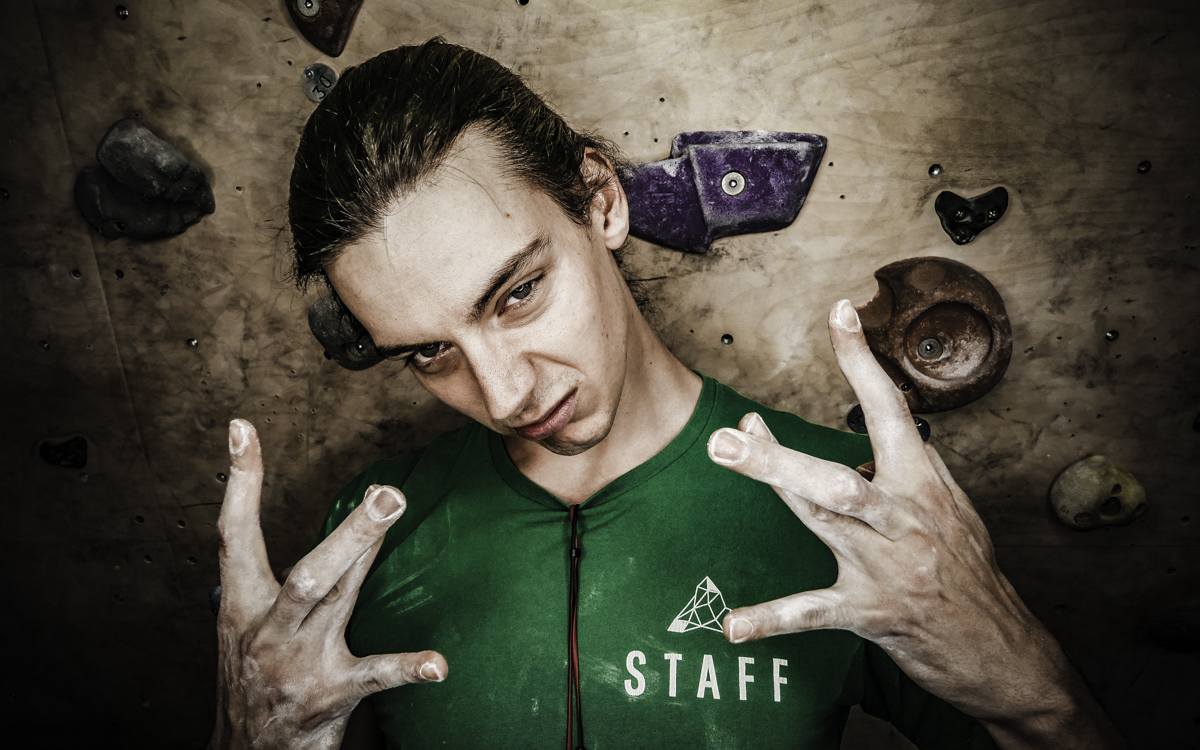 Meet Ellis...
Ellis Reception supervisor/Barista/Low beam avoider.
Ask Ellis for Beta, hugs or that thing you need off the top shelf.
"I've been climbing now for about 5 or 6 years. I made the transition from slack-lining every possible moment to climbing whenever I could, and now I just sit around looking at climbs I can't yet do, drinking coffee and eating cake.
Climbing has allowed me to develop a really healthy relationship with my own sense of failure, it's an intrinsic aspect of climbing and something I can't put a price on, not many avenues in our modern world actively encourage failure like climbing does; you fall, re-evaluate, fall again, and then something clicks, or it doesn't and you move on and that's ok too.
Also, I climb for access to a constant stream of awesome puns … Love Bug, Well set jugs etc!"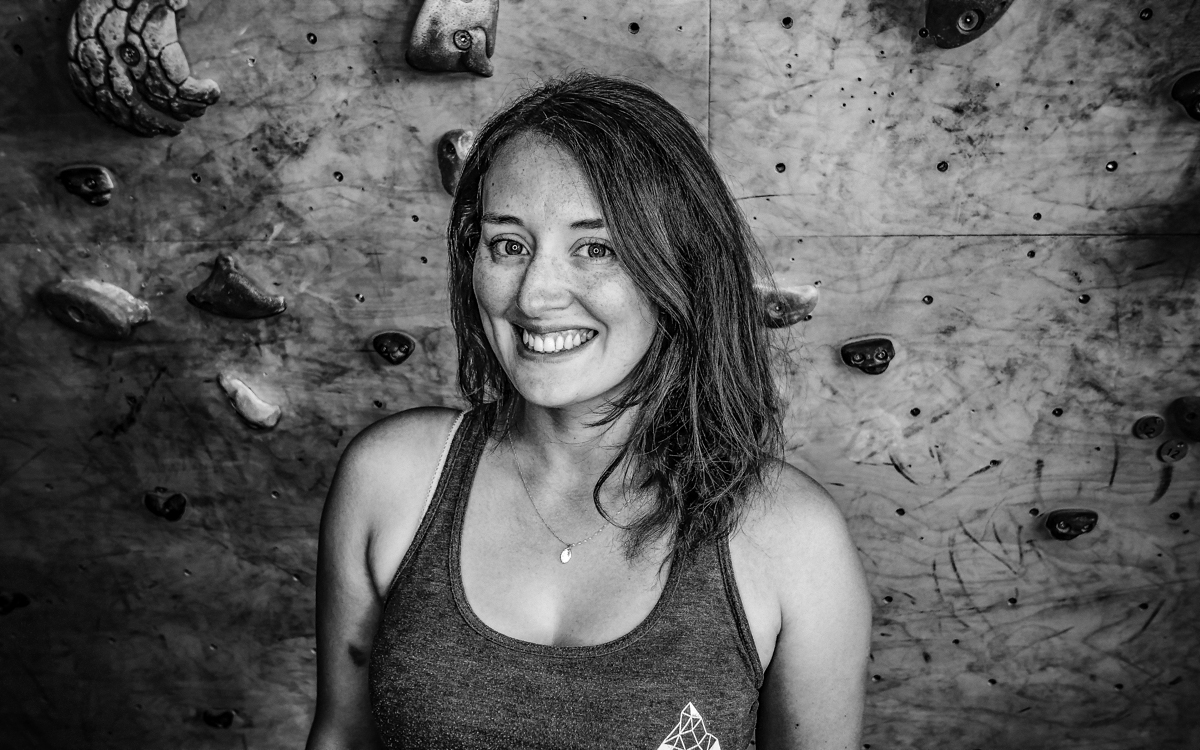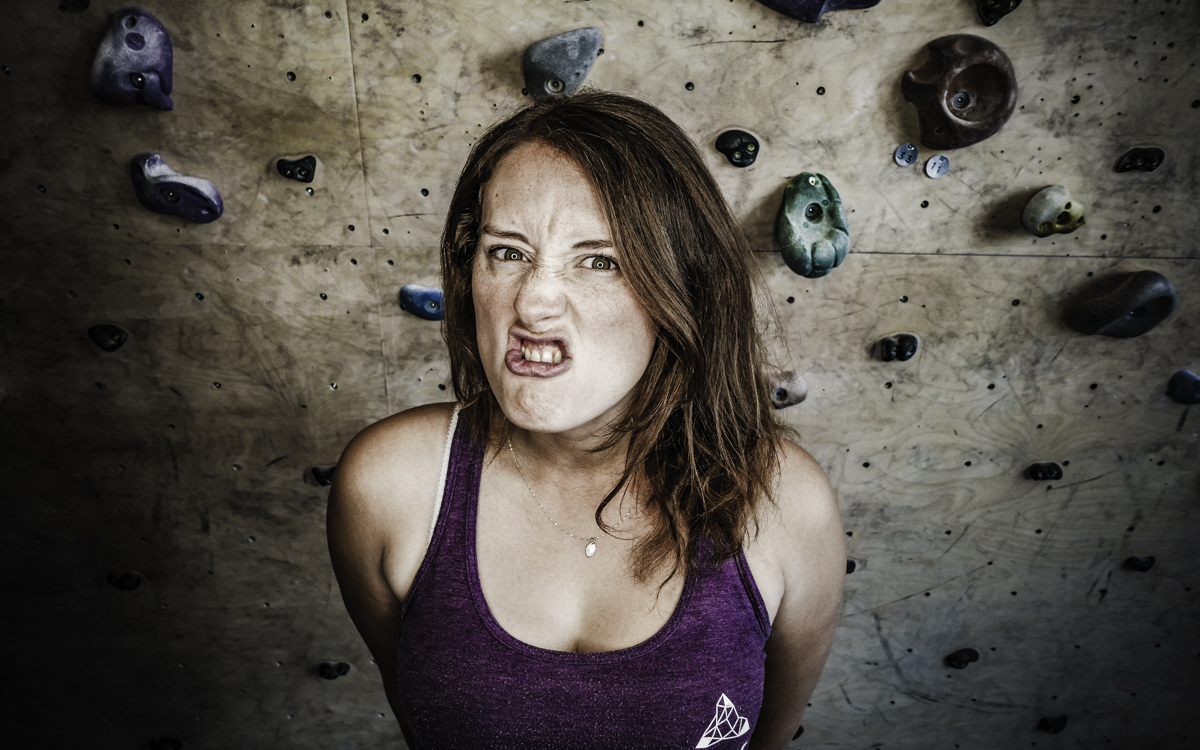 Meet Emily, reception/shop/bookings manager
If you climb at the wall you will recognise Emily, managing both reception and the shop.
Emily's favourite thing about climbing is that "it takes you to places that you might never see if you didn't climb. Really beautiful obscure little places in the middle of nowhere sometimes. I can't pick my favourite place that we've climbed cause there's just so many!! Kalymnos and Yangshuo are definitely up on the list, but Wales is still my favourite country of all time!"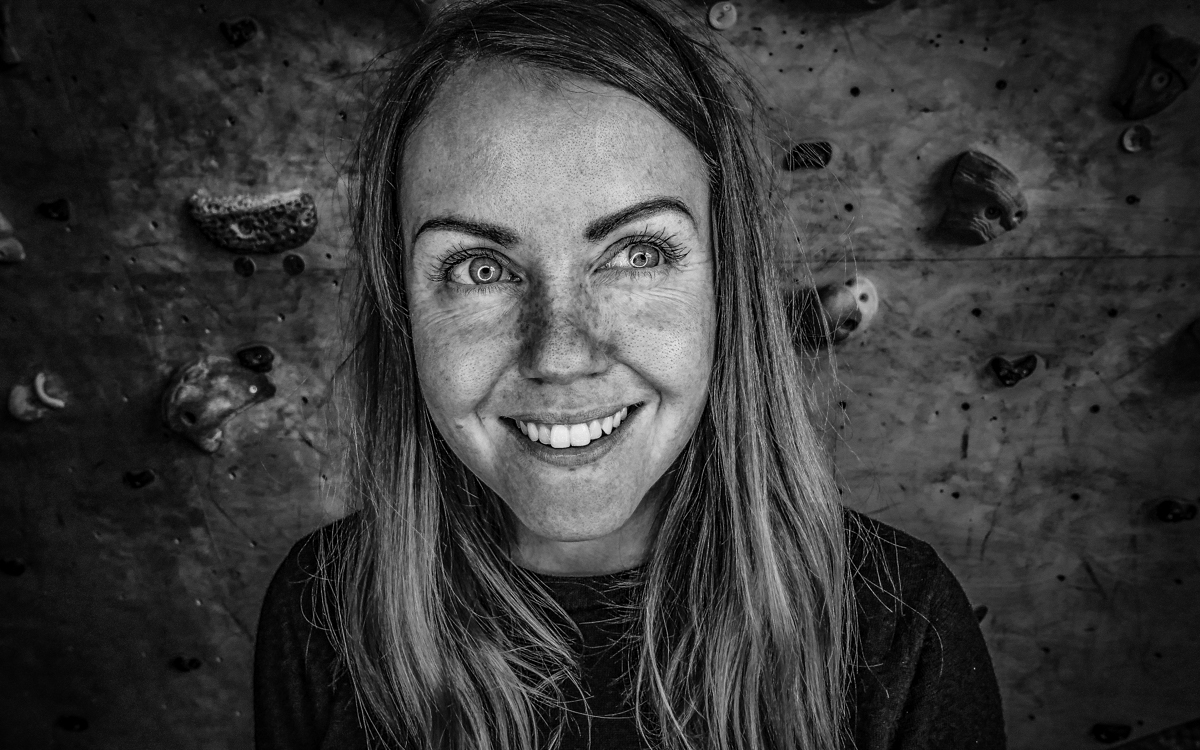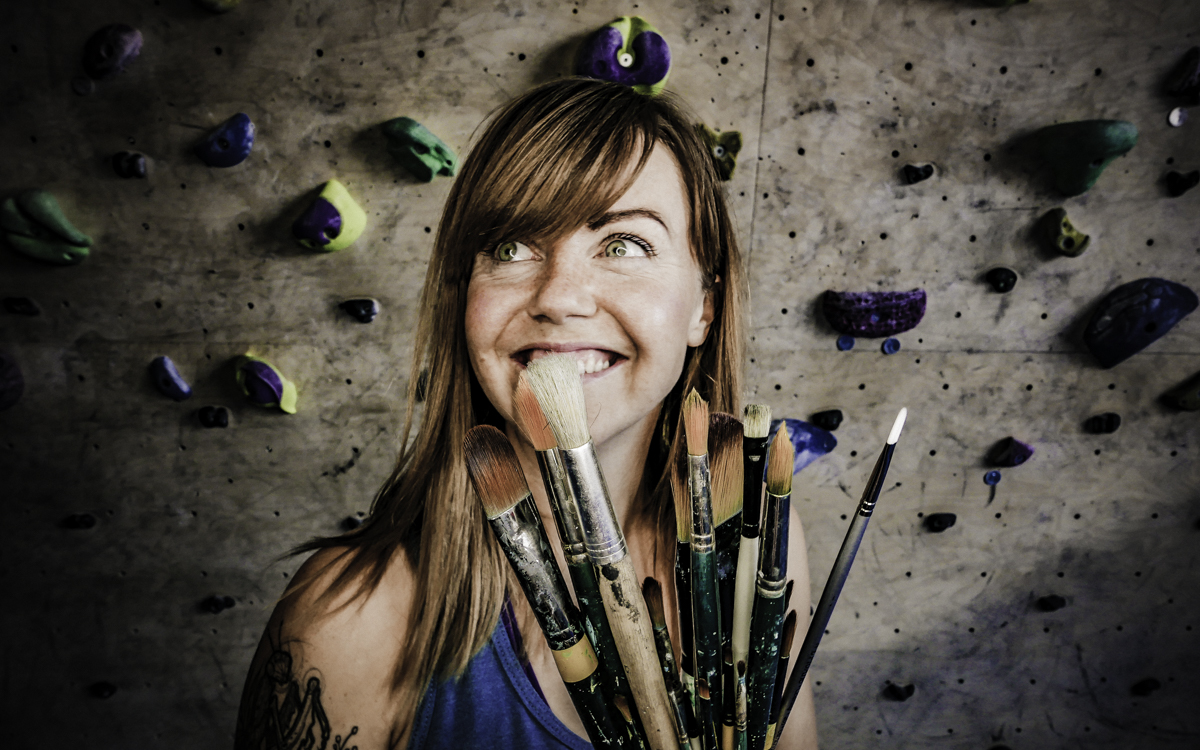 Meet Erica...
Erica is one half of The Boardroom's Colouring-in Department. Erica draws and paints on things, she also runs around with a camera annoying the setters!
She helps with social media and marketing and posters, and sometimes on reception too.
She is a bit scared of heights but still enjoys climbing, especially the nice easy non scary roped routes.
"I started climbing when I started my job, it's something I never before thought I would ever
do as I was/am still very scared of heights! But I have been climbing now for just over 2 years and I do love it, for me it's most definitely quite often type 2 fun, when I am on the wall I am usually absolutely bricking it!
I've loved pushing my mental boundaries and seeing improvements, but I do get frustrated that the head game is taking longer for me to get over then my physical ability, it's all just development though and I must remember to enjoy the journey.
I love working at The Boardroom, mostly for the people, everyone is just so wonderful and friendly and the place itself so uplifting to be in, I love just having a coffee and watching all the climbers try their problems, working them out, and watching the individual climbing styles.
It's been a real joy to be welcomed in to the fold and I can't wait to see how the place and its community grow in the future. It's massively inspiring! I basically love it!"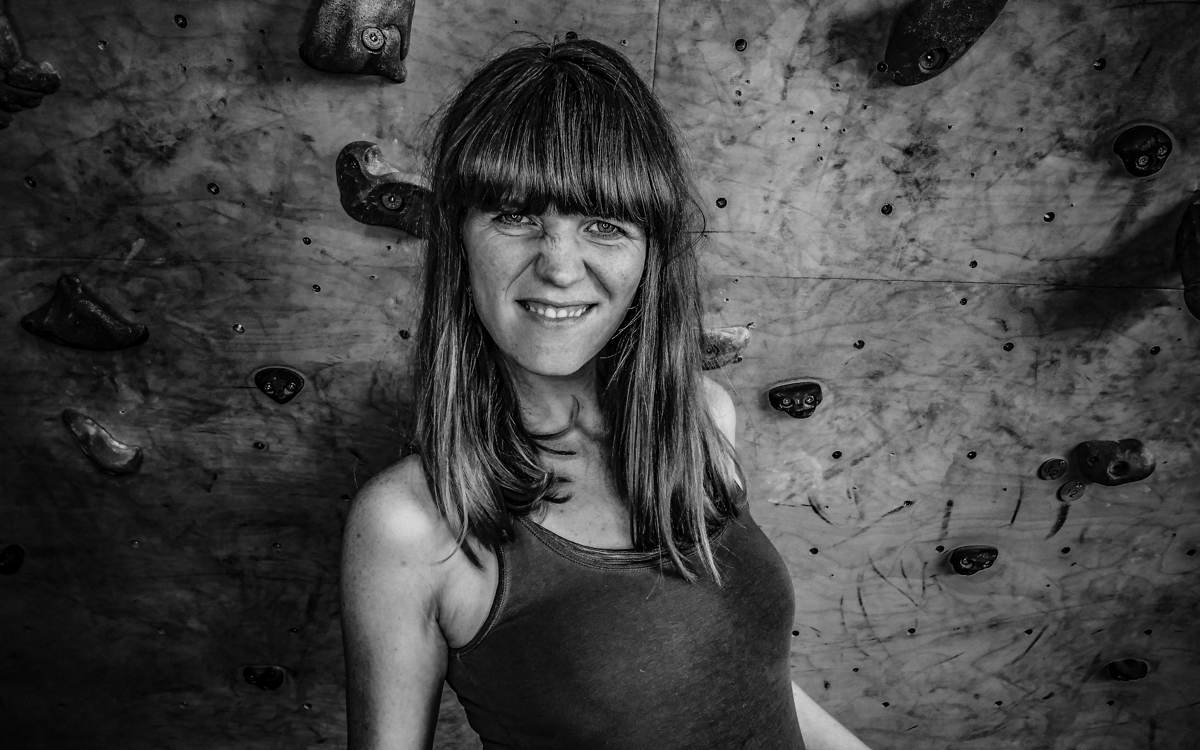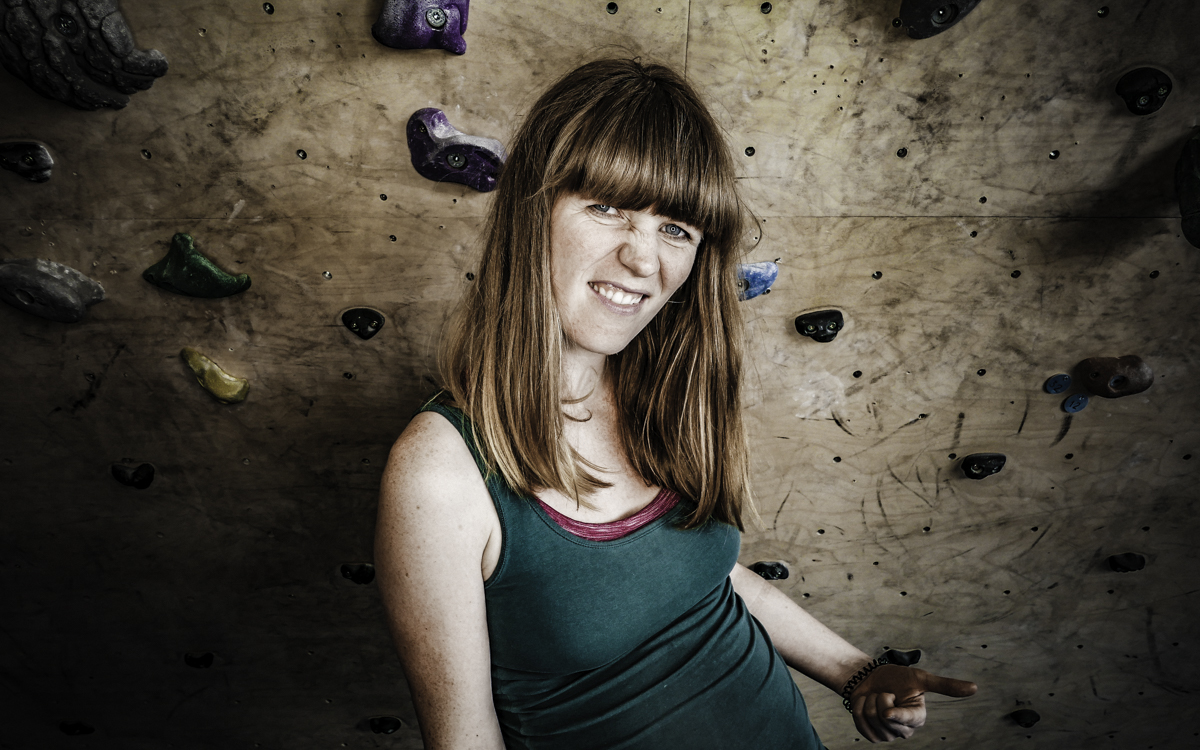 Meet Erin...
Erin D, likes rainbows, peanut butter, cosy socks and nature. Normally at The Boardroom you'll find Erin making everyone smile on reception, and sometimes in the kitchen making sure the tiffin is always topped up!
Erin can multitask like no one else, often completing complex and important duties whilst simultaneously inhaling crisps.
Happiest in nature near lakes and mountains, she canoes, gorge walks, climbs, scrambles, mountain bikes, she just loves adventuring. Last year she visited The Dolomites and tackled some epic via ferratta.
Erin is currently on maternity leave and we miss her loads.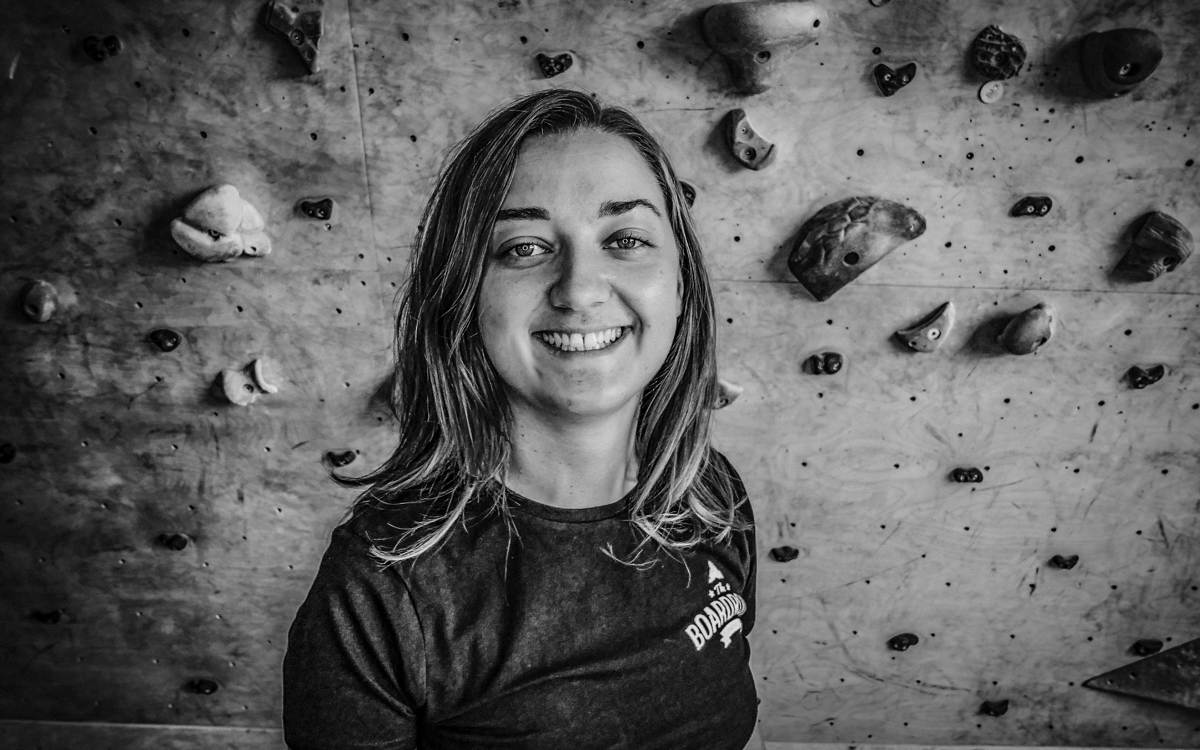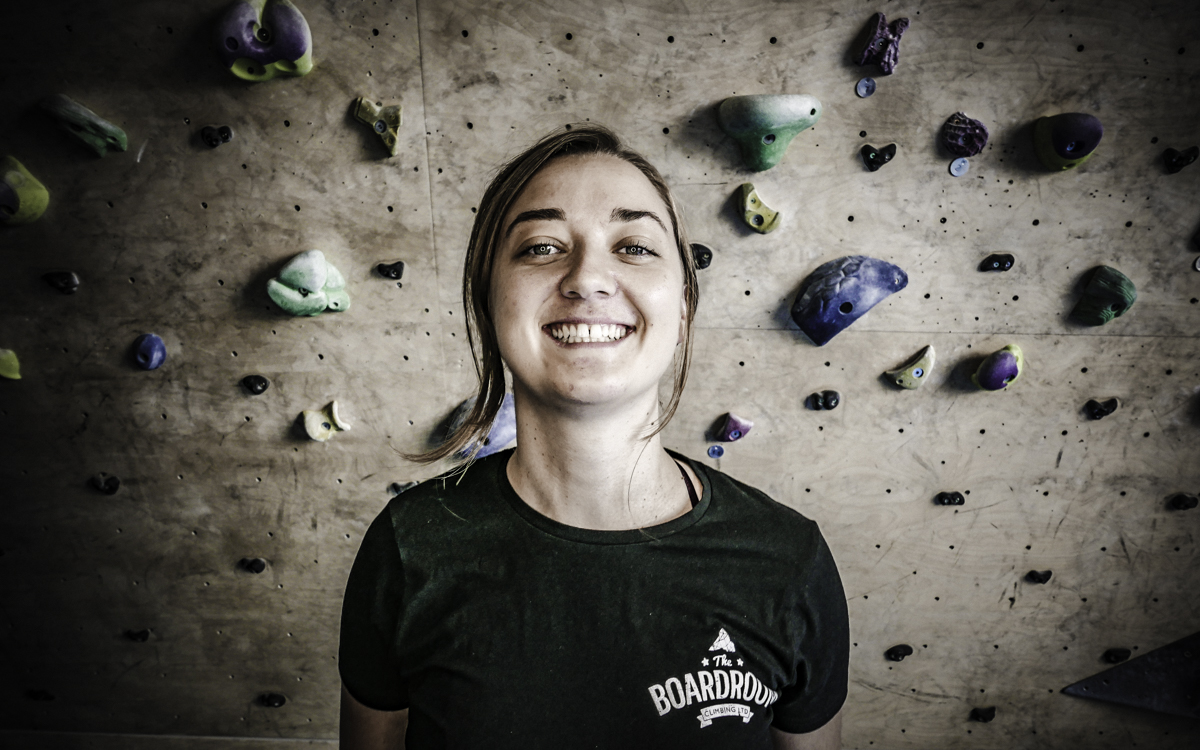 Meet Erin, chef, cake baker, pizza maker!
Erin E; The Mary Berry of The Boardroom
Erin is not from America, despite her convincing Alabama accent, she's actually very local.
She is little sis to Rhys and started by baking us the odd cake here and there … they were so yummy we built her an entire fricken kitchen and moved her on a permanent basis!
Everyone loves Erin because aswell as being totally mega SHE MAKES ALL THE FOOD (Now with added Charlotte).
Her Tiffin is probably responsible for the increase in diabetes in climbers around North Wales.
She loves to travel far and wide to places like Rhyl and Thailand, she surfs a bit, climbs a little, and makes us all smile a lot.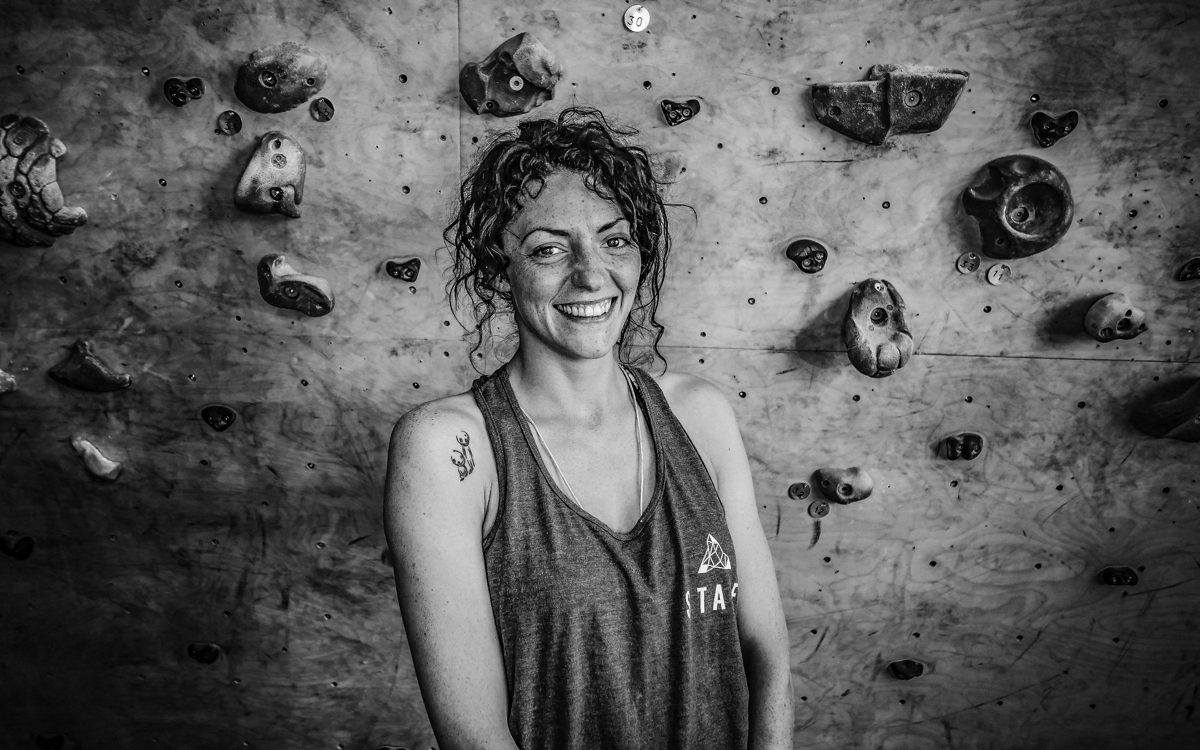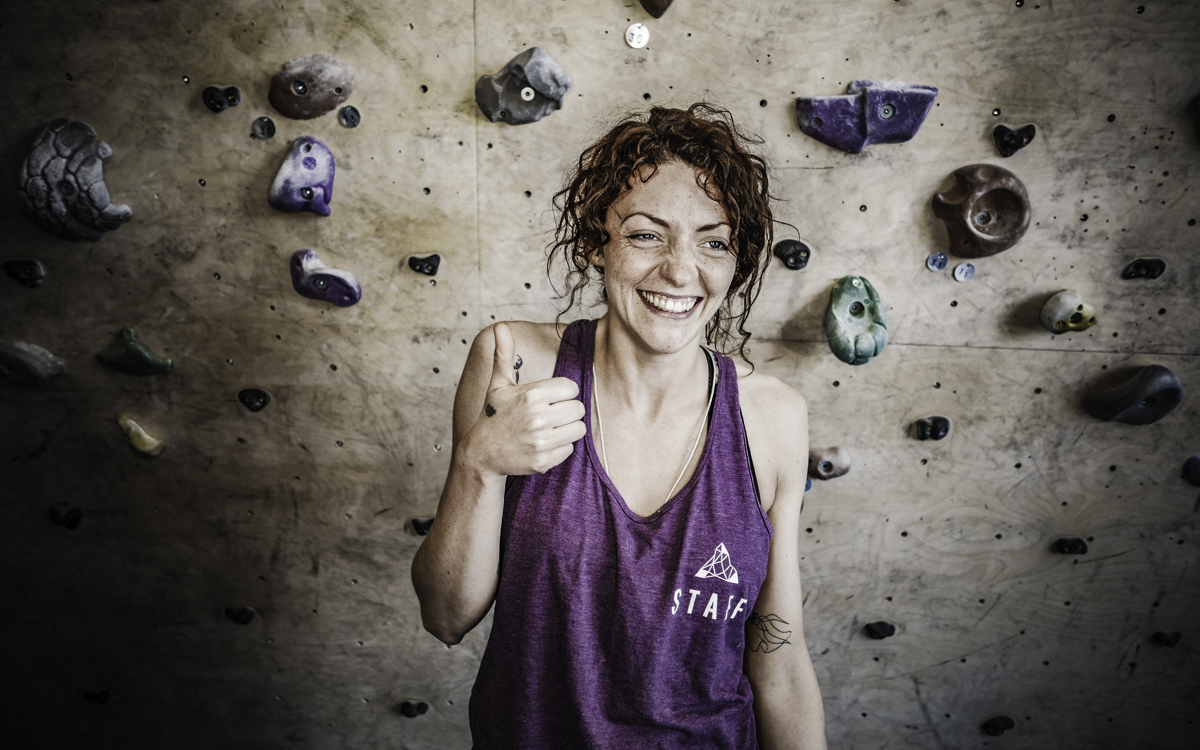 Meet Evon...
Evon climbs hard and is super psyched about it, climbing up the comp rankings and making light work of the Moonboard.
She is studying Environmental and Experimental Archaeology, she can make neat stuff using primitive skills, loves cats and is obsessed with Zelda games.
She's been climbing about 4 years now, started as a boulder baby but in the past year she has become pretty passionate about sport climbing.
"Climbing allows me to switch off and escape, focusing on nothing more than my movements and connecting with myself, which I love. It's become an intrinsic part of my life and I feel happiest and most at home when I'm on the rock. I couldn't imagine not climbing now, I've been to beautiful places and met beautiful people through it and can't wait to see where else it takes me."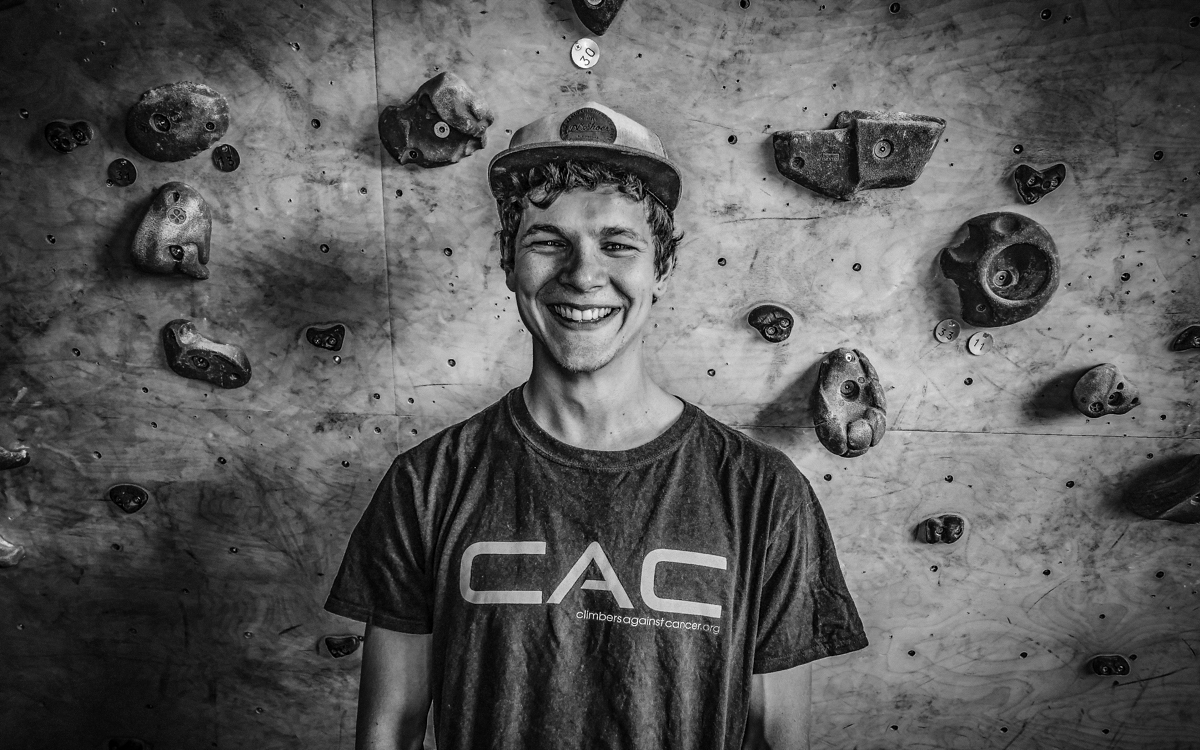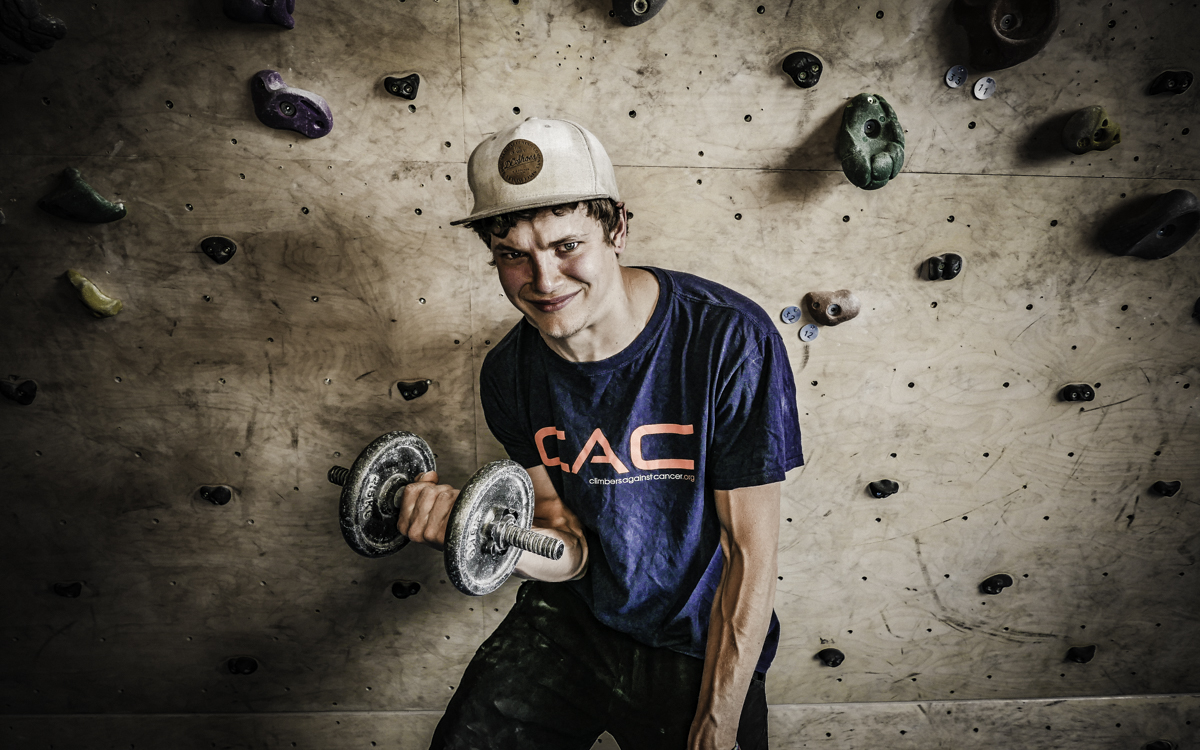 Meet Freddie...
Freddie is our head coach/instructor/Lattice assessor, "specialist in exotic rest positions and making climbs look difficult"
His favourite/epic climb to date: Castleton Tower.
He recently sent My Piano E8 6c and Mussel Beach 8a at LPT.
Freddie instructs here too but mostly he coaches, runs our Academy, Lattice assessments and our beginners free coaching.  He can make your climbing much improved.
Top conversation pieces include climbing, climbers, climbing movement, broccoli, food in general and flow.
"I've always needed challenge to feel inspired, so naturally, I was drawn to activities like climbing which take you out of your comfort zone. I've always felt that to willingly face difficulty transforms you from who you are into someone stronger mentally and physically, it shows you what you are truly capable of. The evolution of self that comes with climbing has kept me hooked for over a decade and I cannot imagine my life without it."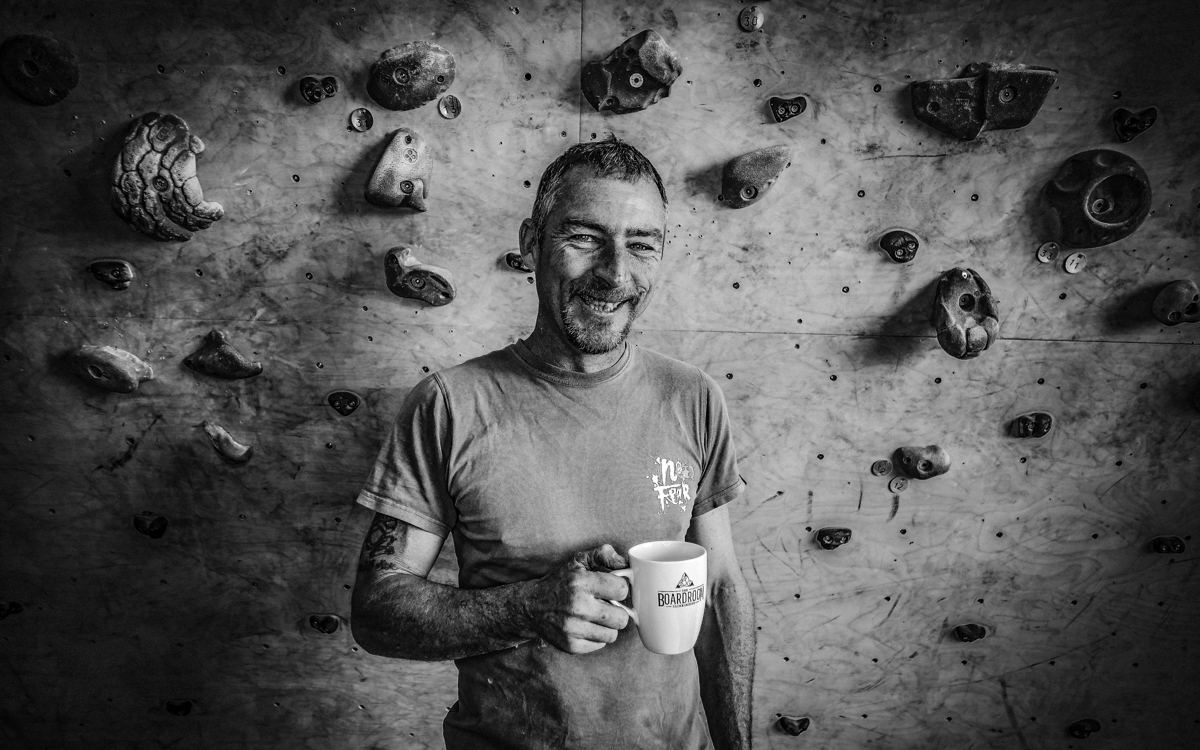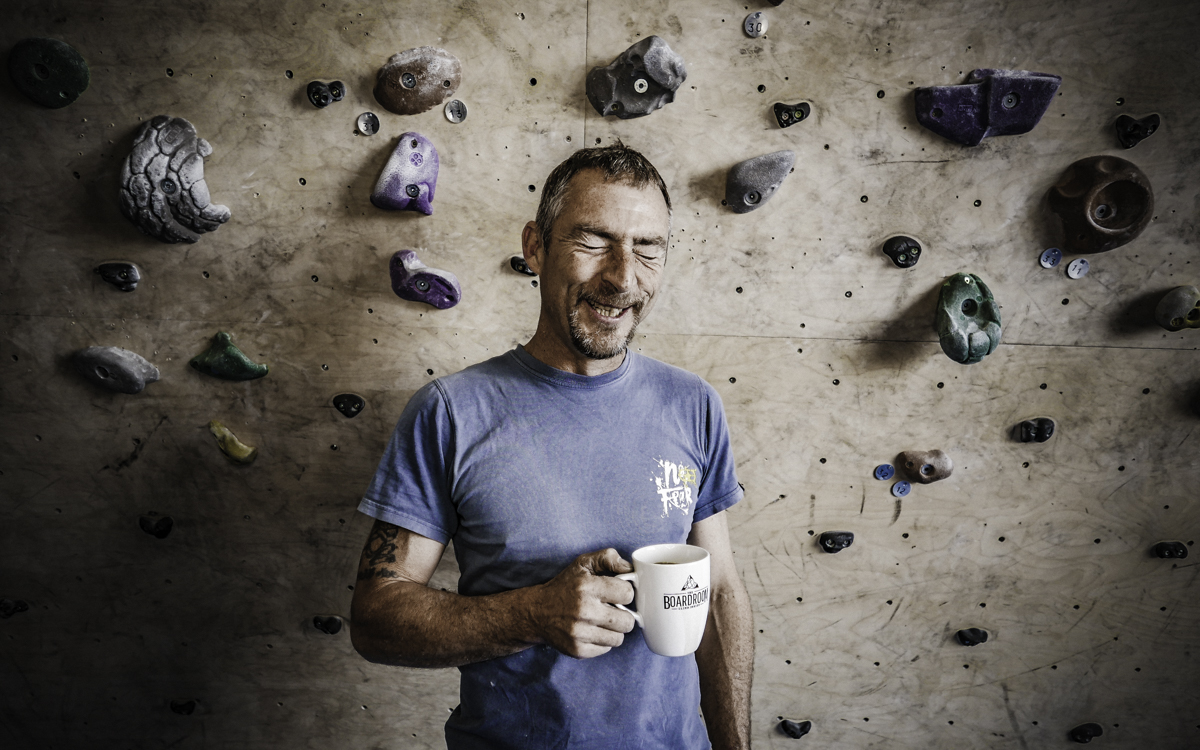 Meet Ghandy...
Ghandy is our resident gear checker, instructor and conversationalist.
He is a lighthouse of positive energy and a jack of all trades, having worked at one time or another in about every type of job going, teaching Cubs, Scouts, Duke of Edinburgh gold and lots of multi activity instructing.
He has climbed for about 38 years, all over Britain and Europe "living the dream".
About working at The Boardroom; "I instruct to be able to pass on skills and encouragement so that others may have as much pleasure from climbing as I still get, kids are just honest and funny and generally without any expectation other than fun!"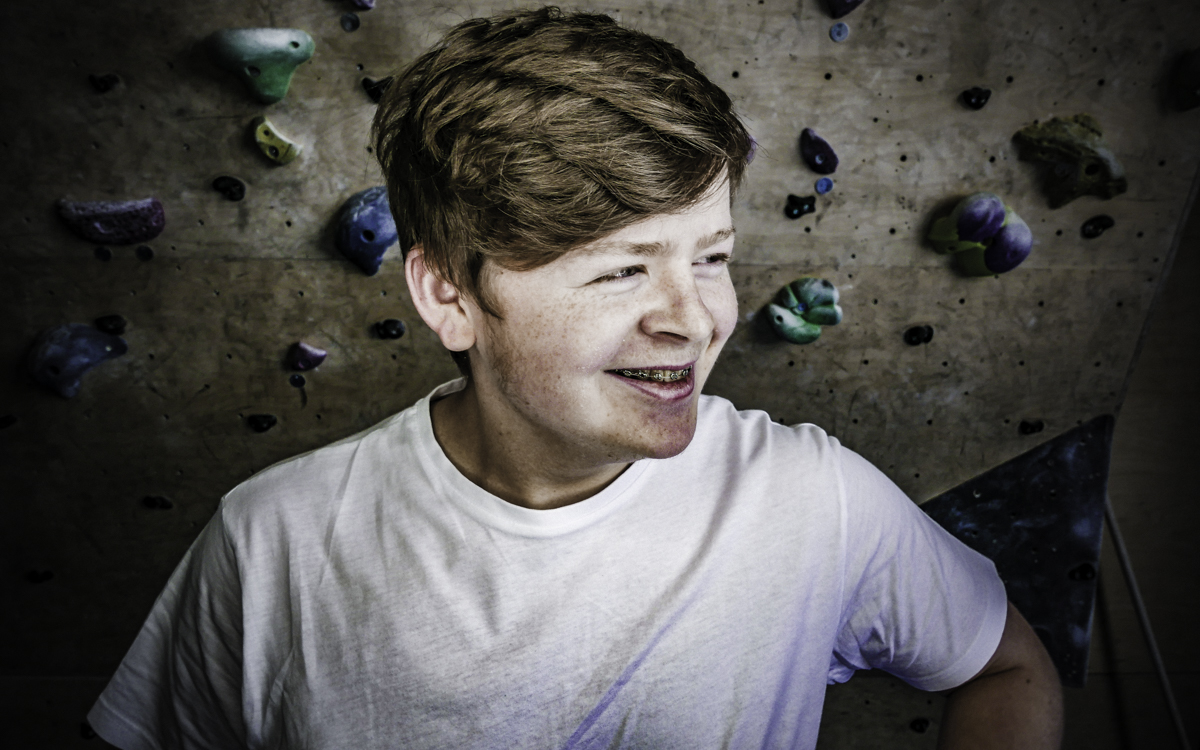 Meet Jake...
Jake…
"Your focus determines your reality." –Qui Gon Jinn
He started volunteering here about three years ago for some work experience, he then became one of the team officially last year working part time and mostly Saturday's.
He climbs with Leaders club and often boulders with his dad.
He's become a great member of The Boardroom Family!
Jake likes many many things in this life, things like utilising efficient rest positions, Star Wars, late night/early morning gaming and also cake.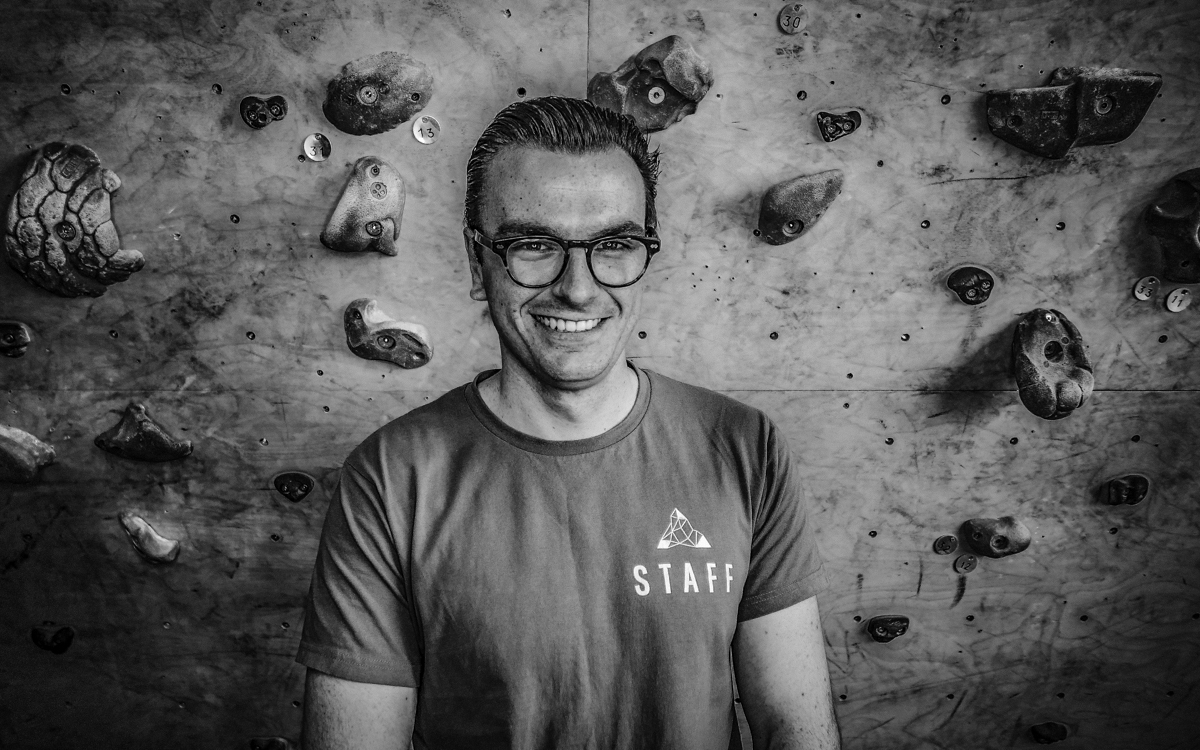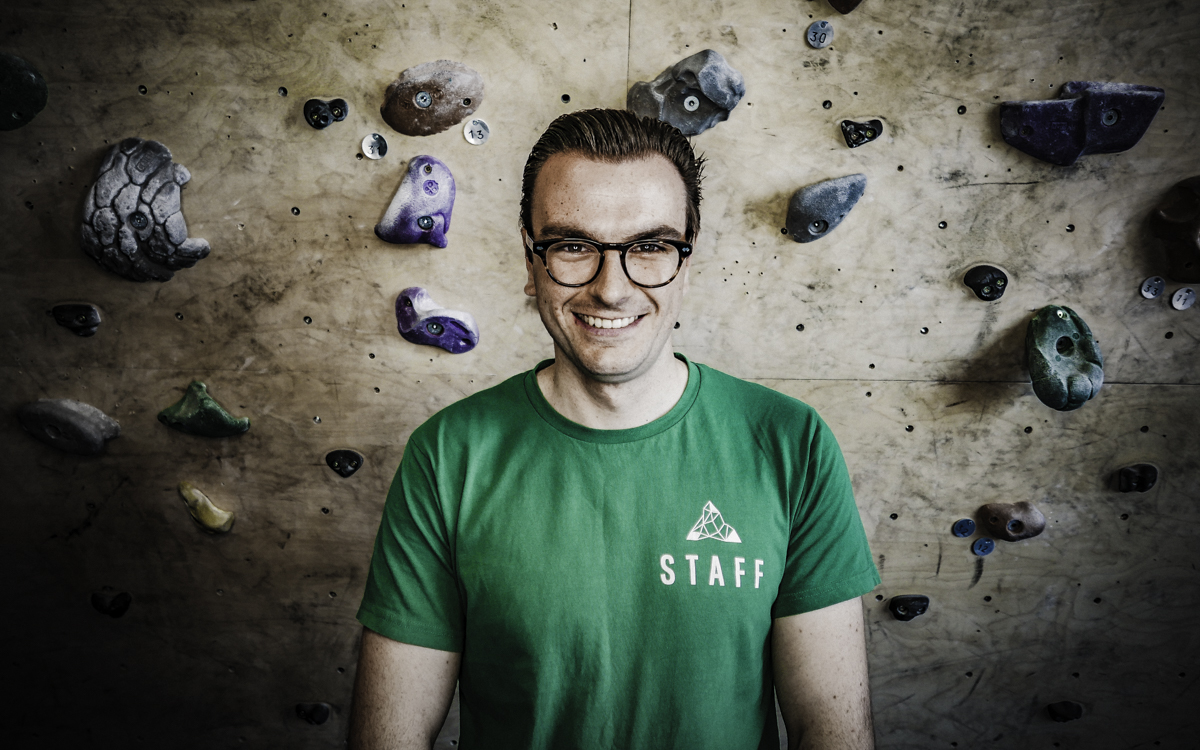 Meet Jay...
Jay's psych levels are so high that when he isn't here instructing, he's here climbing and when he isn't here climbing he's outdoors … climbing!  He literally radiates enthusiasm and this is never more apparent than when he's on session!  Yay for Jay!!
"I have been climbing for four years now. Climbing has done so much for me.
In my second year of high school I was diagnosed with Crohns disease, an autoimmune disease that affects the digestive system. I had ulcers all the way though my digestive system, from my mouth to large intestine. This lead to me losing a scary amount of weight and having constant stomach cramps.
After my second stint in hospital I was feeling well enough to try something new. I heard about The Boardroom from a friend, so decided to come down and have a go. I was instantly hooked! A year or so later my Crohns flared up again and I was rushed to hospital to have an emergency laparotomy where a ft of my small intestine was removed.
Thankfully 5 weeks later I was climbing again! It was around about that time that I started nagging the guys at The Boardroom for a job and it finally paid off!
So yeah, climbing means so much to me, it has given me my closet friends, it has given me confidence in myself and others and has helped me out of some very dark places."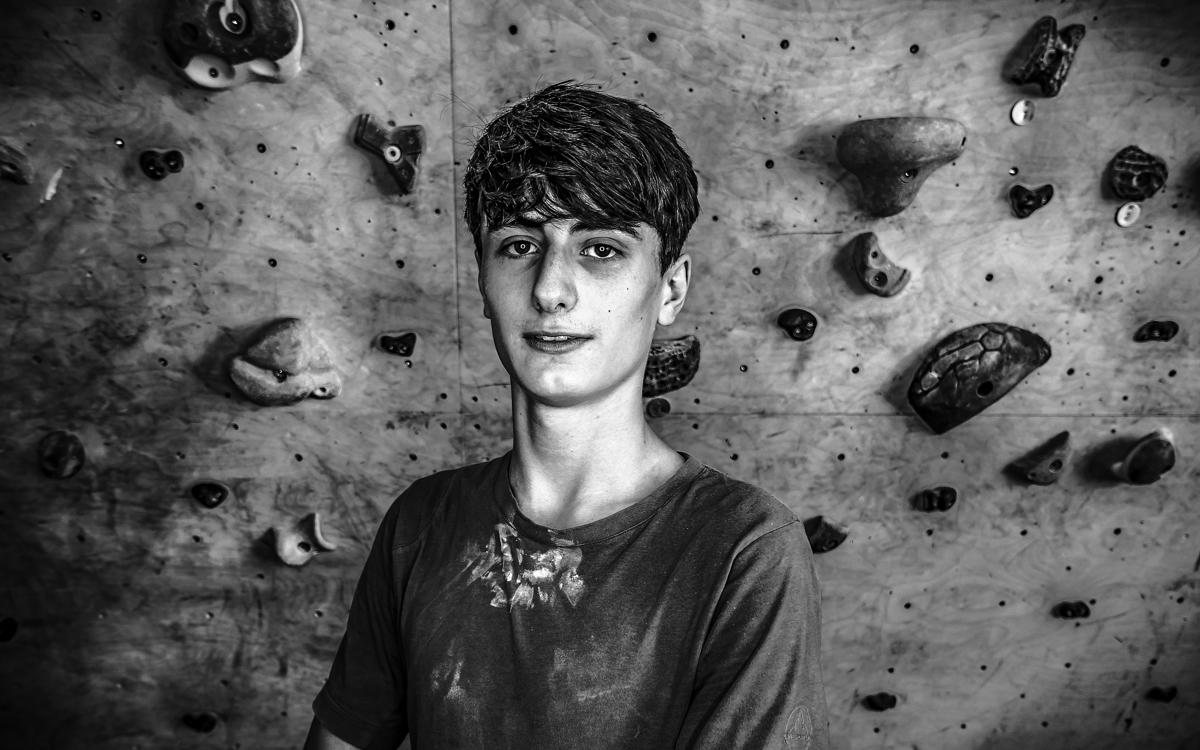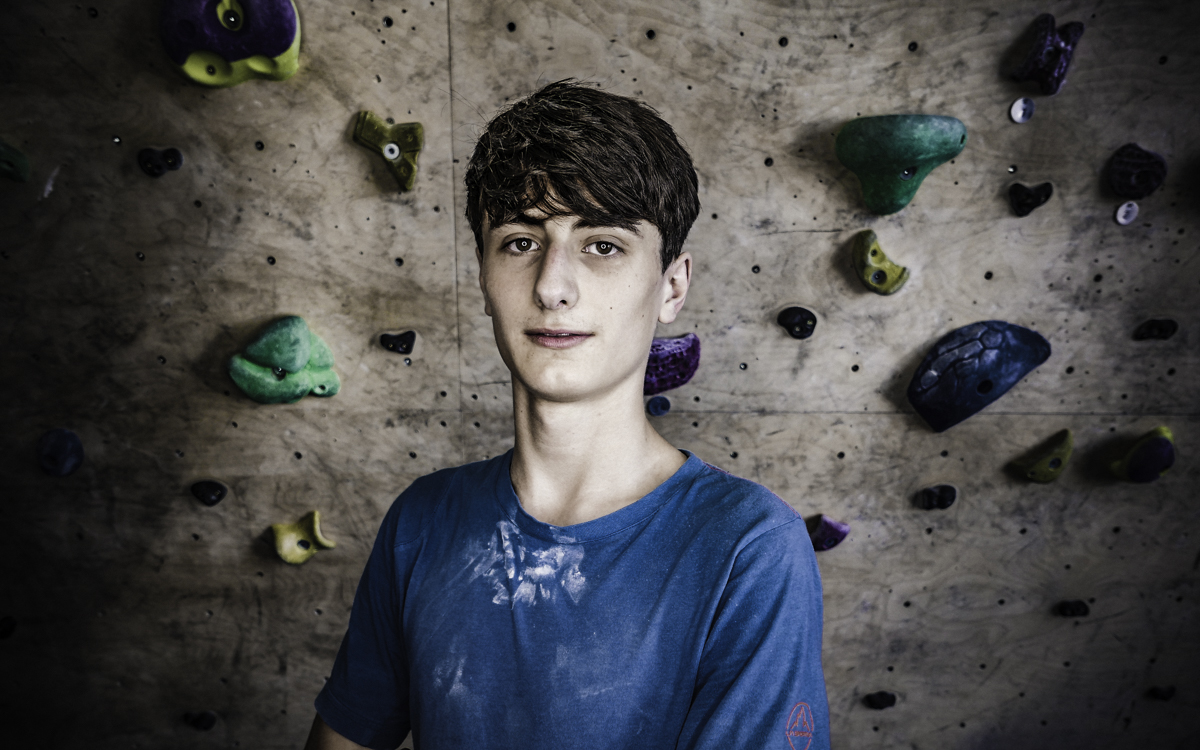 Meet Joe...
Joe has been climbing here since we opened our doors almost 5 years ago and is now full time as an apprentice here and fast becoming a route setter.
He often climbs with his father and brother Hari and both Joe and Hari are members of our Boardroom Academy.  It's been fantastic watching them both develop as climbers.
"To me The Boardroom is a place to go when I'm stressed, tired, bored or just whenever I feel like it. It's my happy place. It's a place where I'm always motivated to try hard and do my best. I've been going to The Boardroom for nearly 5 years and I can easily say that it's the friendliest climbing wall I've ever visited."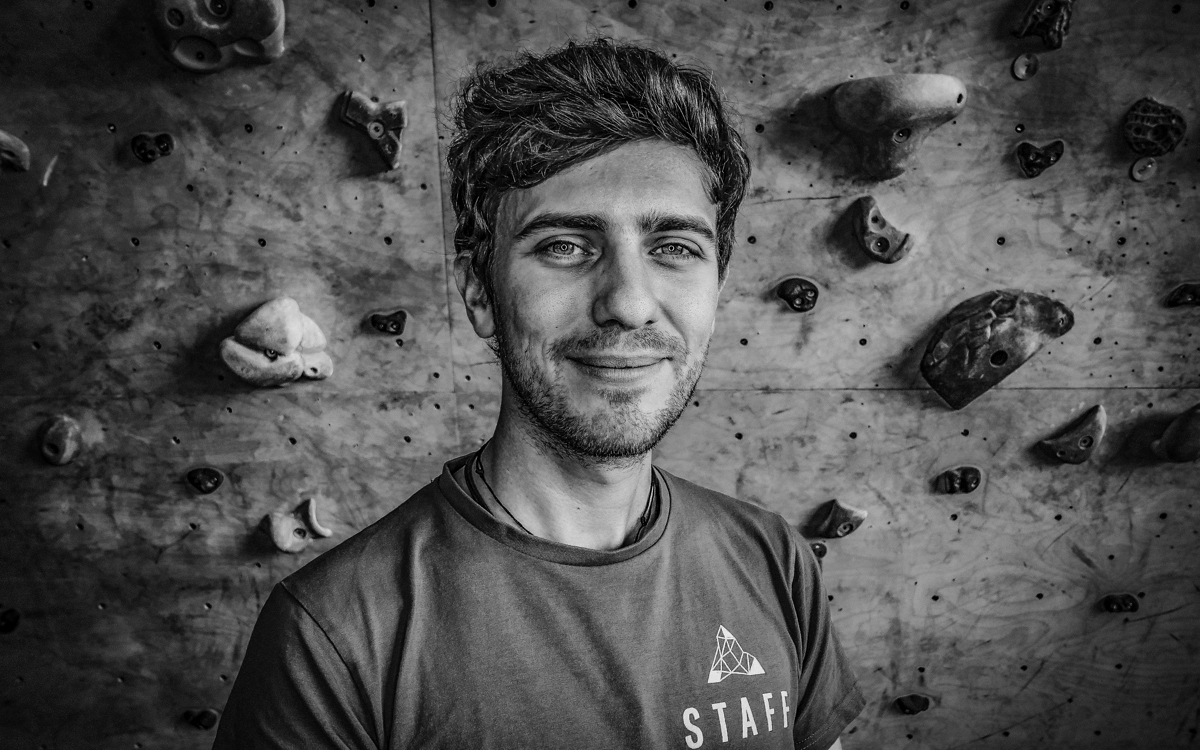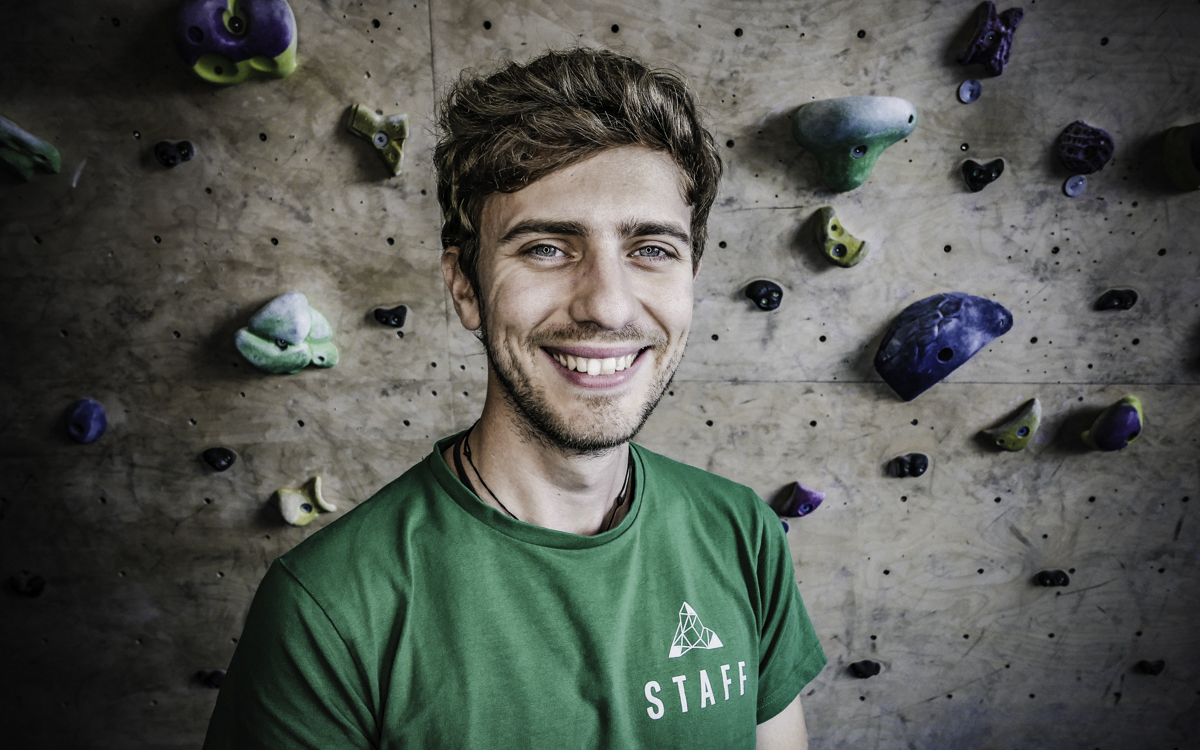 Meet Jonny...
Here's Jonny! He has worked at The Boardroom as instructor since the early days, and was introduced to us through Freddie.
He then left to work and live on the other side of the World and we were very sad to lose him but excited to hear of all of his worldie adventures!
Thankfully he decided to return to the UK and to us! and we are so happy he did.
"I have been a climber for almost as long as I can remember, starting at a young age at my local wall, my hobby quickly became a way of life and my way of life led to my career. I have been instructing climbing for 10 years and counting and I haven't looked back once.
The last few years I have spent working and travelling around Australia and New Zealand, putting my love of the outdoors to good use as a quad bike and kayak guide and trying to get a feel for the local rock in my spare time.
I have been back at The Boardroom since returning from my travels and it is great to reintegrate into the community here.
I developed as a trad climber on the gritstone of the peak district so it will always have a special place in my heart, but my favourite venue to date has been the limestone boulders of Elephant Rocks on New Zealand's South Island.
When I'm not working or climbing, I'm as big a fan of Netflix and video-games as the next guy, especially if there is pizza involved!"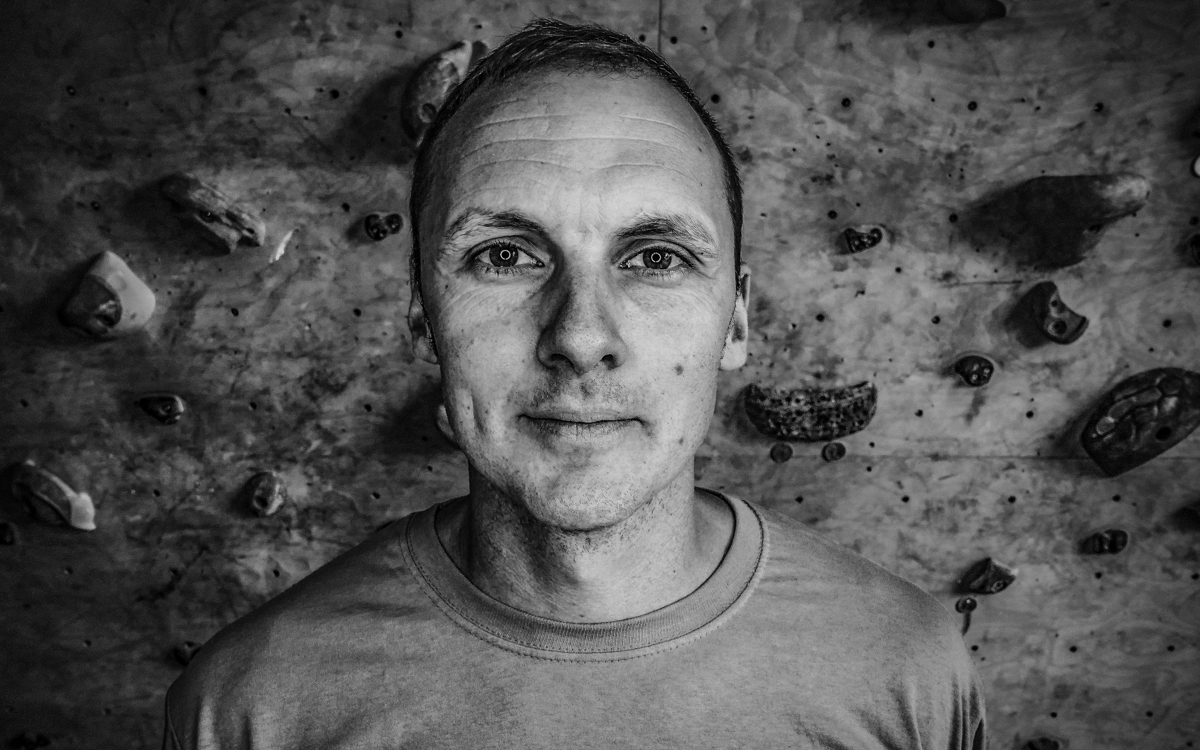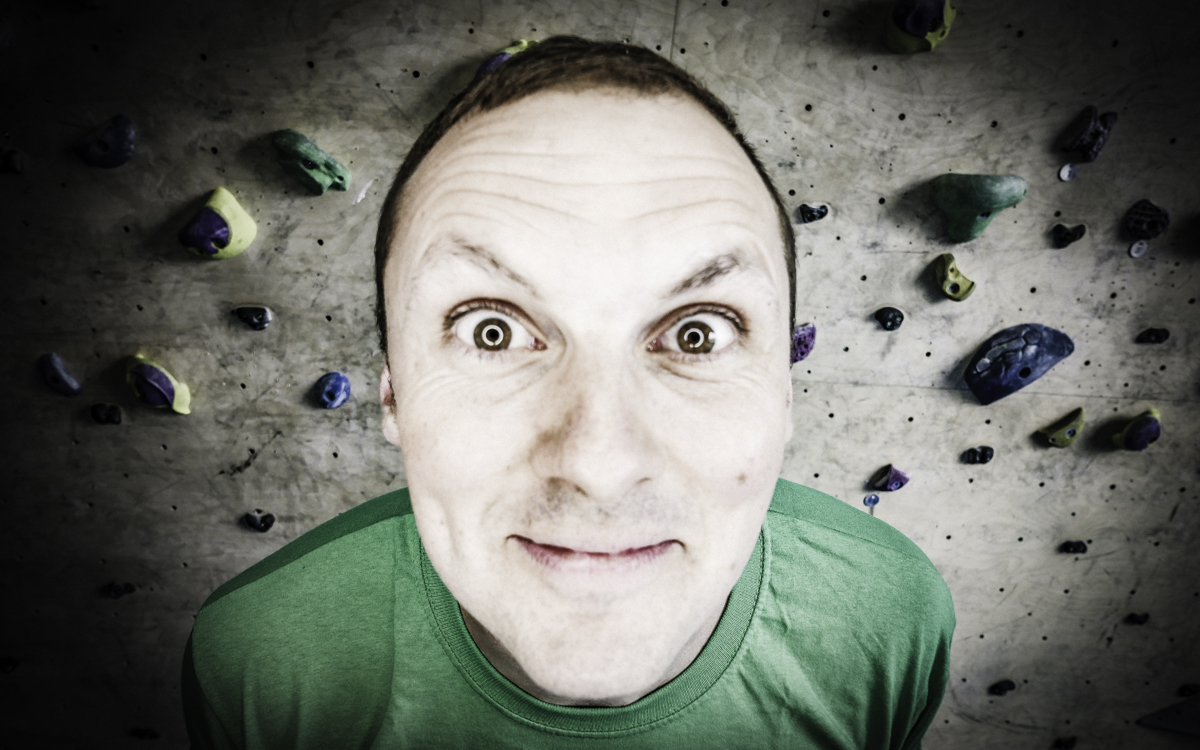 Meet Lee, owner/director
Lee started The Boardroom with Dave and together they have built quite a wonderful place to work, climb and hangout.
His favourite music is still happy hardcore.
He wasn't always a climber believe it or not, in fact he was much more comfortable throwing himself down monstrous rapids in a man sized fibreglass banana.
"I once said to Dave, "are we gonna build this climbing wall we've been talking about for years?" He said yes, one thing led to another and now The Boardroom is a thing, the best thing! (maybe I am a little bit bias).
We have tried to create a place people wanted to be, as well as include the best climbing we could imagine. We are climbers, we like climbing, so we built The Boardroom.
It isn't really just one persons dream or one persons idea, its grown organically through the interactions and input of all the wonderful staff, wonderful customers and even Bob the Milkman. Collectively the community makes it what it is today.
Before The Boardroom, I was a paddler, not the best but not bad, reaching international level with a few races in Europe.
I've been a climbing instructor since 2004 and now, well, I mainly fly a desk and do boring Director type stuff.
If I'm not doing the paperwork or business development or being a dad, then I'm bouldering whenever I can, with as many people as I can, and avoiding being a grown up as much as I possibly can."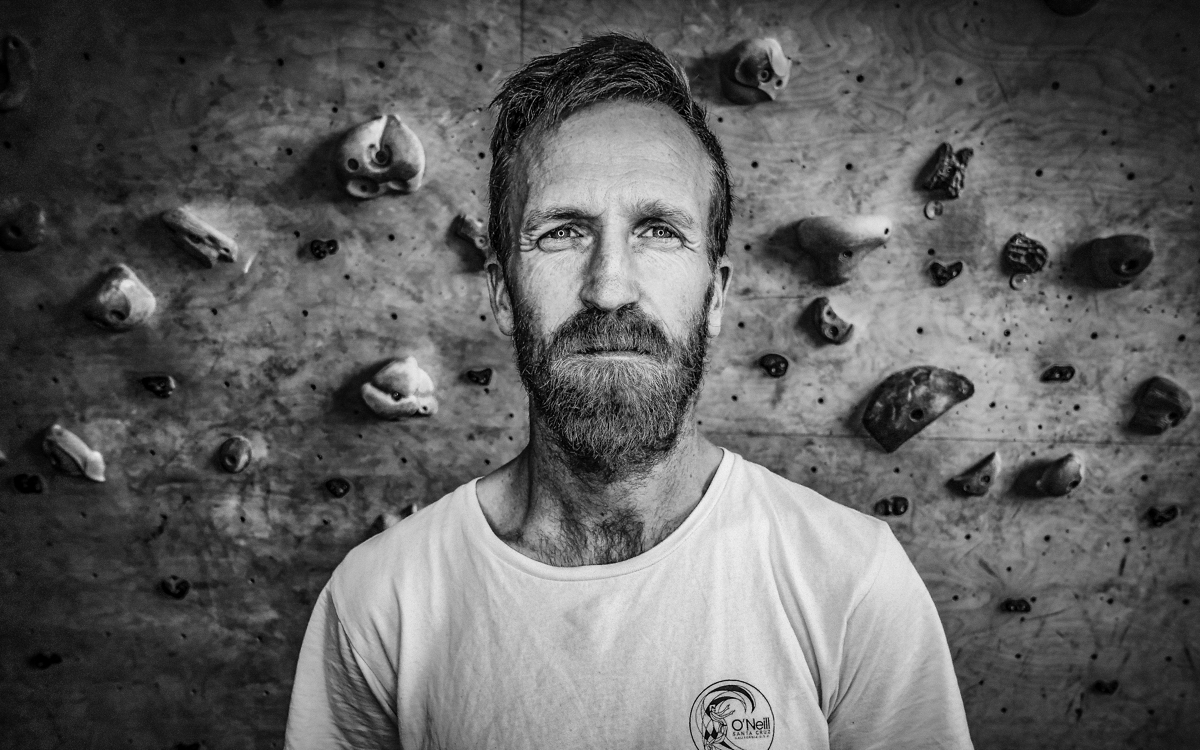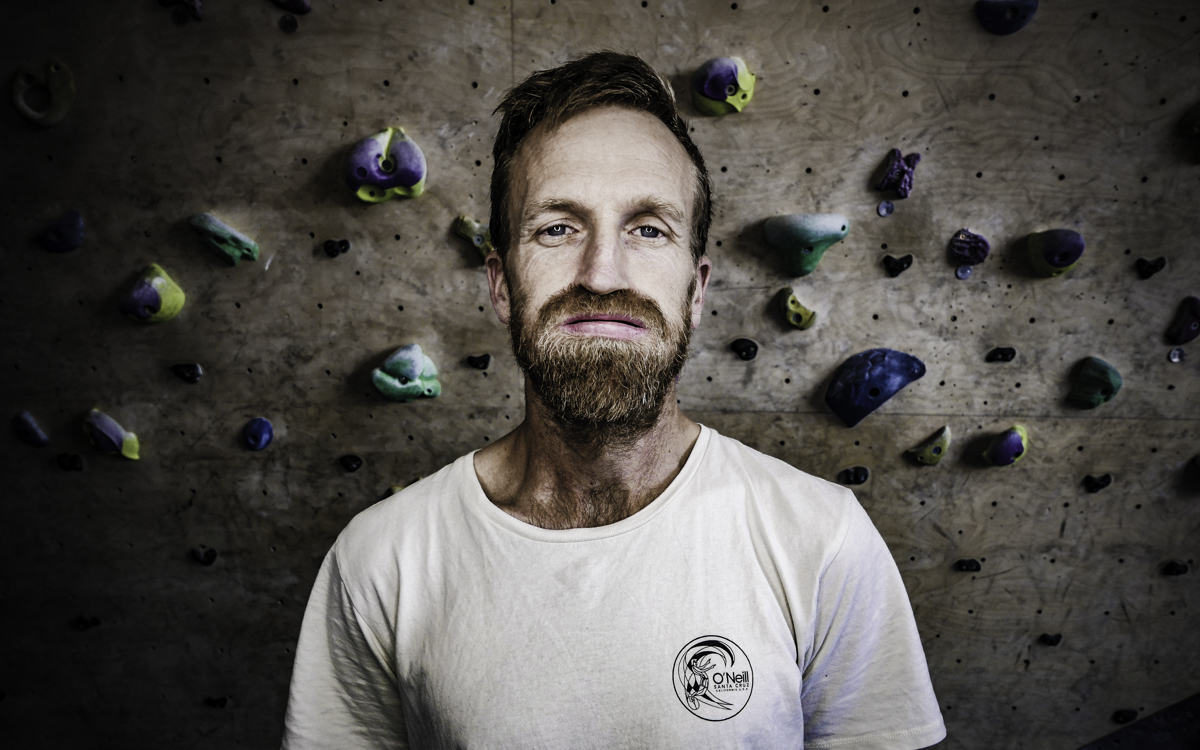 Meet Liam, 2nd head route setter!
Liam Halsey 'The Dark Horse of Climbing' has been climbing since he was 15 years old.
He used to cycle 12 miles to get to Amer­ sham climbing wall where on occasion he would meet one of his biggest influences to date, Kev Noon, who took Liam out side and coached him on the rock.
Since then Liam has been a strong and respected contender on the British comp scene across all disciplines.
He first came to The Boardroom to de­liver a climbing master class in 2014 and set our Psicobloc, since then he set for us here and there before we collared him on a more permanent basis.
We love having Liam set here with Nick and the team, and not only because some­ times he's accompanied by his and Es­ther's Burmese cat Martha, but because he has a unique and valued setting style.
"Numbers are a speck of dust in the grand scheme of things. Climb to climb!"
 On his to do list are underdeveloped areas of Patagonia, Greenland, Kjerag etc…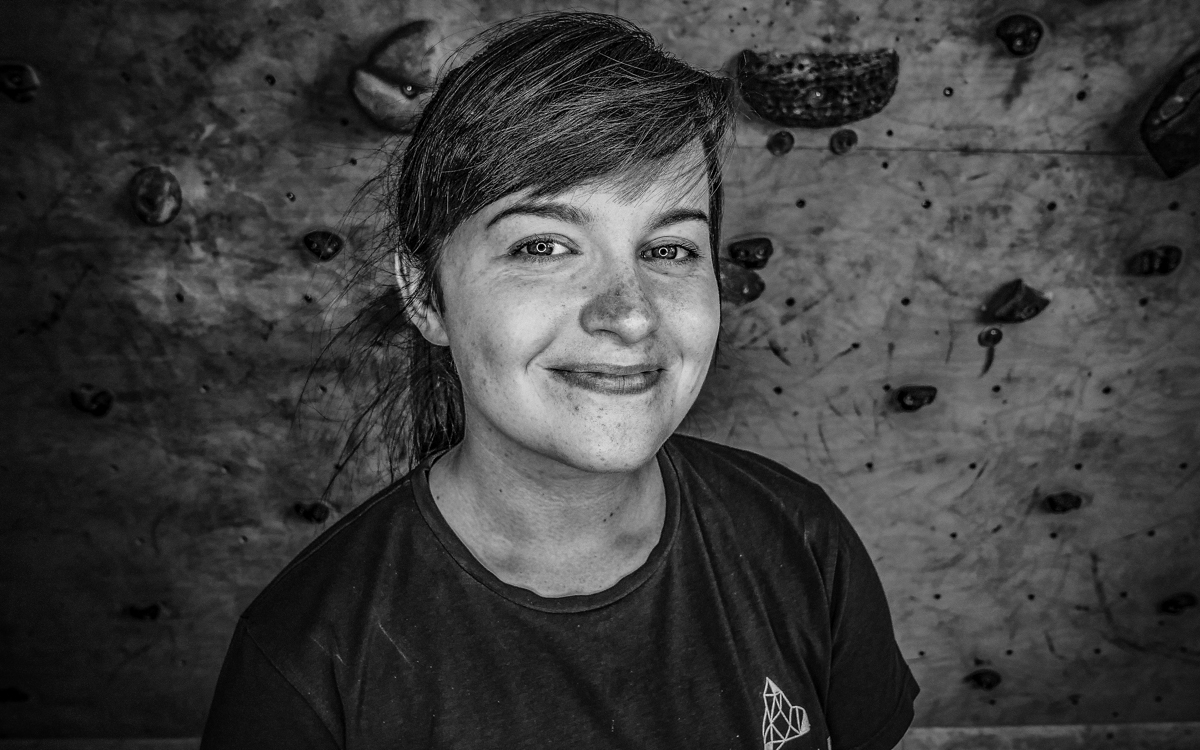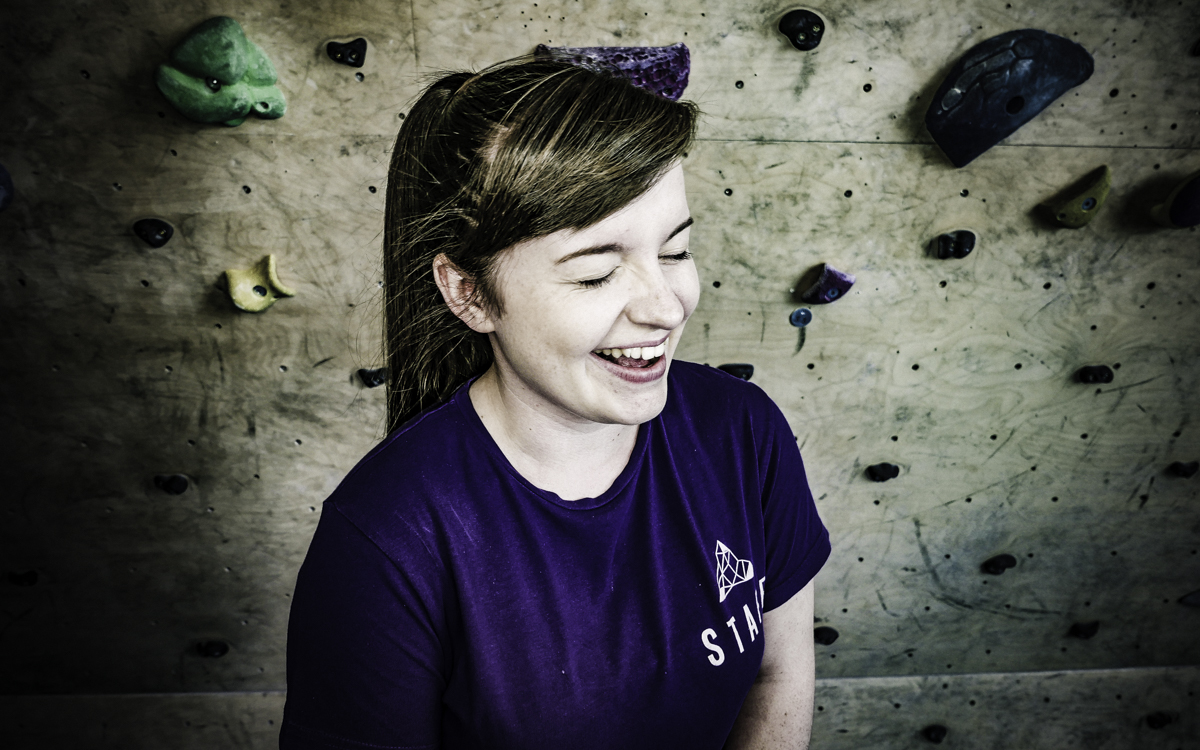 Meet Megan,
Megan is our in-house ninja, she works on desk and is currently training to instruct. She likes drinking Pina Coladas, getting caught in the rain, music and bouldering!
She doesn't like cabbage or things on high shelves.
"I started climbing with scouts over 10 years ago and am still as bad as I was then. But climbing to me is about more than being the best or even being good at all. To me it's about finding that passion in something that leaves you wanting to carry on through everything that it might throw at you; whether that's a dodgy fall, injury or just annoyance at not being able to get that big move.
I'm also a musician having tried my hand at almost every instrument on offer. Music and climbing are my lifeblood and without them I'd be lost. I urge everybody, young and old to find your passion! Discover that something that finds that spark in you! It doesn't have to be climbing rock or playing the trombone, you never know what will do it until you try! It's never too late!"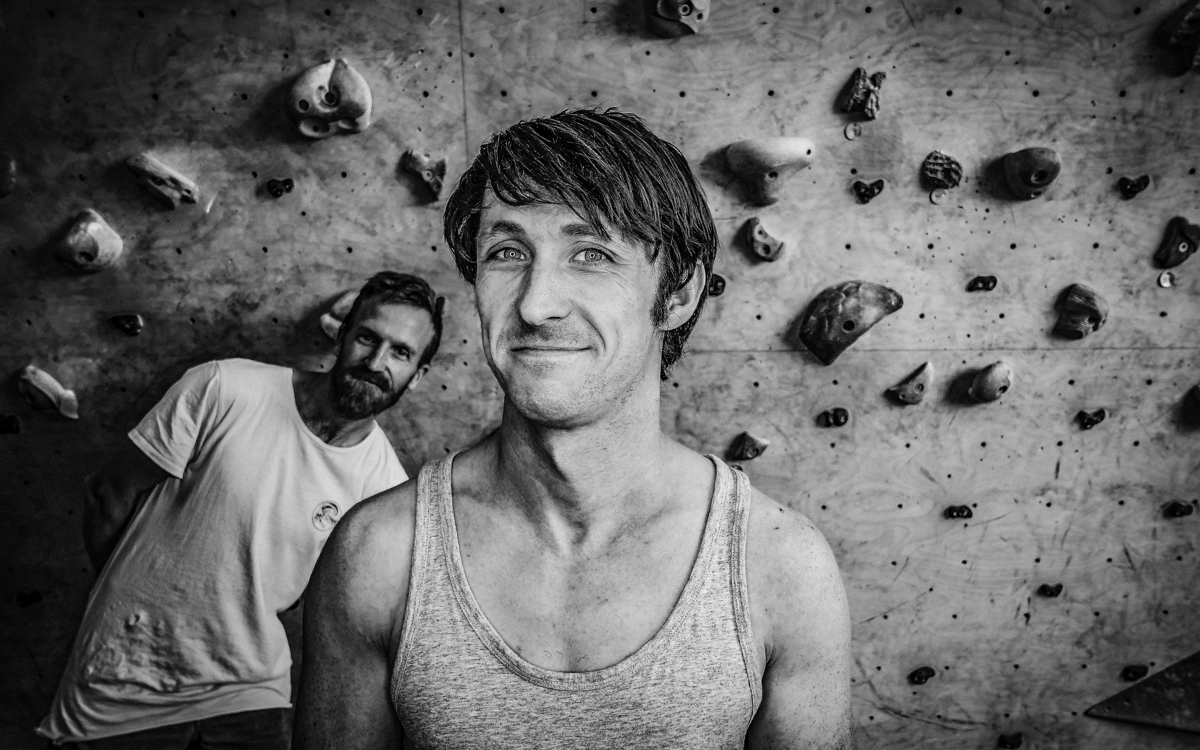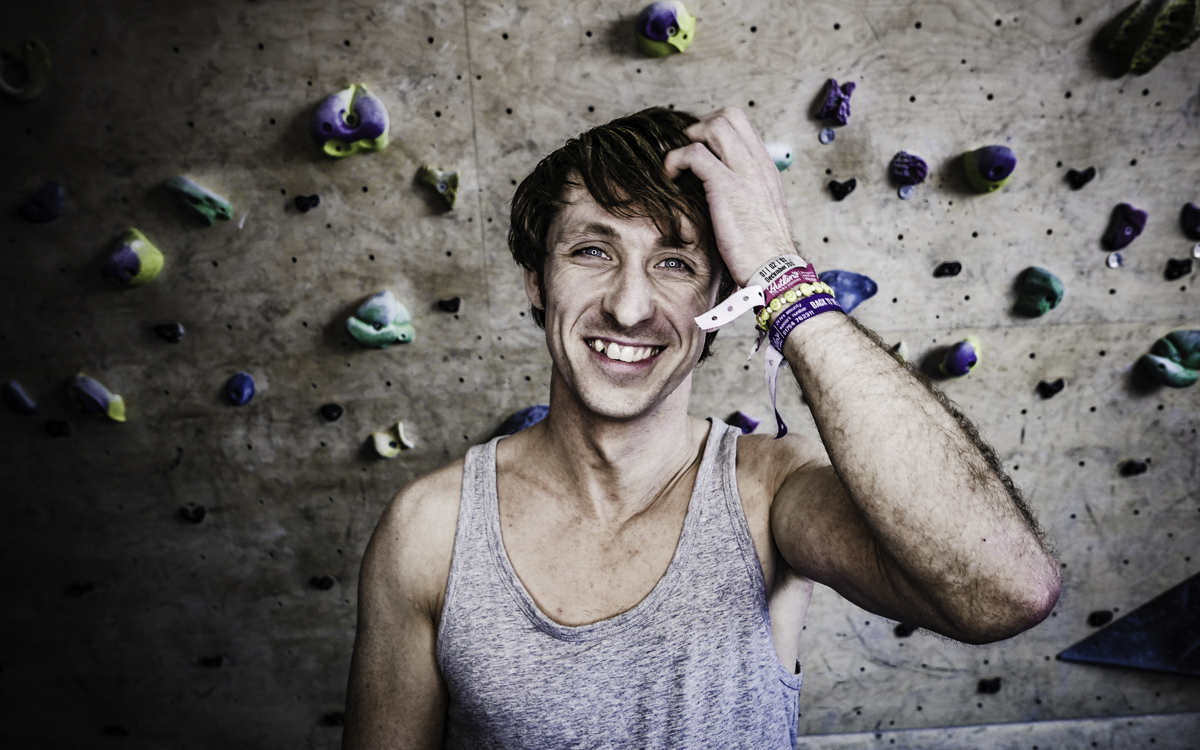 Meet Nick, head route setter...
Nick is one half of our Head route setting team alongside Liam Halsey, he also does a spot of coaching on request.  He has been here since day one and we're extremely privileged to have him on the team.  He has bouldered V11 (recently Diesel Power at Cromlech) and climbed 8b+.
He started climbing at school, mainly trad in the quarries of Lancashire and on Peak District grit.  He worked at Boulder UK when he was 16, on reception, washed holds and watched master setter Ian Vickers intently.
He spent a lot of time at Longridge and started to really focus on his training and technique.
He began competing when he went to uni, visiting walls all over the UK and Europe, he was also on the Senior British Lead climbing team.
'I used to visit Thailand every winter and I've been to most places around Europe but I really love Yorkshire Limestone, there's nothing like it.  I've got my eye on a few things at the moment, on my list amongst others are some projects at Kilnsey, Bat Route 8c at Malham and Liquid Amber 8C+ at LPT."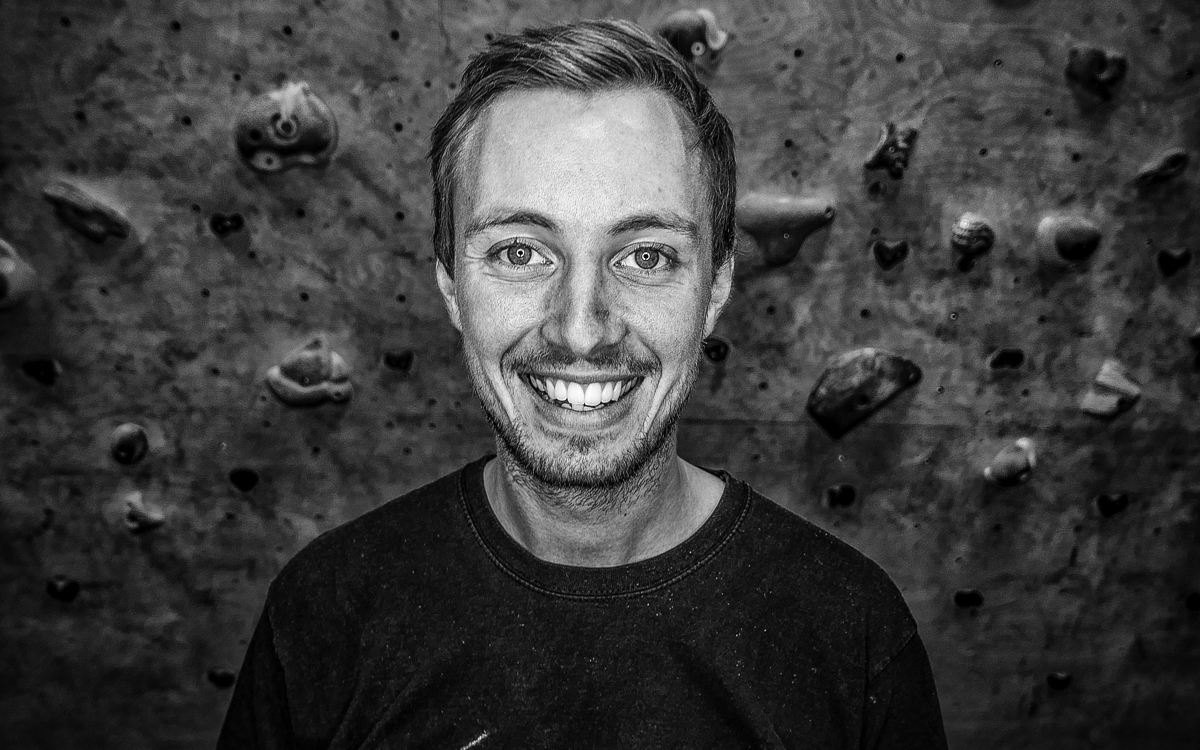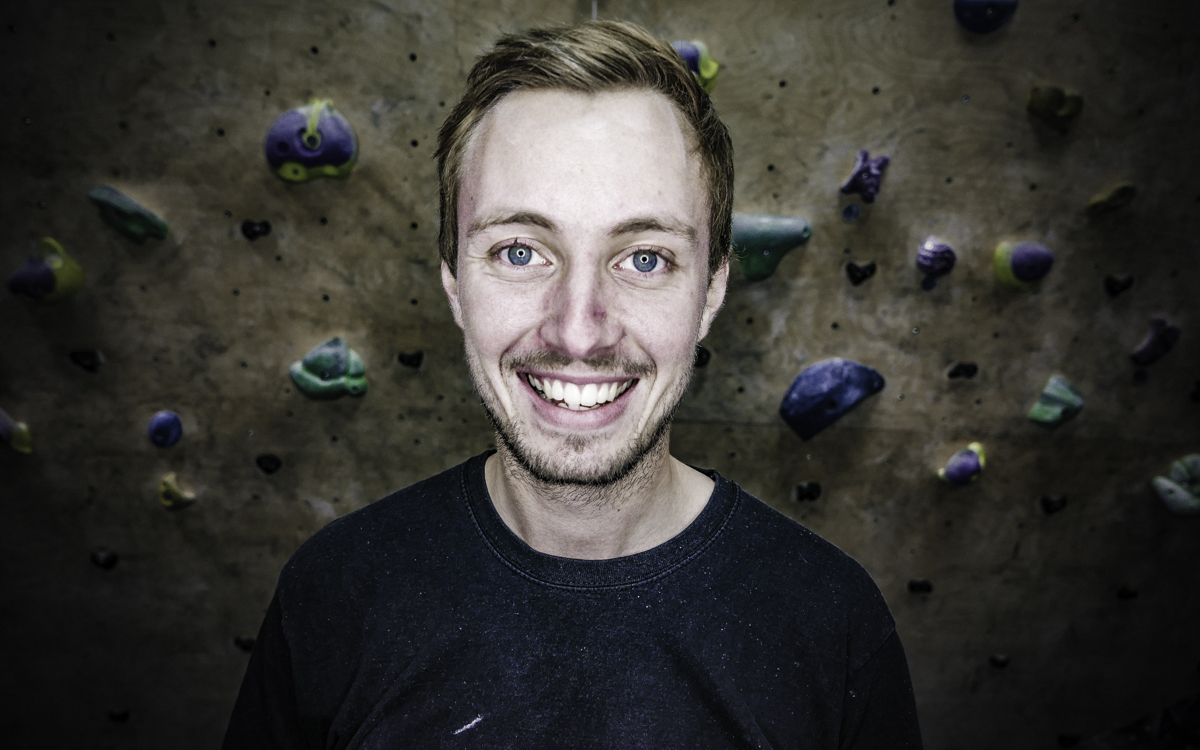 Meet Phil...
Meet Phil. Freelance Instructor come science teacher extraordinaire.
"I started climbing when I went to Oxford Brookes University in 2010. Climbing was a sport I had never tried but wanted to try something different, so thought I'd give it a go.
It very quickly took over my spare time, with trying to squeeze in as much climbing as possible before, during and after lectures!
After finding such a love of the sport, with my abilities going from strength to strength I was offered the chance to become an instructor at the local uni climbing wall, and also took up the role of President in the Uni Climbing Club.
I don't have as much time to climb as I would like, however, when I do it is the time I can escape, relax and have an adventure.
Trips to Stanage, Portland, Wye Valley and North Wales have been just a few of my favourite climbing experiences I have had in the UK, including a recent trip to Dinorwic Quarry completing 'Snakes and Ladders'.
I'm currently projecting Flying Buttress Direct and mountaineering at Aonach Eagach."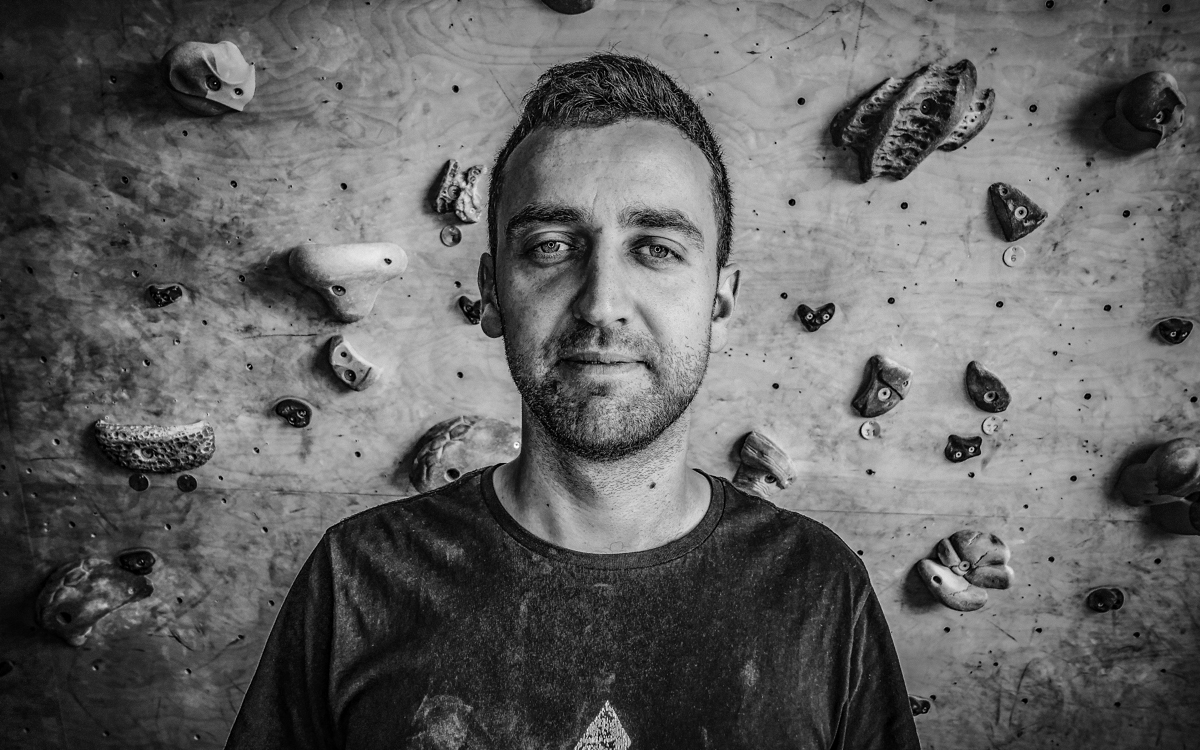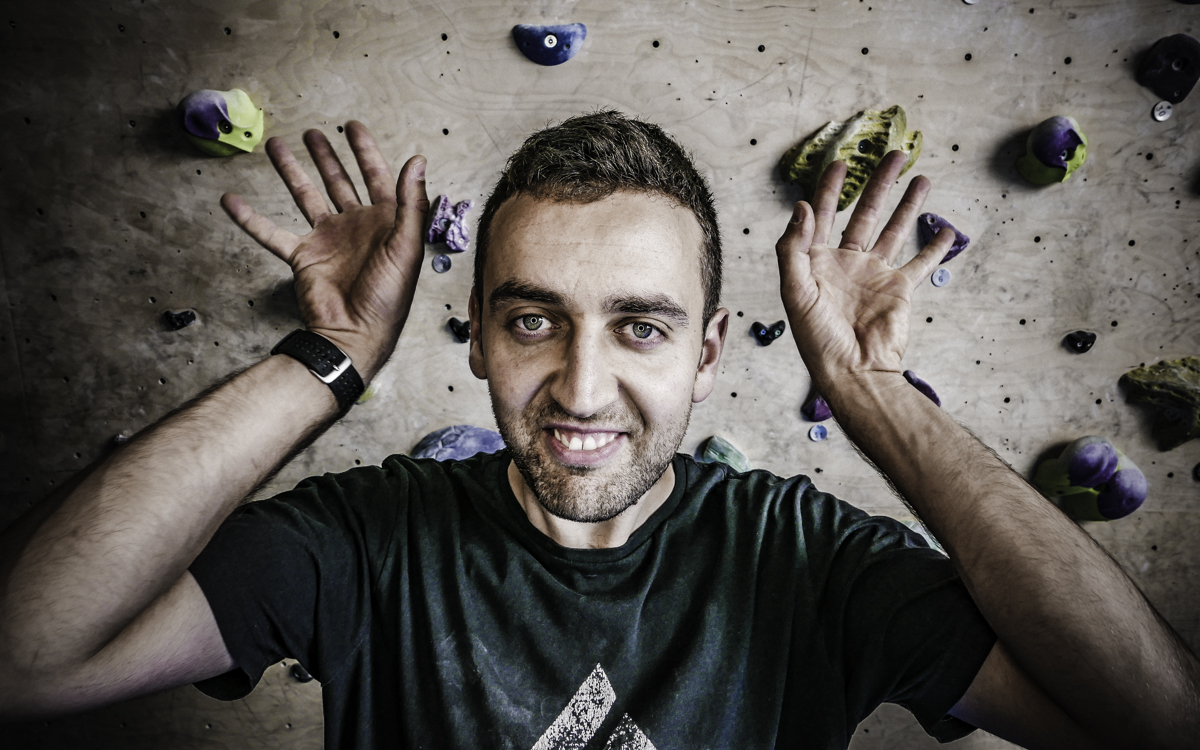 Meet Rhys, main manager...
Rhys does a bit of everything here, especially if it involves making, building, designing or fixing.
The Drawing Room exists because Rhys was nice enough to build it for us, and the shop, the climbing twister, the slackline pit, most of the kitchen for little sis Erin, the list goes on and on.
Dave and Rhys met when they both worked at Llandegla. Rhys worked in the bike workshop building and customising.
He left for a bit to live and work in Canada and when the dream of The Boardroom started to become a reality Dave knew that he wanted Rhys to be part of it.
He makes us all very happy.
Outside of work he likes owls, and trees, he churns mud about in Enduro and goes on many a weekend adventure exploring mountains and welsh wilderness.  He lives with lovely Jen, new baby daughter Edie and the two cats Gary and Margaret.