Bouldering comp Rockwork Orange, kids in the morning, big kids in the afternoon.
£100's of prizes and spot prizes.
We have the PIZZA PEDLARS on sight cooking fresh stone baked pizzas and The Boardroom Kitchen providing BBQ food, nacho's and sweet cakey treats throughout the day and night!
La Sportiva shoe demo with Neil Gresham and Mark Croxall.
DMM will be here with the Gear Crusher (bring your old retired gear to see how strong it is/was!) and donating prizes,
and Sad Alien will be demoing their unique fingerboard.
3D Twister, Grip strength comp, free face painting.
Projection mapping, DJ's, Quality Lights Out Climbing!!
The Boardroom Bar will be open until 11pm
Remember … Don't drink and climb!
PRICES
U16: £10
Member: £12
Non-Member: £14
Prepaid (Punch pass, Direct debit, Month pass etc): £3
Non-Climbers: £3
Parking is free, and although we have extended the parking area, during events like this, parking does become extremely limited and so we would encourage everyone to car share/use public transport if possible.
TIMINGS
PLEASE NOTE: MOONBOARD MASTERS SEMIFINAL HAS BEEN CANCELLED!
10am Doors Open
Pick up a Free Speed Climbing and Grip Strength score card on entry.
Record your own speed climb time and grip result between 1pm and 6pm.
11:30am – 1:30pm Fun Kids Comp followed by prize giving at 2:00pm.
Entry into the comp will be £10, this includes entry to the wall for the day and a score card.
Pre-paid members will only be charged £3.
This is a boulder only comp but please register with reception (or phone/email) before the day with Name, M/F, and Category.
All participants and supervising adults will need to complete a full climbing waiver if they haven't already.
Below is a link to the online waiver.
Kids Categories are as follows:
Male/Female

Youth A + B : born 2002-2005 – Please see adult comp timings below
Youth C: born 2006-2007
Youth D: born 2008-2009
Youth E: born 2010-2011
1:00pm – 6:00pm Psicobloc and Speed Climbing qualifiers for the Lights Out finals in the evening.

Look for Ghandy by the Psicobloc who will be there to log your climb.
Log your own speed time on the score sheet provided and drop this in the orange box by the wall.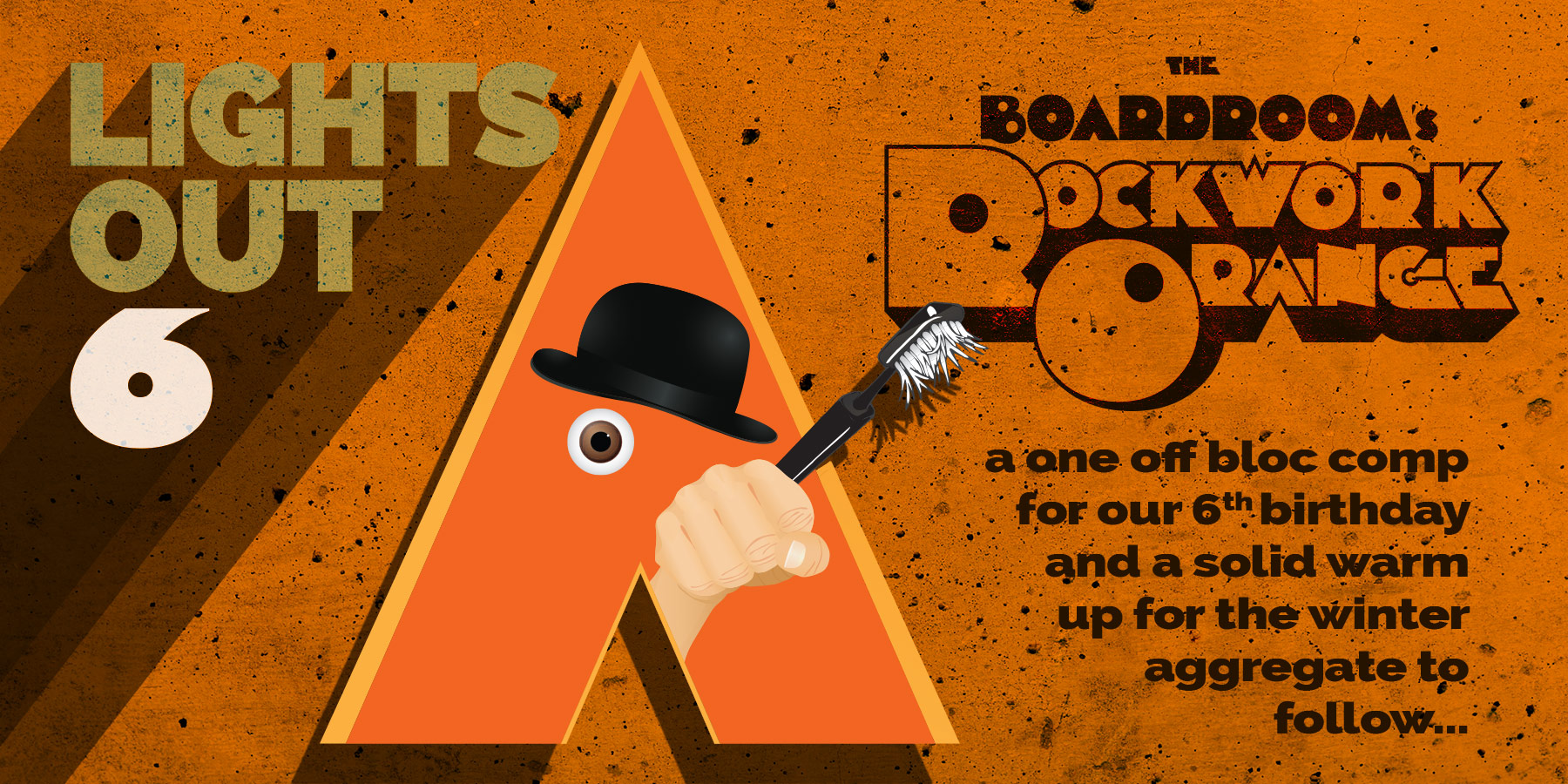 2:30pm – 5:30pm Rockwork Orange Adult Boulder Comp
Categories:
Male/Female
Youth A: born 2002-2003  
Youth B: born 2004-2005
Adult 18 – 46
Adult 47+
Registration for the comp this year will be through Vertical Life. Please use the link below to register and keep score during the comp.
PLEASE NOTE: THIS IS A DIGITAL SCORE CARD! YOU WILL NEED A MOBILE DEVICE (PHONE OR TABLET) DURING THE COMP TO RECORD YOUR SCORE. THERE ARE NO PAPER SCORE CARDS.
The link will open the score card in your browser, not in the Vertical Life App.
Staff will be available to help you should you struggle with current technology.
The blocs will be spilt across both the Mezzanine and downstairs boulders.
30 problems total!
6:00pm Prize giving for Rockwork Orange Adult Boulder Comp
Collect head torch if you don't have your own (driving licence/credit card needed for deposit)
6:30pm Speed wall final for top 3 male and female
7:00pm LIGHTS OUT!
Followed by Psicobloc Finals and prize giving…
PARTY!